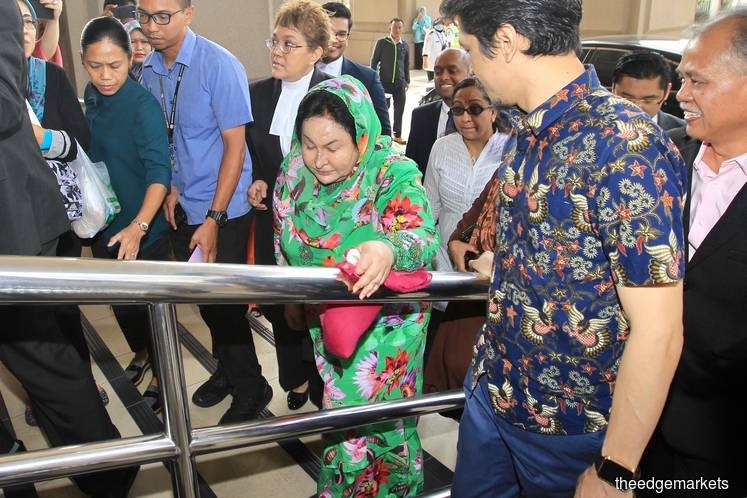 KUALA LUMPUR (Feb 5): A dedicated office was set up in the Prime Minister's Department solely for the affairs of Datin Seri Rosmah Mansor during the nine years that her husband, Datuk Seri Najib Abdul Razak, was premier.
That was the first time an office was set up for the wife of a prime minister, the High Court learned today.
This was revealed by Huzairi Zainal Abidin, Director of Secretariat & Services Management Division in the Prime Minister's office, who is the first prosecution witness in Rosmah's graft trial involving a solar project in Sarawak which started today.
In his witness statement, Huzairi, 42, told the court that Rosmah had no official position in the government but as the wife of the Prime Minister, she played a specific role in welfare work and accompanied him in official government ceremonies.
As a result, Rosmah was given the assistance of a private secretary or special officer to plan her schedule for such work, as is given to all spouses of prime ministers.
However, shortly after Najib took office in April 2009, Huzairi said he was instructed by the then-Chief Secretary to the prime minister, Tan Sri Ab Aziz Kassim, to set up a division to manage Rosmah's work schedule, which included attending government events with the prime minister.
"I was ordered to name this section as the First Lady of Malaysia (FLOM) although I don't remember who gave the order.
"Initially the officer stationed at FLOM was Datuk Siti Azizah Sheikh Abod. She is the Special Officer of the PM assigned to coordinate matters involving Datin Seri Rosmah Mansor as PM's wife. She [Siti Azizah] then asked for more officers in this division and she subsequently became the head of the division responsible for assigning those officers," Huzairi said.
Amongst those working in the division was Datuk Rizal Mansor, he said. Rizal was Rosmah's aide and was originally jointly charged with her until charges were withdrawn by the prosecution.
At the time, the FLOM division was included in the directory on the Prime Minister's Office website.
"However, this became a hot issue amidst criticism from the public since an office was specially set up for Rosmah even though she had no office in the government. Some also regarded the FLOM title as being reserved for the Raja Permaisuri Agung," he said.
The trial, which was supposed to start on Monday, was adjourned for two days due to Rosmah's ill health. She filed a medical certificate citing neck and back pain, and was hospitalised in a private hospital.
In his opening statement, deputy public prosecutor Datuk Seri Gopal Sri Ram said the prosecution will attempt to prove that Rosmah solicited RM6.5 million in bribes related to a solar hybrid project in Sarawak from Saidi Abang Samsudin, who was a managing director in Jepak Holdings Sdn Bhd.