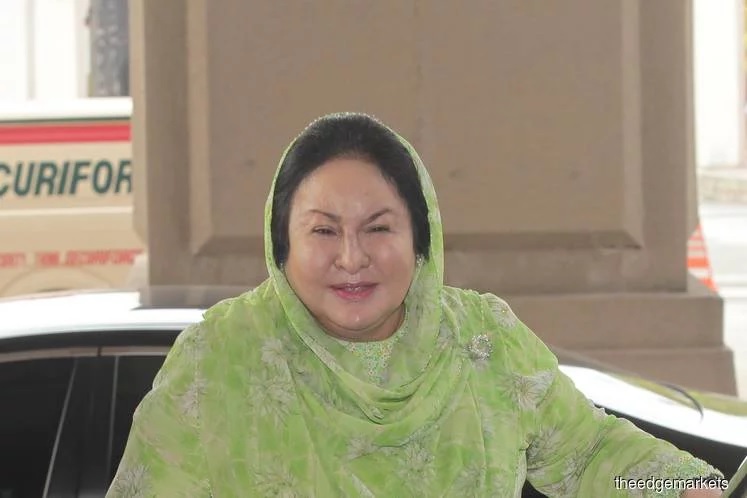 KUALA LUMPUR (Feb 12): Datin Seri Rosmah Mansor caused a stir after refusing to leave the accused dock when her graft trial went into recess for lunch today.
Justice Mohamed Zaini Mazlan called for the lunch break, with proceedings originally set to continue in the afternoon as Rosmah's lawyer Datuk Jagjit Singh had yet to finish his cross-examination of the fifth prosecution witness, former education minister Datuk Seri Mahdzir Khalid.
As the courtroom was being vacated, the wife of former Prime Minister Datuk Seri Najib Razak was heard saying she did not want to go home.
Rosmah refused to budge from her seat in the dock and sat there for a while as her aides tried to coax her out. She, however, remained adamant.
Normally, the courtrooms are locked up during lunch break and will be reopened just before 2pm for proceedings to resume.
For the past four days, proceedings had ended at 2pm, and Rosmah may have thought that the session would also end at the same time today.
However, Justice Zaini had already indicated at the end of yesterday's proceedings that the matter would be heard for the whole day today.
As the courtroom was being vacated for the lunch break, Rosmah still did not want to move out of the accused dock.
Rosmah's counsels then asked for a short session with Justice Zaini in open court, where Jagjit was seen addressing the judge.
The judge then allowed the afternoon proceedings to be adjourned as her lawyers claimed that she was unwell.
Rosmah left the courtroom at about 1.15pm, after the judge had to be called back to allow the adjournment.
Rosmah's trial was supposed to begin last Monday (Feb 3), but she did not come to court because she was suffering from neck and back pain.
Following objections by the prosecution led by senior Deputy Public Prosecutor Datuk Seri Gopal Sri Ram, Justice Zaini ordered the trial to proceed on Wednesday (Feb 5).
Then it was reported that Rosmah was hospitalised that same night on Feb 3 and questions were posed on her availability to attend trial.
The Malaysian Anti-Corruption Commission then apparently took a statement from her doctors and she appeared in court last Wednesday (Feb 5) and was heard telling reporters she does not have a choice.
Rosmah is accused of soliciting RM187.5 million bribe from Jepak Holdings Sdn Bhd for the company to obtain the solar hybrid project costing RM1.25 billion for 369 schools in rural Sarawak. She was said to have asked for the bribe between January and April 2016.
She also faces two charges of receiving RM5 million cash from Jepak's managing director Saidi Abang Samsudin and another RM1.5 million in 2016 and 2017.