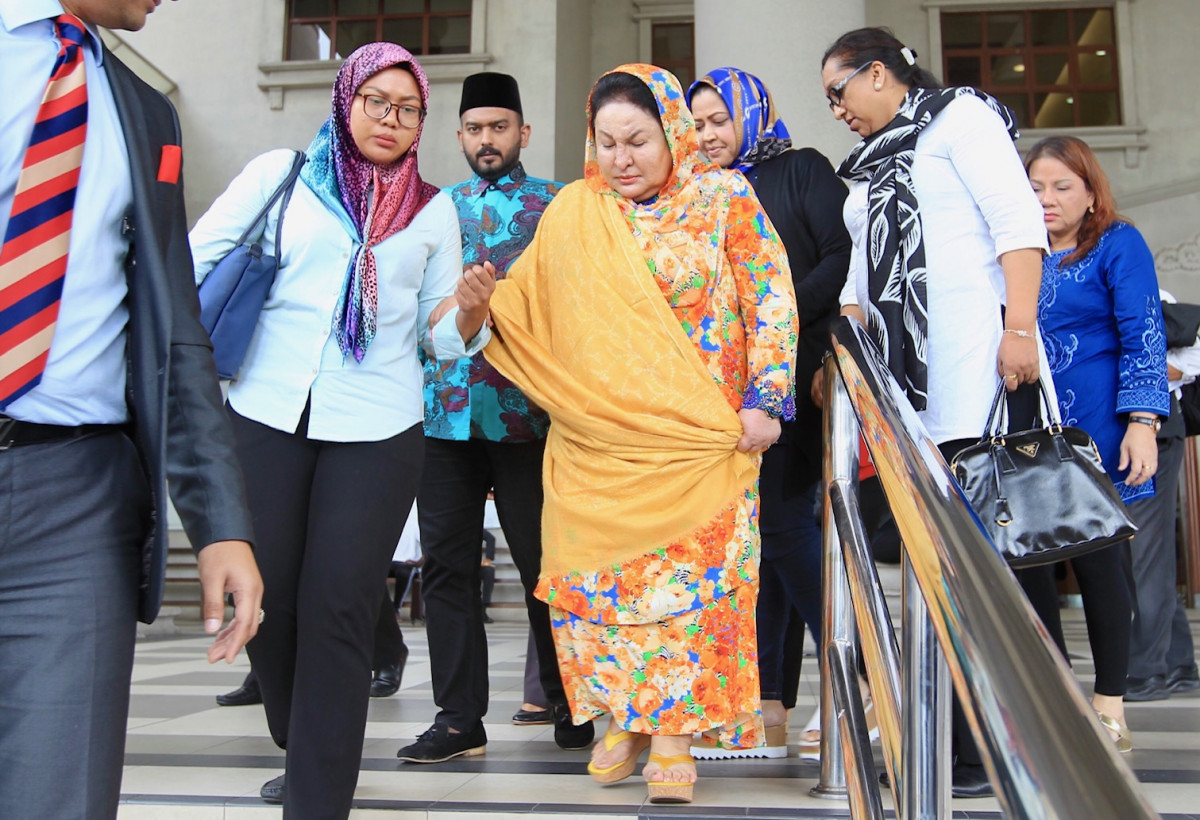 KUALA LUMPUR (Feb 13): Datin Seri Rosmah Mansor asked the former education secretary-general Tan Sri Dr Madinah Mohamed to look into and speed up the process of approving the solar hybrid project for 369 schools in Sarawak.
This was revealed by Madinah when reading her witness statement before Judge Mohamed Zaini Mazlan.
Madinah is the sixth witness in Rosmah's graft trial, which enters its sixth day. She was the secretary-general of the Education Ministry from June 2013 to September 2016.
Rosmah is being charged with soliciting RM187.5 million from Jepak Holdings Sdn Bhd managing director Saidi Abang Samsudin between January and April 2016 and allegedly receiving RM5 million and RM1.5 million in 2016 and 2017.
In her statement, Madinah recalled a National Permata programme event that was attended by Rosmah and herself.
The programme covers early childhood development and was the brainchild of Rosmah. Last year, the Pakatan Harapan government renamed it as Genius.
"At the end of the event, Datin Seri Rosmah left and was walking to her car accompanied by myself behind her. After entering her car, she lowered her car window and called me over.
"She then said 'You tengok sikit project solar Jepak tu. Cepatkan skit'. (Take a look at the solar hybrid project. Speed it up.)
I answered "Yes, god willing."
Madinah is the second prosecution witness to independently verify that Rosmah directly asked for the solar hybrid project to be hurried.
Earlier, former education minister and fifth witness Datuk Seri Mahdzir Khalid had testified that he had been asked by Rosmah following an event at the prime minister's residence to look into the project and speed it up.
"I was stunned and asked myself why Rosmah [was] interested in this project. She had never showed interest and asked for my help with a government project. She had only contacted me regarding Permata programmes.
"I felt the sense of urgency from her and took her words seriously as she was a person of stature and authority given that she is the wife of the prime minister and could influence him," Madinah said.
The witness added that if she had not taken the application of the solar hybrid project by Jepak, then Rosmah might have complained to her husband and prime minister Datuk Seri Najib Razak of her tardiness.
"Plus, Rosmah's husband who is the prime minister had issued an order to execute the Jepak solar hybrid project to replace the diesel genset project.
"As a public servant, any advice from the prime minister is a serious matter except for certain situations that do not allow actions to be taken,'' she said.
Madinah said she was further pressured by Rosmah's aide, Datuk Rizal Mansor, as well as Jepak's Saidi and his business partner Rayyan Radzwill Abdullah.
She said Rizal would frequently contact her via WhatsApp and relay messages from Rosmah and Najib.
"For example, Rizal told me that "PM (prime minister) and Ma'am asked why the Education Ministry delayed in approving the project's direct negotiation agreement [with] the Ministry of Finance.
"Datuk Rizal just asked me to approve the application and used words like 'the boss will know what to do'," Madinah said.
"Ma'am", she said, referred to Rosmah while "boss" referred to Najib.
The trial continues on Monday.