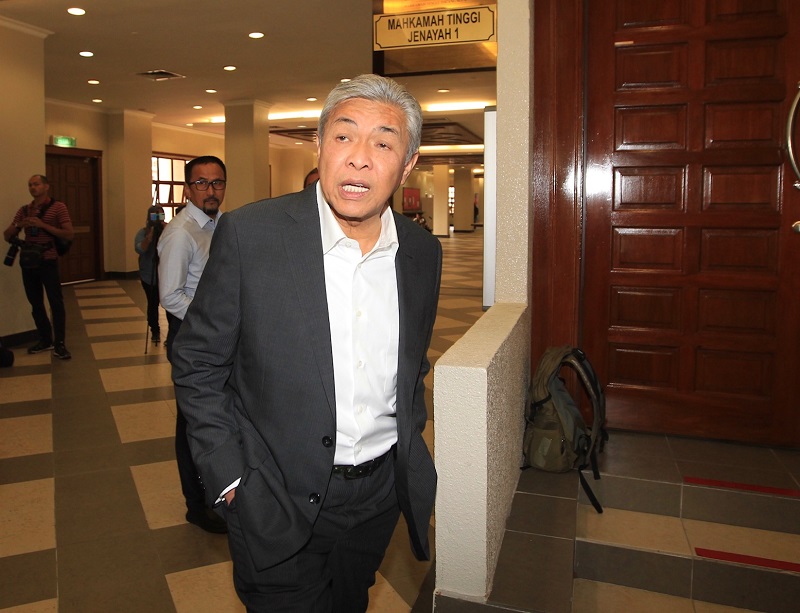 KUALA LUMPUR (Feb 20): A businessman, who secured contracts from the Home Ministry to process foreign visas, refutes in the High Court today claims that payments he made to former deputy premier and home minister Datuk Seri Dr Ahmad Zahid Hamidi were bribes.
Azlan Shah Jeffril, 49, whose company Profound Radiance Sdn Bhd was appointed by the ministry to run and manage one-stop centres (OSCs) for foreign visa applicants in a few countries, testified that a sum of RM2 million he had given to Zahid personally was for charity work and political donation.
Azlan, who is the 38th prosecution witness in Zahid's corruption trial, said he handed over three cheques to Zahid between 2017 and 2018 in the span of three visits to the then home minister.
Replying to defence counsel Datuk Ahmad Zaidi Zainal, Azlan said he did not agree with three of the charges against Zahid.
These charges state that Zahid had received a bribe from Azlan on Aug 3, 2017, Jan 9, 2018 and March 15, 2018 in different amounts accumulating to RM2 million.
"The charges state that I gave a bribe in return for contracts. I gave this contribution one and a half years after I received the contract. I don't agree with the charges. It implies that I bribed," he said.
Azlan said that in late 2015 and 2016, his company was awarded the contracts to start OSC operations for visa processing in Nepal and Pakistan.
Azlan then told Justice Collin Lawrence Sequerah that the money he gave Zahid could not be a bribe for the contract as he had already acquired the contract in 2016 and the cheques were given to Zahid in 2017 and 2018.
"There was no cheques given to Zahid before the OSC was given to us to manage in Pakistan and Nepal. I gave this money as a form of donation one and a half years after I got the contract. I don't agree with the charges implying that I bribed," he said.
Azlan also testified that he had made the cheques out to Lewis & Co and stated that in the cheque butts for each of the two cheques amounting to RM700,000 and RM300,000 respectively, he wrote that they were for the purposes of "charity" while in respect of the other cheque for the sum of RM1 million, he wrote "Political fund to TPM".
"The RM1 million political donation cheque I wrote was to help the government of the day as it was nearing election season at that time," he said explaining that he had written that cheque on Jan 3, 2018, just a day before meeting Zahid briefly at a Home Ministry-organised event in Putrajaya.
Azlan testified that he had handed over these cheques personally to Zahid on three different occasions and that the former deputy premier had never once asked him for the money.
Earlier today, former Home Ministry immigration division secretary Datuk Shahril Ismail testified that Profound Radiance was selected to run an OSC in Bangladesh from Feb 2, 2014, and that Zahid subsequently heeded the ministry's recommendation to cancel the company's contract as it had not carried out any operations due to internal conflicts in the company.
Azlan also recounted how he had written personally to then prime minister Datuk Seri Najib Razak and Zahid in 2015 to appeal the Home Ministry's decision.
The ministry finally appointed Profound Radiance to operate the two separate OSCs in Nepal and Pakistan from July 1, 2016.
Zahid, who is also the member of parliament for Bagan Datuk, is facing 47 charges — 12 for criminal breach of trust, eight for bribery and 27 for money laundering — involving millions of ringgit belonging to a foundation, Yayasan Akalbudi.
Click here to see condominiums for rent in Putrajaya.