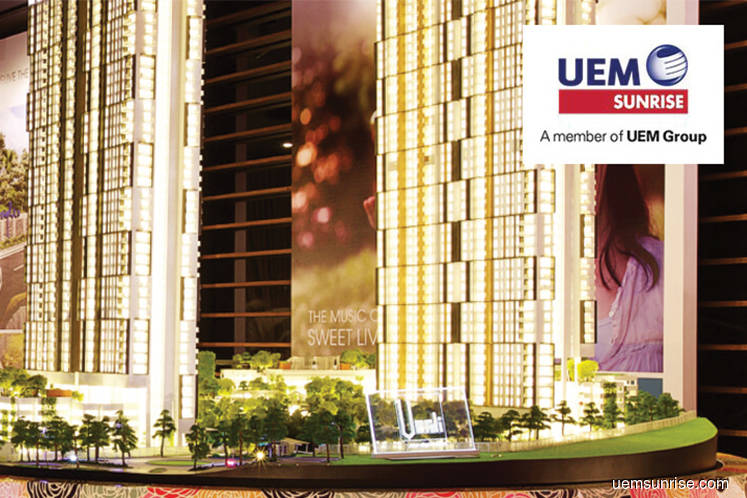 KUALA LUMPUR (Feb 24): UEM Sunrise Bhd's (UEMS) net profit for the fourth quarter ended Dec 31, 2019 surged six-fold to RM126.25 million from RM19.75 million, largely due to gain from divestment.
In a bourse filing today, UEMS said revenue for the quarter jumped to RM1.16 billion from RM752.79 million in the prior year.
Earnings per share was 2.78 sen versus 0.44 sen previously.
For the financial year ended Dec 31, UEMS said its cumulative net profit fell 20% year-on-year to RM223.80 million from RM279.99 million. Revenue, however, rose to RM2.91 billion versus RM2.04 billion in the year-ago period.
In a separate statement, UEMS said in terms of sales breakdown, more than half of the sales is contributed by the Central region, mainly from Symphony Hills, Residensi Solaris Parq and Residensi Astrea.
It said the Southern region contributed 44%, largely from Aspira ParkHomes, Estuari Garden and commercial development 68 Avenue, while the remaining 2% is from Conservatory.
UEMS managing director and chief executive officer Anwar Syahrin Abdul Ajib said its results were largely supported by the strong settlement of Aurora Melbourne Central, which accounted for RM1.3 billion of the total revenue, and a settlement rate of 97% to-date.
"We still have around A$36 million pending settlement in addition to A$125 million from the en-bloc disposal of its serviced residential component to Scape Australia Management Pty Ltd, the largest asset owner and investor of the Purpose-Built Student Accommodation sector in Australia, which is expected to complete in April 2020.
"We also plan to retain the retail component valued tentatively at A$42 million for recurring income purposes. Conservatory is 99% sold with a settlement rate to-date of 89%.
"Around A$43 million is still pending settlement. We are confident that we should be able to achieve full settlement for both Aurora Melbourne Central and Conservatory by year end," he said.
At the midday break, UEMS shares were 0.8% or 0.5 sen lower at 62 sen, for a market capitalisation of RM2.81 billion.