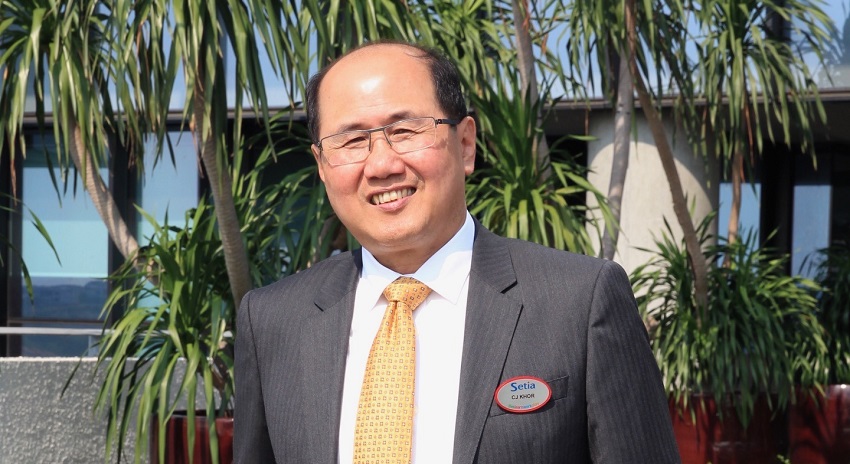 PETALING JAYA (Feb 26): S P Setia Berhad has achieved a total sales of RM4.56 billion for its 2019 financial year ended Dec 31, 2019 (FY19) surpassing its sales target of RM4.55 billion.
For FY20, the company has maintained a sales target of RM4.55 billion.
In a statement today, the developer said local project sales stood at RM4.01 billion, contributing about 88% of the overall sales in FY19. The remaining RM543 million or 12% of sales were from international projects including UNO Melbourne in Australia, Daintree Residence in Singapore and EcoXuan in Vietnam.
On the local front, the sales were largely from the Central region with RM2.78 billion, while the Southern and Northern regions contributed RM747 million and RM480 million respectively.
"The sales target has been achieved despite challenging global geopolitical issues such as the US-China trade tension, unrest in Hong Kong as well as persistent tight lending criteria locally.
"We are pleased with this achievement and proud to maintain our position as the top property developer in Malaysia in terms of sales," said President and CEO Datuk Khor Chap Jen (pictured).
In 4QFY19, S P Setia witnessed a spike in sales of RM1.49 billion, partly due to eleventh-hour purchases under the Home Ownership Campaign (HOC) which contributed RM675 million sales in 4Q.
In total, the HOC brought in RM1.82 billion sales in FY19. Other efforts to clear inventories also resulted in the monetisation of RM637 million worth of inventories, the developer said.
S P Setia saw revenue grow by 9% y-o-y to RM3.93 billion in FY19, but profit before tax fell by 39% to RM598.23 million mainly due to the absence of a one-off exceptional fair value gain of RM348.5 million recognised in FY18.
In 4Q 19, revenue and profit before tax dropped by 22% and 41% respectively, to RM769.17 million and RM116.27million respectively.
In respect of the Islamic Redeemable Convertible Preference Shares A and Islamic Redeemable Convertible Preference Shares B, the company declared a preferential dividend of 6.49% per annum and 5.93% per annum respectively for the financial period from July 1 to Dec 31, 2019. The company also declared a dividend of one sen per share, representing a payout ratio of 50% for FY19. As at December 31, 2019, unbilled sales stood at RM10.67 billion.
In FY20, S P Setia will launch landed residential products in its township developments as well as commercial products such as shop lots with a combined GDV of about RM871 million in Alam Impian, Kota Bayuemas, Temasya Glenmarie, Setia Eco Glades and Taman Pelangi.
"Leveraging on the versatility of product offerings of the group, S P Setia is confident of retaining its position as the leading developer in Malaysia while maintaining the sales target of RM4.55 billion for FY20. Nevertheless, with the global outbreak of COVID-19 virus ongoing and its impact on the economic outlook remains uncertain, we will monitor closely on how the situation unfolds," Khor added.