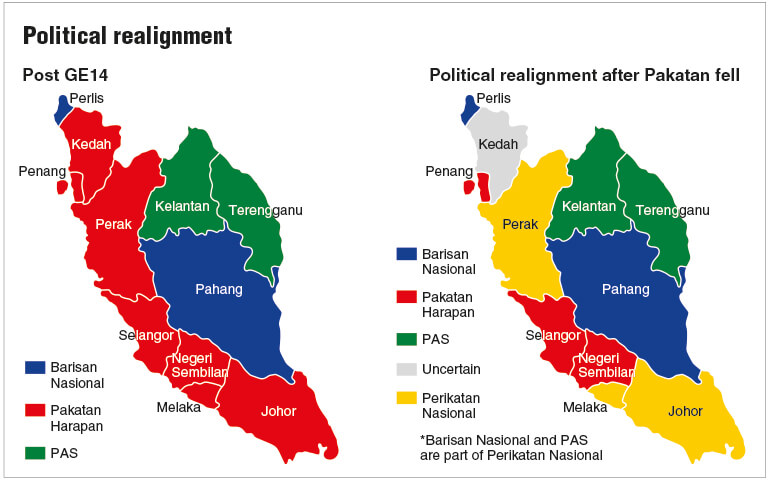 KUALA LUMPUR (March 5): While the attention on the Malaysian political crisis has been focused at the federal level, the political realignment has also put several state governments on the brink of change.
In Johor, the Pakatan Harapan state government has already fallen. The new alliance Perikatan Nasional (PN) has seized control of the state and Umno's Datuk Hasni Mohammad was sworn in as the new menteri besar last Friday after they were able to convince the Sultan of Johor, Sultan Ibrahim Sultan Iskandar, of their support.
After interviewing 54 out of 56 assemblymen, His Majesty was "satisfied that the new coalition has a simple majority to form the government."
Most recently, PKR's Dr Chong Fat Full had officially quit the party on Tuesday to become a PN-friendly independent. The Pemanis assembly member, noted to be the only ethnic Chinese to back the new coalition in the state, said he made his decision for the sake of the people and to ensure political stability in Johor, and that there would be "no turning back."
With Chong's defection, PN now has 29 seats in the state assembly against Pakatan's 27.
In Melaka, Pakatan initially had 15 assemblymen comprising eight from DAP, three from PKR and two from Bersatu and Amanah respectively. The opposition has 13 seats, all from Umno.
However, due to the political realignment, two Bersatu assemblymen, and one each from PKR and DAP have pledged support for Umno.
Following Melaka governor Tun Mohd Khalil Yaakob's rejection of a request to dissolve the state assembly on Monday, chief minister Adly Zahari confirmed that he was no longer holding the fort.
A statement from the state secretary said Adly, who is from Amanah, was obliged to resign as he no longer enjoys the support of the state's lawmakers and a replacement would be named soon.
As such, Melaka is set to be the second state government after Johor to change hands since Bersatu pulled out of the ruling Pakatan national coalition last week.
In Perak, talk of "game over" for Pakatan has been going around although there is no official word yet on the status of the state government. However, it is clear that Umno, PAS and Bersatu already control 30 of the state assembly's 58 seats, thus having a two-seat majority.
The possibility of a hung state assembly has also not been ruled out.
Perak Menteri Besar Datuk Seri Ahmad Faizal Azumu, who is from Bersatu, was seen to be meeting Prime Minister Tan Sri Muhyiddin Yassin during the ongoing crisis as well as during the infamous "Sheraton move" on Feb 23.
The fate of the state government in Kedah, however, is a lot trickier. The initial Pakatan coalition had a simple majority 19 of the 36 state assembly seats comprising seven from PKR, six from Bersatu, four from Amanah and two from DAP.
This was as opposed to the opposition which had 17 seats comprising 15 from PAS and two from Umno.
However, although Bersatu has exited the Pakatan coalition, it is still unclear where current Menteri Besar Datuk Seri Mukhriz Mahathir will stand. It has been observed that Bersatu members appear to be split between their allegiance to the party president Muhyiddin and to former Bersatu chairman Tun Dr Mahathir Mohamad, Mukhriz's father.
Mahathir has been clear that he is still supporting the Pakatan coalition despite his party's exit from the coalition.
One possibility for Kedah would be that Bersatu assemblymen switch sides to ditch Mukhriz and oust him from the menteri besar's position, a move that is not unfamiliar to him when he was forced to resign as the menteri besar of Kedah in 2016 after Umno's assemblymen withdrew their support as a result of the fallout with then prime minister Datuk Seri Najib Razak.
The Pakatan government in Negeri Sembilan should be unaffected as there are no Bersatu representatives in the state assembly there. Pakatan controls 20 of the 36 seats in the state assembly, where 11 of those seats are held by DAP while PKR has six and Amanah three.
Of the 16 seats held by the opposition, Umno has 15 and MIC has one.
Last week, it was reported that all 20 state Pakatan assemblymen pledged their loyalty to the coalition at an event held at the official residence of Menteri Besar Datuk Seri Aminuddin Harun.
Pakatan's strongholds in Selangor and Penang should also be unaffected even with the exodus of Bersatu assemblymen. However, the fate of Selangor Menteri Besar Amirudin Shari, seen as a supporter of Datuk Seri Mohamed Azmin Ali, may still be in question.
Perlis and Pahang will remain under Umno, and Kelantan and Terengganu under PAS.
The political upheaval started when Mahathir resigned as prime minister on Feb 24 followed by Bersatu's exit from Pakatan, leaving a power vacuum in Putrajaya.
Click here to see industrial properties for sale in Putrajaya.
This article first appeared in The Edge Financial Daily, on March 5, 2020.