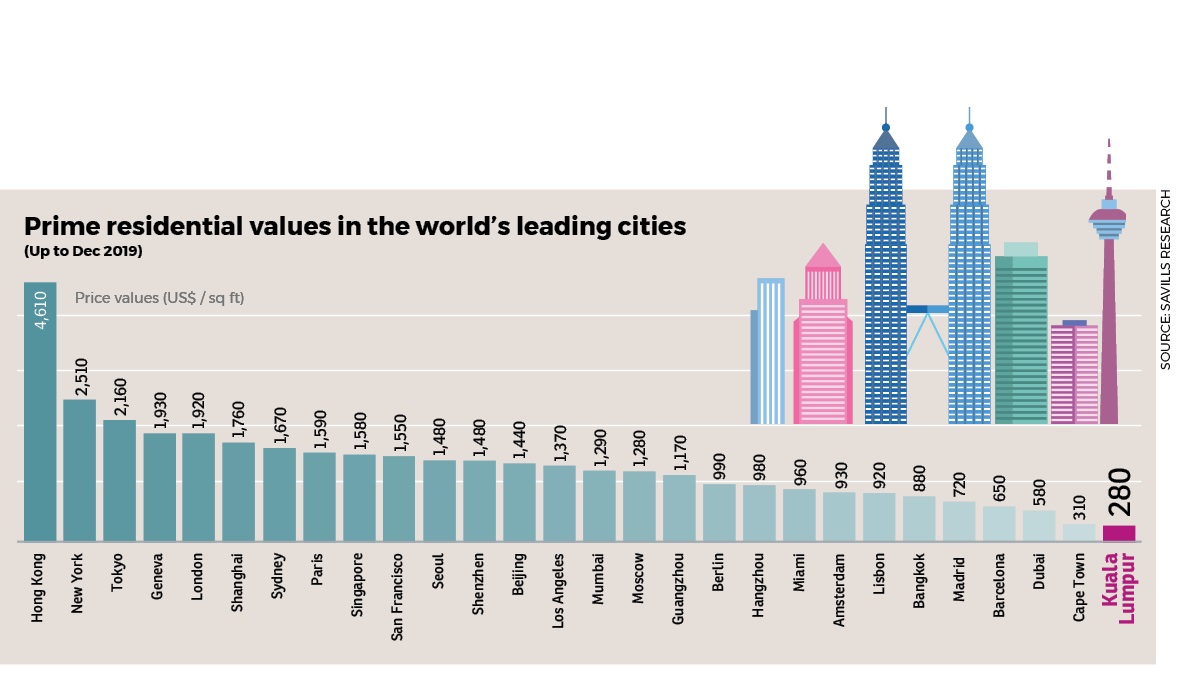 PETALING JAYA: Kuala Lumpur was the world's cheapest city in 2019 to buy a luxury home based on a survey of 28 cities across the globe, according to Savills Prime Index: World Cities research report. And it may be even cheaper in 2020.
By tracking the performance of the 28 cities from San Francisco to Sydney, the Savills Prime Index: World Cities showcases the leading cities for prime residential property based on a sample size adjusted to represent each city's prime market. Savills' definition of prime constitutes properties in the top 5% of the market by price.
Prime properties in KL cost about US$280 (RM1,172) psf, while in the next cheapest city, Cape Town, South Africa, they cost around US$310 psf. Hong Kong topped the list with a whopping US$4,610 psf.
Both KL and Cape Town markets have comparatively lower levels of domestic wealth, while longstanding cooling measures in KL and a weak South African economy have also kept values below other cities, Savills Research said in the report.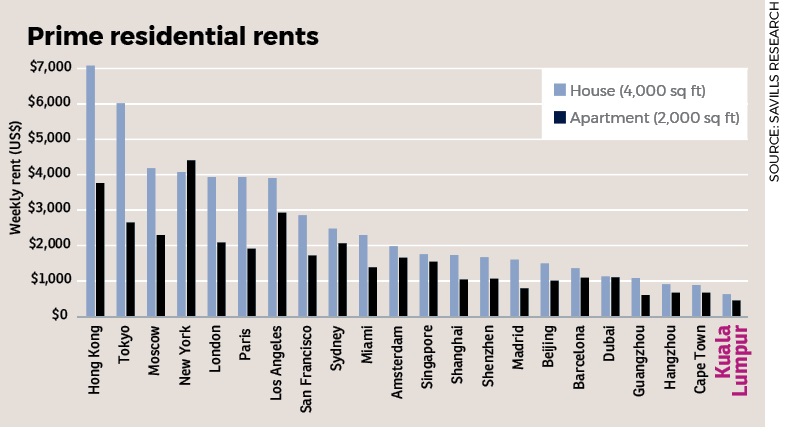 The same can be observed with rental values, with Cape Town and KL ranked as lower-valued cities for prime residential rents and were two of only three cities in the index where a prime house (4,000 sq ft) cost less than US$1,000 per week, the other being Hangzhou in China.
Hong Kong remained top of the rental league at US$7,060 per week, followed by Tokyo at US$6,000 per week. Interestingly, New York topped the list for the rental cost of a prime apartment and was the only city in the index where the average weekly rent for an apartment was higher than a house.
According to Savills Research, uncertainty impacted the global property sector through 2019 and the prime residential sector was no exception.
This uncertainty is expected to continue in 2020. Globally, one of the key drivers of the market in cities where values are expected to fall is a supply and demand imbalance, including New York, Miami, Dubai and KL.
Prime residential properties in KL are expected to record a decrease in value of up to -1.9% or zero growth for 2020.
Rental values outperformed capital values
Overall, the average capital value of prime residential properties across world cities remained flat, averaging an increase of 0.1%, down from 2.6% in 2018, a continued slowdown in growth since 2016.
The slowdown accelerated throughout the year and prices fell in many cities in the second half of the year, resulting in an average decrease of -0.4% over the six months to December 2019.
KL recorded a 1% fall in capital value on the back of oversupply following a rise in the number of residential developments over the past few years. Berlin and Paris were the strongest performers through 2019, with annual growths of 8.8% and 6.4% respectively. The German capital has seen strong interest from buyers and investors looking for income returns while prime property in the French capital is viewed as a safe long-term store of wealth.
Rental values performed better than capital values during 2019 with an average annual increase of 1.2%, a 0.4% increase y-o-y. However, like capital values, rental growth also slowed in the second half of the year, with a 0.3% increase compared with 0.8% for the first half.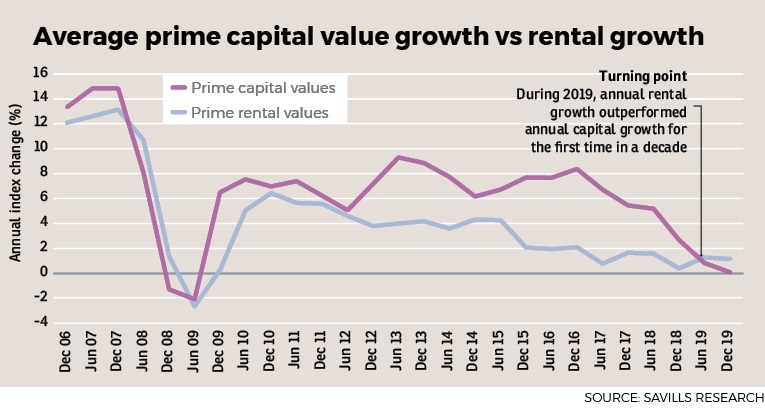 According to the report, Dubai and KL recorded the largest rental falls over the year, with -5% and -4.1% respectively. Both markets are facing oversupply and potential renters have a lot of choice and negotiating power, said the real estate research consultancy.
Meanwhile, Los Angeles saw the largest rental growth (6.1%) being attributed to a shift from buying to renting in younger age groups.
As a result of the increased rental growth, average yields increased in the first half of 2019, after being on a downward trend since December 2014. Average yields continued moving upwards in the second half of the year as rental growth continued to outpace price growth, standing at an average of 3.2% in December 2019 compared with 3.0% a year before.
Bangkok and KL were comparatively high -yielding for the region, recording 4.6% and 3.6% respectively. Los Angeles was the highest-yielding city in the index, at 5.5%.
Buying, owning and selling costs
Purchase price is just part of the picture. Overseas buyers need to factor in the level of taxation and fees involved in buying, owning and selling in different cities, the report said.
The costs associated with purchasing, owning and selling a property as a non-resident can increase the price significantly. In this context, Hong Kong is the most expensive of all the global cities in the index.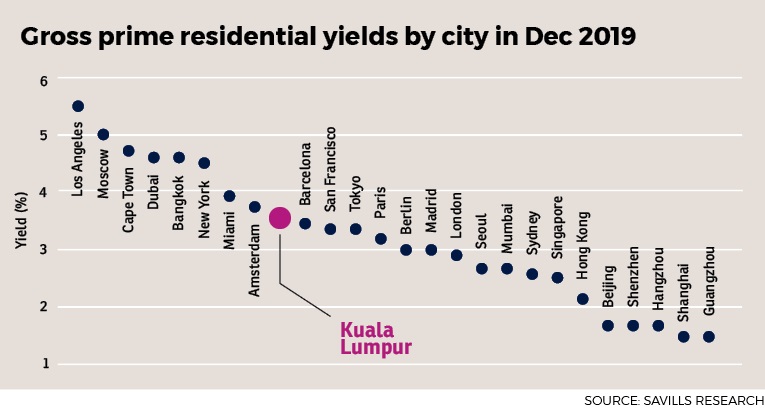 Here, an overseas buyer can expect to pay an additional 33.3% of the purchase price – most of which is stamp duty for overseas buyers.
Second, third and fourth spots are taken by Singapore, Tokyo and Sydney. Berlin completes the top five and is in fact, the third most expensive city for a buyer as the agency fees are paid for by the buyer but with no costs to sell the property. However, KL is not mentioned in this list.