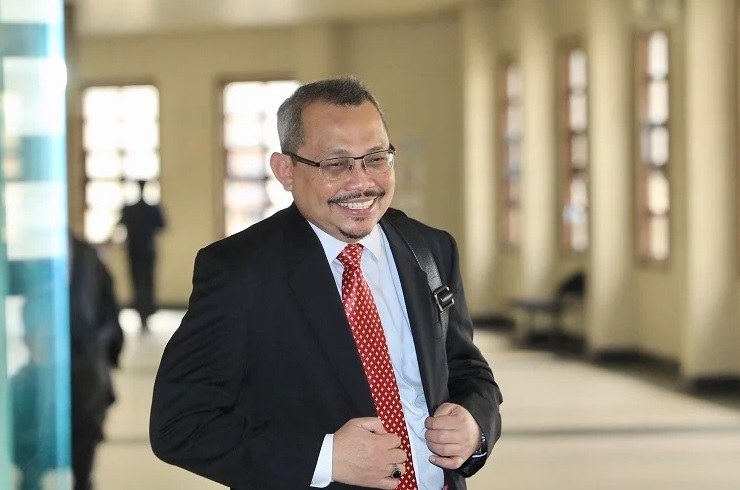 KUALA LUMPUR (March 11): Former Malaysian Anti-Corruption Commission (MACC) chief commissioner Tan Sri Dzulkifli Ahmad (pictured) admitted in court that he is not aware that the present charges levelled against former premier Datuk Seri Najib Razak in relation to the SRC International Sdn Bhd case are based on statements taken from an additional 76 witnesses by the graft-buster.
Quizzed by ad-hoc prosecutor Datuk V Sithambaram, the witness said he only knew further statements were recorded by the commission from media reports quoting his successor Datuk Seri Mohd Shukri Abdull.
"I only know that they recorded further statements but I do not know how many," the 17th defence witness said.
However, a brief argument erupted while Dzulkifli was answering his question, because Sithambaram said the witness responded as if he was acting as Najib's defence counsel.
Shukri was formerly MACC deputy chief commissioner, and was brought in to replace Dzulkifli after Pakatan Harapan won the 14th general election in May 2018.
Sithambaram: The decision to NFA (no further action) to the SRC case and 1Malaysia Development Bhd is based on what was gathered on Jan 26, 2016.
Dzulkifli: Yes.
Sithambaram: Do you know whether the charges made on Najib as in the case now, the investigations and the investigating officer (Rosli Hussain) had recorded 76 further statements from new witnesses?
Dzulkifli: Based on press reports I only know what Shukri says, there are further statements taken, but I do not know how many.
The defence witness had previously headed the anti-money laundering unit at the Attorney General's Chambers (AGC) prior to his promotion to MACC head.
Dzulkifli calls Sithambaram's cover-up suggestion 'a bad accusation'
Sithambaram suggested that based on Dzulkifli's conversation with Najib on Jan 5, 2016 about the case — prior to the press conference by then-AG Tan Sri Mohamed Apandi Ali absolving the former premier of wrongdoings — the public prosecutor could have been involved in a cover-up attempt.
Sithambaram had earlier suggested that when the MACC had returned the investigation papers to the AGC on Dec 31, 2015, it had recommended that charges be filed against Najib, under Section 23 of the MACC Act for abuse of power and dishonest misappropriation of property under Section 403 of the Penal Code.
This means that Dzulkifli could have known about Apandi's decision beforehand and had briefed Najib about the matter during their Jan 5, 2016 conversation.
The ad-hoc prosecutor further suggested that the press conference held by Apandi was a mere "sandiwara" (drama) as the former premier would have been told earlier that there would be a cover-up, prompting Dzulkifli to reply that this is a "tohmahan" (bad accusation) made against the public prosecutor.
In one of the nine audio clips revealed by the MACC in January, a person who sounded like Dzulkifli was heard telling Najib that while Apandi was "very good", the commissioner's recommendation was troublesome.
"It is very bad… [former MACC chief Tan Sri] Abu Kassim [Mohamed] cannot wash his hands..." said Dzulkifli.
The audio clips, which were released by its former chief commissioner Latheefa Koya, are being investigated by the police and the MACC for possible abuse of power by those in the recordings.
Statements had been recorded from Dzulkifli, Najib and his wife Datin Seri Rosmah Mansor over the audio recordings.
Charge cannot stick as PM had no knowledge of transactions, says witness
When re-examined by Najib's lead counsel Tan Sri Muhammad Shafee Abdullah, Dzulkifli asserted that the proposed charges against Najib would not stick as the former premier and Pekan MP did not have knowledge of the money coming into his account.
"You cannot blame someone for depositing money into your account and not knowing about it. This is not proper as the person has no knowledge," he said.
Sithambaram then quipped what if the person spent the money deposited, and to this Dzulkifli responded, while still being re-examined by Shafee, "that would be an offence".
Throughout the trial at the prosecution stage, they had shown that as soon as the money was deposited into Najib's accounts, he issued several cheques to pay various parties and individuals who had been called to give their testimonies.
After Dzulkifli had finished testifying, Shafee called two officers from the MACC namely Kamaruddin M Ripin, who is the deputy director of Communications, Strategic and International Relations, and also Regjid Singh, who recorded the statement from SRC managing director Nik Faisal Ariff Kamil in Jakarta on October 2015.
Following that, the defence closed its case and Justice Mohd Nazlan Mohd Ghazali fixed May 12 for oral submissions.
The former premier and Pekan MP is facing three charges of criminal breach of trust, three for money laundering in relation to the RM42 million of SRC funds and one for abuse of power in relation to the RM4 billion loan from Retirement Fund Inc (KWAP), given to SRC.