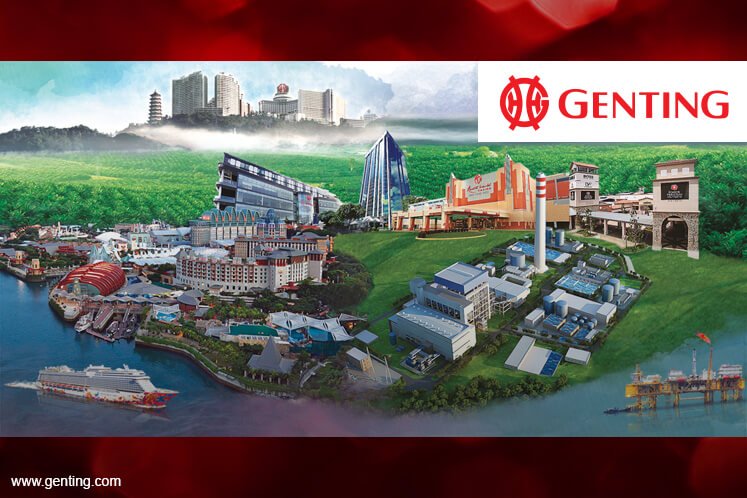 KUALA LUMPUR (March 12): S&P Global Ratings revised its outlook on Genting Bhd to negative from stable to reflect its view that Genting Bhd's revenue and EBITDA will drop by 20%-25% and 25%-30% respectively in 2020 because of the ongoing COVID-19 outbreak.
S&P Global Ratings said its believes the COVID-19 outbreak will hit the Genting group hard in 2020. In a note yesterday, S&P Global Ratings said the revision comes at a time when it forecasts Genting Bhd's near-term capital expenditure to peak in 2020, with Resorts World Las Vegas (RWLV) set to open in the summer of 2021 in the US and S&P Global Ratings' expectation that Genting Singapore will start its S$4.5 billion (about RM13.68 billion) expansion plan.
"The Genting group continues to maintain a monopoly in gaming in Malaysia and is the second-largest operator in Singapore's gaming duopoly. With the addition of RWLV from 2021, we forecast revenue and EBITDA to reach record highs in 2022, and Genting's credit profile to improve materially such that its debt-to-EBITDA ratio will fall below 2.0x and ratio of funds from operations to debt will stay above 45% sustainably thereafter.
"We believe the COVID-19 outbreak will hit the Genting group hard in 2020. We expect a drastic drop in visitation to gaming properties, and those owned by Genting group are no exception. In Singapore, we expect revenue to decline by 30%-40% in 2020, given our belief that the bulk of it is from customers in North Asia.
"In Malaysia, while we acknowledge that day trippers make up about 75% of visitors, we forecast weak consumer sentiment amid the virus fear to lower revenue by 20%-25% in 2020. We forecast the impact to be felt hardest in Group the first quarter ending March, and the rate of revenue decline to slow and flatten out by fourth quarter," S&P Global Ratings said.
At Bursa Malaysia today, Genting Bhd's share price opened down four sen or 0.88% at RM4.50 with some four million share traded. At Genting Bhd's latest closing price of RM4.54, the group has a market capitalisation of RM17.48 billion.