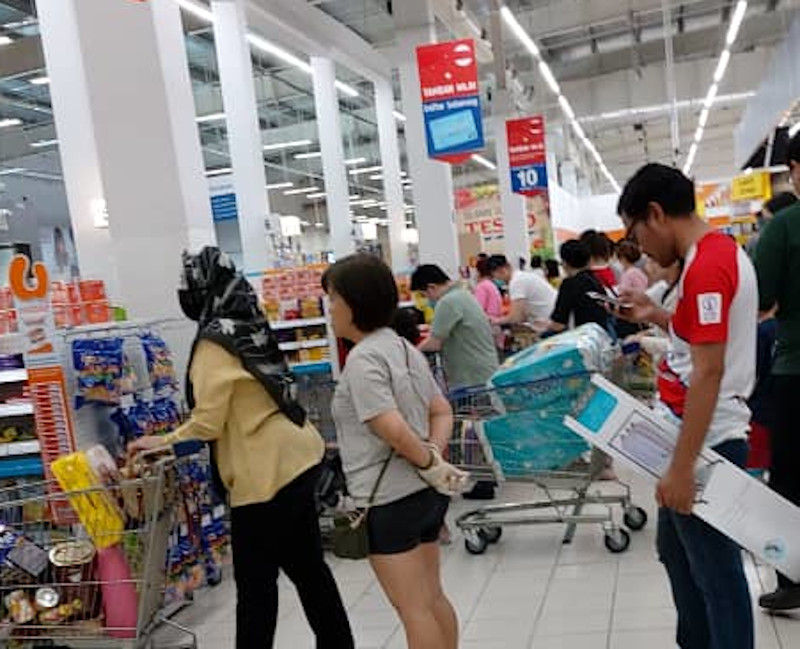 KUALA LUMPUR (March 16): We laughed at Singaporeans, Hong Kong people and Australians when they rushed to grab as much toilet paper as possible as the spectre of COVID-19 loomed over them but it looks like Malaysians are no different.
Images are now popping up on social media of Malaysians lining up at hypermarkets and stores to stock up on essentials.
R. Mages, 58, told The Malay Mail that it was unusually crowded for a weekday afternoon at Tesco Cheras.
"Looks like people are stocking up on groceries due to the COVID-19. Long queues were seen at all the counters," she told the news portal.
The Malays Mail also used a pictured from Check-in Asia, a travel and hospitality company, showing a people stocking up on groceries at a supermarket.
Forget #tourism or #oil. The hottest business in #Malaysia right now is #groceries. Rumours of am impending lockdown are fuelling panic buying in #supermarkets. pic.twitter.com/Y2BRborw90

— Check-in Asia (@CheckinAsia) March 16, 2020
"Forget tourism or oil. The hottest business in Malaysia right now is groceries. Rumours of an impending lockdown are fuelling panic buying in supermarkets," wrote Check-in Asia in its tweet.
The Ministry of Domestic Trade and Consumer Affairs also warned Malaysians on its Twitter account to not spread fake news on COVID-19.
"News or message relating to the suggestion by the Health Ministry urging people to buy groceries and lockdown measures is fake news," said KPDNHEP.
BERITA PALSU !

MOHON HENTIKAN PERKONGSIAN BERITA PALSU INI.

" Berita atau mesej berkaitan cadangan oleh Kementerian Kesihatan Malaysia agar rakyat mula membeli barang keperluan asas dan perintah berkurung ADALAH PALSU ! "#KPDNHEP #Covid_19 #COVID19malaysia pic.twitter.com/hlThPYJ7vE

— mykpdnhep (@mykpdnhep) March 16, 2020
The ministry called on people not to panic buy as it will negatively impact prices and the supply of groceries.
Other locals are also calling for calm.
Nadiah Wan tweeted: Please don't panic buy. There's NO lockdown and crowding in supermarkets is NOT social distancing. Panic buying drives prices up and most Malaysians cannot afford this. Stocking up excessively is a privilege of the wealthy. Plan purchases wisely and take contact precaution.
Come on Malaysian..

Please don't do panic buying.

Location: Tesco Cheras, 11:30 AM. pic.twitter.com/JYyYIHmctk

— Khairul Azri (@mkhairulazri) March 16, 2020
@thefikrey feels that the finger is now pointed back at us: A month ago Malaysians were laughing at how some of Singaporeans went stupid for panic buying... but hey look now it's happening in Malaysia!!
@blastchan is a bit angry about the selfishness of some people: People in Malaysia are starting to panic buying most of the food. But still they go out to events and crowded places. Can't u see how selfish u all are being?