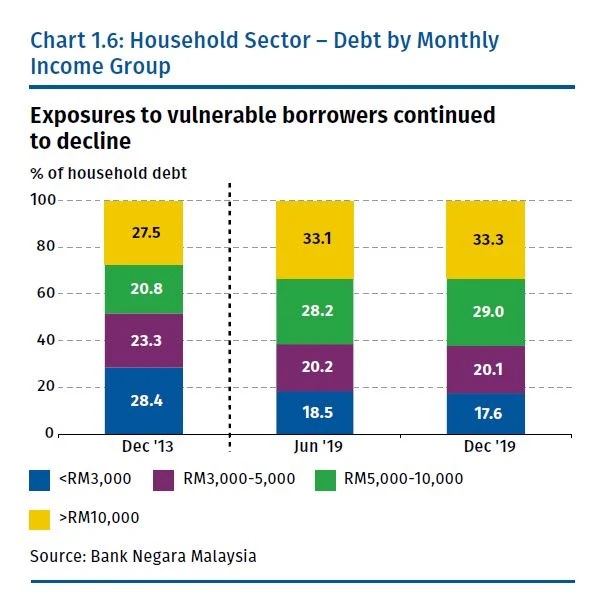 KUALA LUMPUR (April 3): Although household debts expanded faster in the second half of 2019, the risk of Malaysian borrowers defaulting on their loan repayment remains low, according to Bank Negara Malaysia (BNM).
This is simply because borrowers have larger residual income and greater flexibility to adjust discretionary expenditures under adverse circumstances, the central bank said in its Financial Stability Review report for the second half of 2019.
Borrowers have also increasingly shown the consistency over the years in settling their credit card balances in full every month, BNM said.
"The median debt service ratio (DSR) for outstanding and newly-approved loans remained within prudent levels at 37% and 43%, respectively.
"As noted in the last Financial Stability Review, some signs of easing in underwriting standards have emerged, as evidenced by the higher share of newly-approved loans to borrowers with DSR exceeding 60% in the past few years. Close to two-thirds of these loans were extended to borrowers earning more than RM5,000 per month and about half were credit card and personal financing facilities," it said.
On that note, BNM said it remains vigilant over signs of a broader easing of lending standards by financial institutions, particularly for facilities extended to more vulnerable households.
Such signs, it said, remain limited at present and have been more prevalent among selected development financial institutions with specific mandates. Their share of household lending remains small.
Stay calm. Stay at home. Keep updated on the latest news at www.EdgeProp.my. #stayathome #flattenthecurve
Click here to see residential properties for sale in Kuala Lumpur.