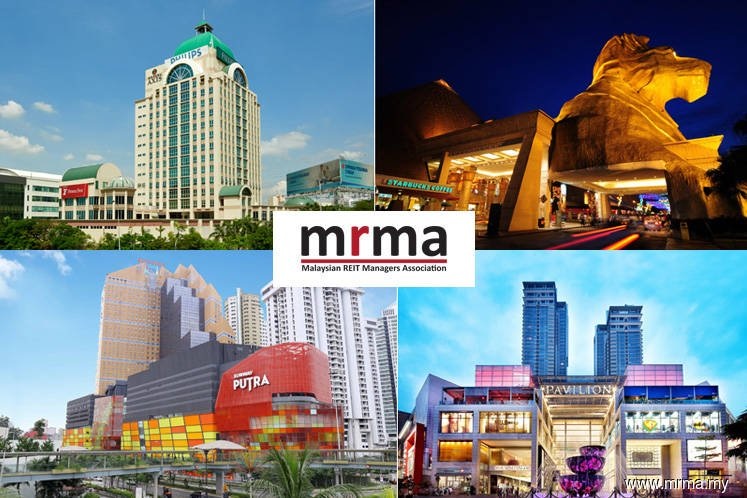 KUALA LUMPUR (April 22): The Malaysian REIT Managers Association (MRMA) is calling for relief measures to help the local real estate investment trusts (REITs) industry mitigate the adverse impacts it is currently facing.
MRMA said Malaysian REITS (M-REITs) are burdened by operational expenditure and capital and financial commitments amid the closure of business premises during the Movement Control Order (MCO).
"At the same time, landlords have been inundated by requests from tenants and business partners for assistance.
To-date, M-REITs have offered the necessary assistance to tenants and business partners, albeit at varying degree at the prerogative of the individual REIT," MRMA said in a statement.
To help alleviate operational burdens, MRMA has proposed to the government to consider a further discount on electricity tariff and waiver of imbalance cost pass through for six months, a waiver of assessment fee and quit rent for one year, as well as the liberalisation of withholding tax on M-REITs income distribution to all resident individual unitholders.
Specifically, the association has called for an increase from 15% to 25% in the electricity tariff discount accorded to hotels, retails malls, conventions and exhibition centres, commercial and industrial properties, for six months up to September 2020.
It has also asked for financial relief to alleviate financial strain of M-REITs. In particular, it has proposed several options to be considered such as reduction in interest and financing rate to 3% for at least six months, automatic six-month moratorium on financing facilities repayment or payment and double deduction of borrowing costs for half year.
In addition, MRMA has sought the authority's consent to allow a for REIT to temporarily exceed the gearing limit of 50% for a period of 12 months, on a case-to-case basis, provided the affected REIT has obtained the sanction from its unitholders.
"This proposal acts as a pre-emptive measure, in order to manage potential asset devaluation risk and gearing surpassing the permissible threshold," it said.
In matters regarding M-REITs' income distribution, MRMA wants the authority to allow M-REITs (with Income Distribution Reinvestment Plan) to distribute income through issuance of units in full, for the electable portion for a period of six months.
In Singapore, the Ministry of Finance and Inland Revenue Authority of Singapore (IRAS) have extended the timeline for REITs listed in Singapore (S-REITs) to distribute at least 90% of their income distribution, from three months to 12 months, to qualify for tax transparency.
MRMA has proposed to the authority for the same extension to be applicable to M-REITs to allow flexibility for them to manage cash flows in such challenging times.
"MRMA urges the government to accelerate the proposed relief measures for M-REITs to remain relevant to investors at large and to defend the survivability of the business value chain of our tenants and welfare of stakeholders, without asserting pressure to consumers," said its chairman Datuk Jeffrey Ng.
Stay calm. Stay at home. Keep updated on the latest news at www.EdgeProp.my. #stayathome #flattenthecurve
Click here to see residential properties for sale in Kuala Lumpur.