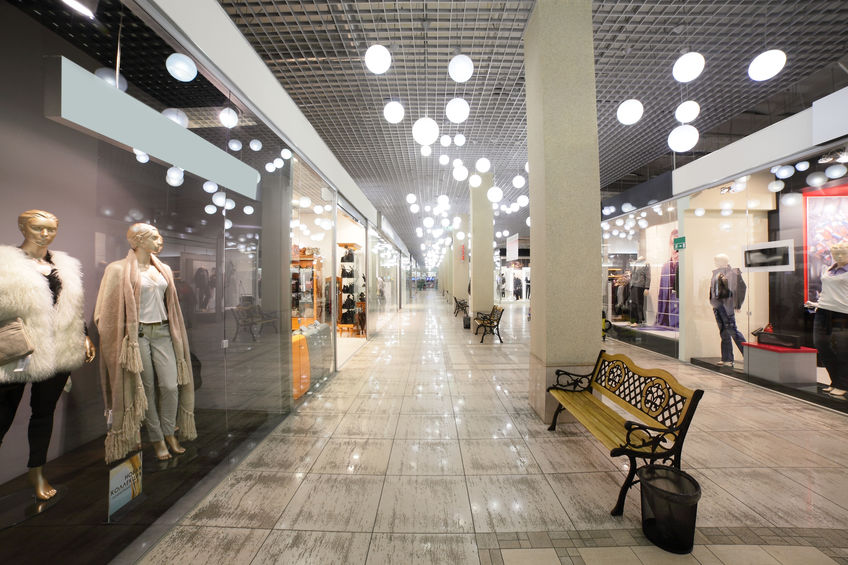 The Covid-19 Movement Control Order (MCO) had been eased into a Conditional MCO until June 9 (at the time this article was written), allowing most retailers to resume operating including in shopping malls, but it is clear that most people remain wary of visiting such public spaces.
View the Fireside Chat: Will Malls Be Empty In The New Normal?
Read the May 8, 2020 issue of EdgeProp.my
Read also
Safety and hygiene the main concern
Malls need to reinvent themselves
To have a better idea about consumers' perception towards shopping malls in light of the Covid-19 coronavirus outbreak, EdgeProp.my ran a survey titled "Will malls be empty in the new normal?" from April 22 till May 3, 2020.
The objective of the survey was to gauge consumer behaviour in visiting shopping malls pre- and post-MCO; and to see whether Malaysians were keen to return to visit their favourite malls like they used to after the MCO was lifted.
The survey garnered 1,094 respondents from all the states in Malaysia, with the majority coming from Selangor (50%), followed by Kuala Lumpur (35%), Penang (5%) and Johor (4%).
In terms of age group, a large percentage of respondents (49%) were aged between 41–60 years old, while 40% were aged 20–40 years old and the remaining were respondents aged 61 years and above.
A total of 33% respondents earned RM5,000 to RM9,999 a month; 25% have a monthly income of RM15,000 and 24% earned below RM5,000 a month.
Malaysians still want malls
The survey offered one piece of good news for mall owners and retailers: 82% of respondents believe that shopping malls in Malaysia would not die post-MCO even against the intense competition from e-commerce. And when asked whether they could imagine life without shopping malls, 62% said "No".
This indicated that people still see shopping centres as part of their lives. Although the majority of the respondents (80%) say they will generally visit malls again post-MCO, many (74%) also stated that they will only visit malls when the need arises. Understandably, this was mainly due to concerns over safety and hygiene issues in light of the Covid-19 situation.
Rethink the malls of tomorrow
The MCO which was implemented from March 18 until May 3 before the CMCO took over has also forced Malaysian's to move to online shopping with 64% of the survey respondents having purchased more items online when staying at home during the MCO compared with previously.
Interestingly however, when it comes to online shopping, there were 22% who said they do not shop online at all.
Having said so, almost all of the respondents (93%) saw the potential of physical malls co-existing and complementing online shopping - with shopping malls offering experiential shopping while online platforms offering the convenience of delivering-to-your-doorstep shopping.
Hence, they also believe that malls would need to reinvent themselves to stay relevant and to attract people to visit them. For instance, in the new normal post-MCO, the respondents state that safety and hygiene; security; and a pleasant experience are among the top elements that could enhance a shopping mall's competitiveness.
Some respondents also offered ideas that they thought mall operators could explore such as improving their space layout for easy navigation, differentiating the mall with special themes the way Terminal 21 shopping mall in Bangkok, Thailand has done, offering incentives such as click-and-collect points schemes for shoppers as well as enhancing contactless payment systems.
The post-MCO shopping behaviour will not be the same again as shoppers' priorities have changed due to the fear of contracting the Covid-19.
Now it's time for shopping mall operators and retailers to rethink their direction moving forward to carve their competitive edge.
Grocery is No 1 on the shopping list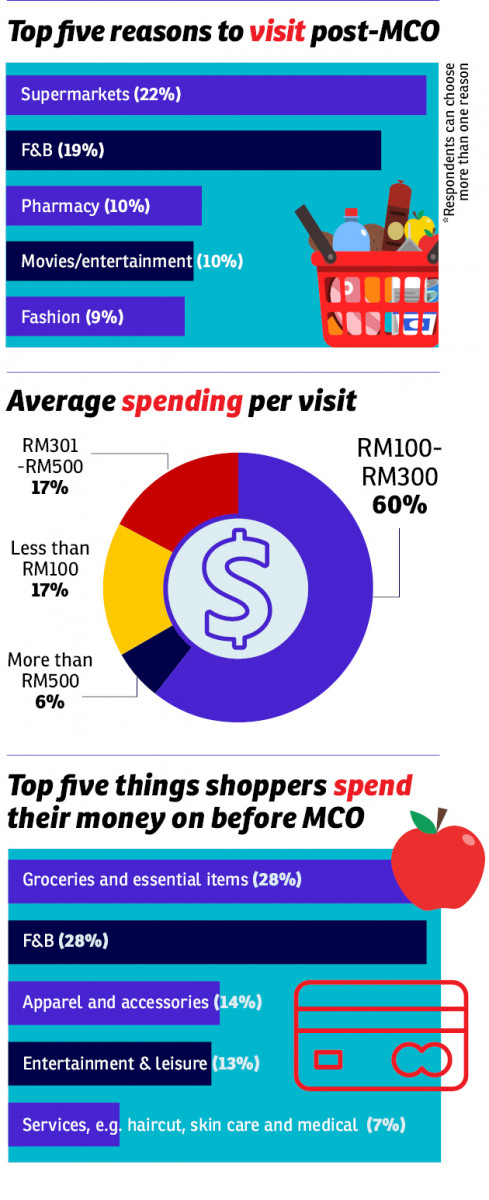 According to the EdgeProp.my Survey "Will malls be empty in the new normal?", the top five reasons to frequent malls in future (post-MCO) include to buy groceries from the supermarket (22%) and to patronise the F&B outlets (19%). Visiting wellness outlets and pharmacies as well as leisure and entertainment outlets such as cinemas were the next most popular (10% each) followed by fashion outlets (9%). The survey which ran from April 22 till May 3, 2020, received 1,094 respondents.
Other reasons for visiting malls include visiting special interest outlets such as DIY shops, beauty products, electrical appliances and home furnishing items.
In terms of spending, before the MCO, mall visitors had spent the most money on groceries/essential items; and F&B (28% each), followed by fashion apparel and accessories (14%), entertainment and leisure (13%) as well as services such as haircut, skincare and medical (7%). It is worth noting that only 2% spent their money on luxury goods such as branded items, jewelry and watches.
This story first appeared in the EdgeProp.my pullout on May 14, 2020. You can access back issues here.