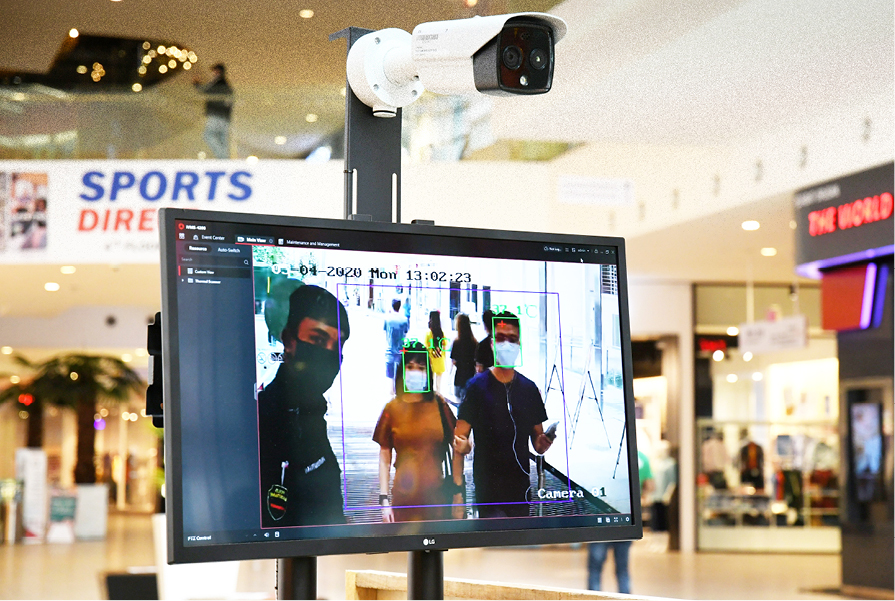 Malaysian mall-goers are keen to visit again now that the Covid-19 Movement Control Order (MCO) period is over but mostly only when the need arises due to health and safety concerns over the Covid-19.
Read also
EdgeProp.my Survey: Malls can never be the same again
Malls need to reinvent themselves
Based on a survey conducted by EdgeProp.my Survey titled "Will malls be empty in the new normal?" about 80% out of the 1,094 respondents said they are generally still keen to visit shopping malls in future after the MCO. However, 15% of them were feeling unsure while another 5% said they won't be visiting. The survey ran from April 22 till May 3, 2020.
Although the majority of the respondents look forward to visiting malls again in the long run, in the near term, most would continue to be wary about the spread of the Covid-19 coronavirus as only 26% of those who will visit malls post-MCO stated that they will go to the malls immediately after the MCO is lifted against 74% who reckoned that they would only visit when the need arises.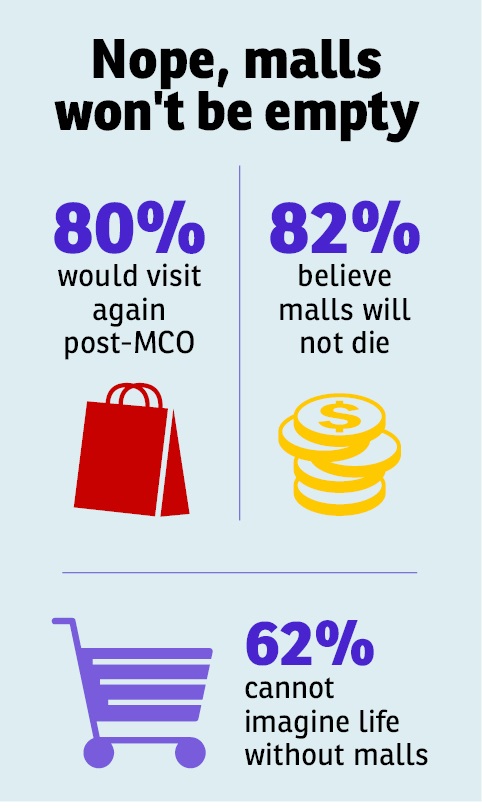 And when they do visit, how long will they spend in the mall? In envisioning the situation post-MCO, close to 47% of the respondents stated that they will spend no longer than the necessary time while 25% were uncertain and will wait-and-see before deciding. About 28% were confident that the time spent will be no different from pre-MCO.
Prior to the MCO, 74% of the respondents stated that they spend around one to three hours when they visit a mall; 19% spent three to five hours, 4% spent less than an hour while 3% spent more than five hours in a mall.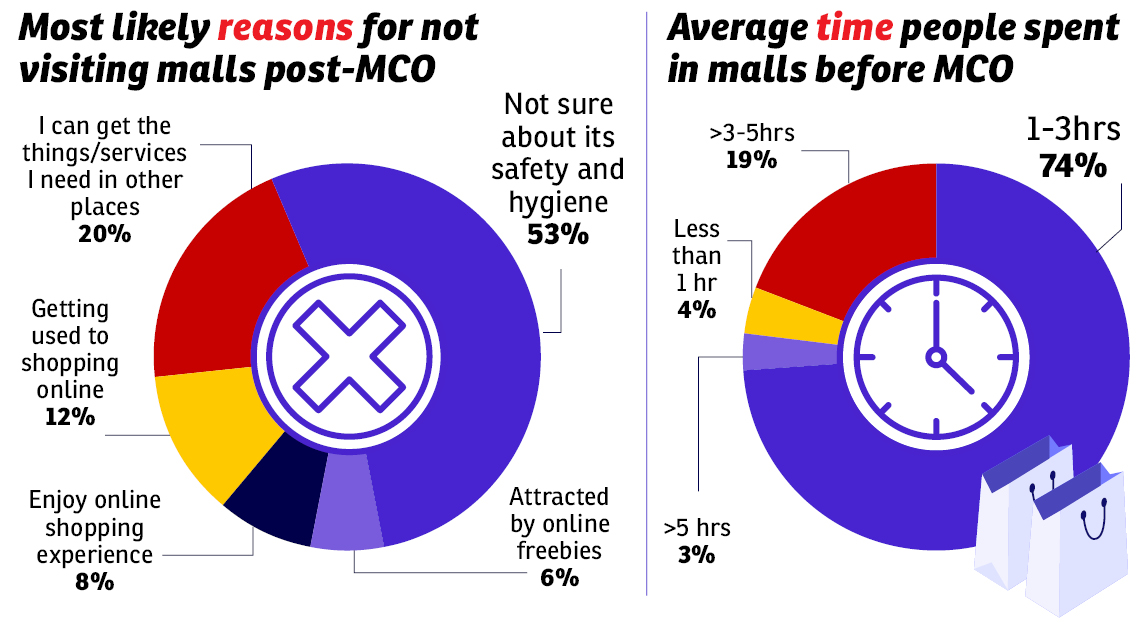 When asked about the possible factors that could prevent them from visiting malls post-MCO, over half of the respondents expressed their concerns over safety and hygiene (53%). Indeed, the Covid-19 has placed safety and hygiene a top priority for shoppers going forward which in turn will shape how malls will evolve now and beyond.
Another 20% of the respondents said there may be no need to visit the malls as they could get the things or services they need from other places or avenues.
Other factors that could keep shoppers away from malls are that they have already gotten used to shopping online (12%) during the MCO, they enjoy the online shopping experience more than a visit to the mall (8%) and are attracted to online freebies and discounts offered (6%).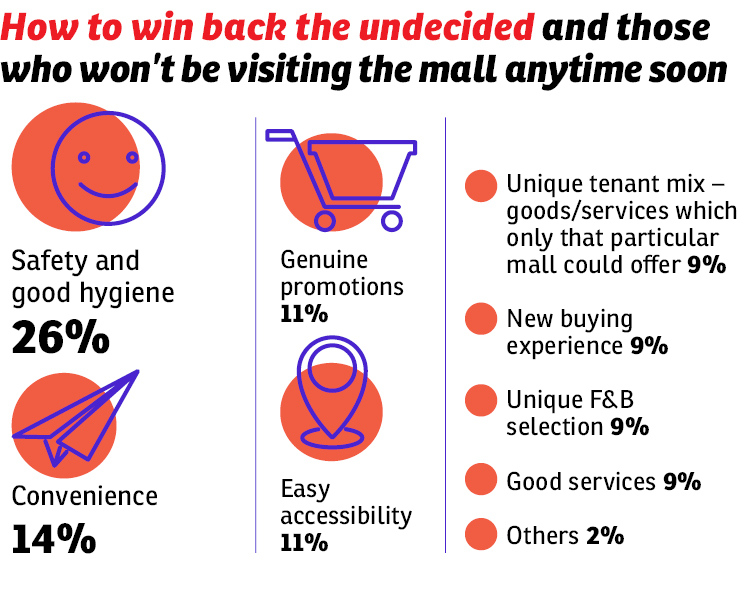 On the other hand, a total of 58% of the respondents stated that they will miss the ground events, promotions and entertainment activities offered by malls, since no public events are allowed for now due to social distancing to prevent the spread of the Covid-19.
Meanwhile, to win back those who said they will not visit the malls again and those who were undecided, the most important thing for malls to do is to raise their confidence in the aspect of safety and hygiene (26%). They also asked for more conveniences (14%) to be made available as well as more genuine promotions. Others include easier access, more unique tenants, new buying experiences, good service and unique F&B selections.
One could therefore expect malls to be a far cry from pre-MCO days as traffic will be reduced quite significantly until the fear of the disease dissipates.
This story first appeared in the EdgeProp.my pullout on May 14, 2020. You can access back issues here.