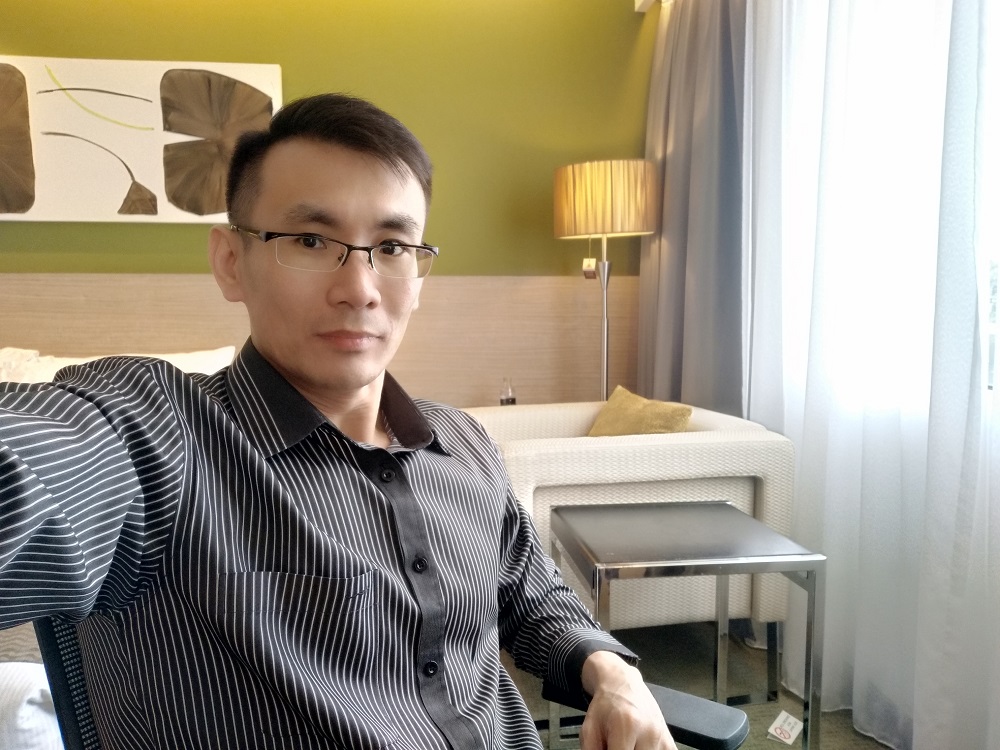 There have been at least 15 global economic crises since 1990 (Table 1). Among them, the one that occurred in 2003 is the only one related to a disease outbreak, the severe acute respiratory syndrome (SARs) epidemic. Other economic crises were either associated with a speculative financial bubble bursting, a stock market crash, a sovereign default, or a currency crisis.
Although 8,000 people were infected and at least 774 died worldwide, the impact of SARs was not apparent in the Malaysian property industry. In fact, our property market was quite resistant in terms of housing price. Over the last 30 years, house prices here only suffered a decline in 1998 and 1999 (Figure 1); which was generally considered as a lingering effect of the 1997 Asian Financial Crisis rather than the impact of Nipah virus outbreak that occurred from September 1998 to May 1999 resulting in 265 cases of acute encephalitis with 105 deaths in Malaysia.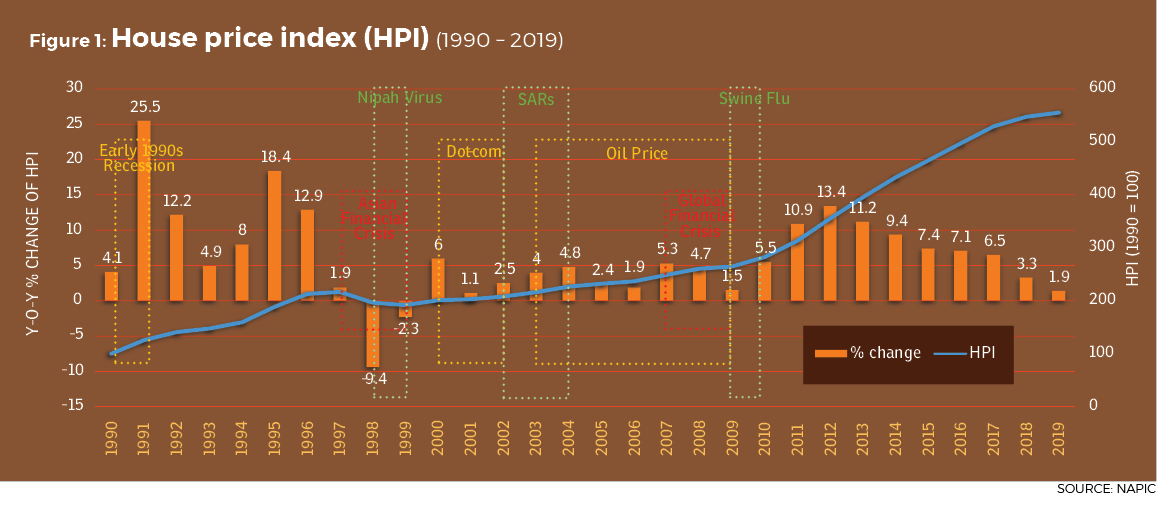 Right after the dip in 1999, local house prices started to grow at a stable pace, with a CAGR of 3.47% throughout 2000-2010. Throughout the period, there was the 2000 Dot-com Bubble, the 2008 Subprime Global Financial Crisis and the outbreak of the Swine Flu disease in 2009 – 2010, all which seemed to have no impact on the property industry. It is therefore clear that the country's property market is less affected by unprecedented crises. Rather, its volatility to a large extent is dependent on local market conditions including lending policy, market sentiments especially optimism about future capital appreciation, as well as developers' promotions.
However, the economic costs associated with the Covid-19 presently go beyond the other previous crises. Covid-19 spreads quickly and hence the economic costs to a large extent are due to the necessary containment measures for the pandemic, which have halted a majority of business activities.
Malaysia is expected to experience economic contraction following the imposed Movement Control Order (MCO) from March 18 to May 3 that has caused business shutdown in all non-essential activities. The country's property market was clobbered as a result. The fear of the virus outbreak is definitely leading to fewer home seekers as well as some listings being delayed. Moreover, buyers were unable to fulfil their obligations with regards to processes like completing documentation and progress payment as financial institutions had scaled down operations in adherence to the MCO. Developers and builders, too, are not likely to meet their completion deadlines as the whole supply chain was interrupted.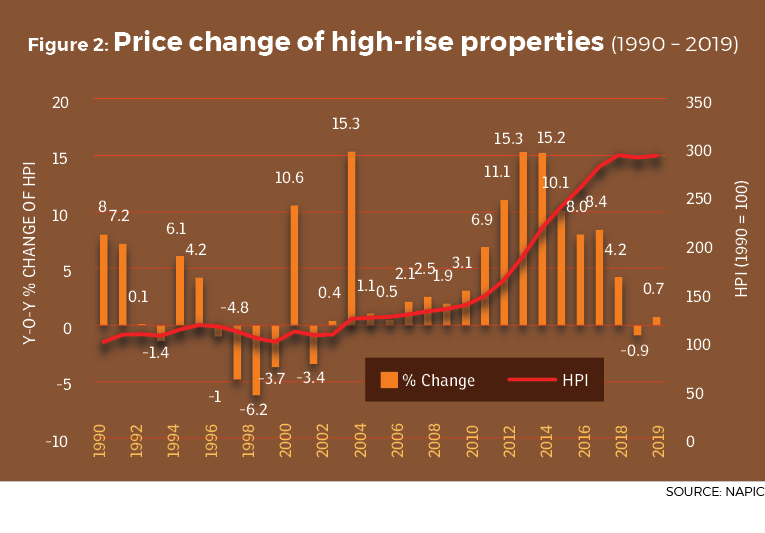 While it is still too early to predict the quantum and economic costs brought by Covid-19 on the property market, the transaction volume and value of property will inevitably decrease in the first half of 2020. Meanwhile, property owners and investors who face cash flow problems will become more realistic in their asking prices, leading to a more favourable buyers' market. As such, it is likely house prices will drop for the first time since 1999. However, due to market resilience, and as observed in past market recovery following previous crises, house prices will rebound quickly.
High-rise and high-end properties
If we were to take a closer look at the performance of individual property type, we can find that prices of high-rises are sensitive to short-term fluctuations, where price dips occur more frequently (Figure 2). Historical house price index (HPI) shows that high-rise properties suffered a price dip in 1993 (early 1990s Recession), 1996 – 1999 (AFC), 2001(Dot-com Bubble), and even in 2018 – a challenging year marked by the mismatch of house prices and affordability, overhang in properties, cautious consumer sentiment, difficult access to property financing, and the weakened ringgit against other major currencies. All these indicate that high-rise properties are more susceptible to economic condition.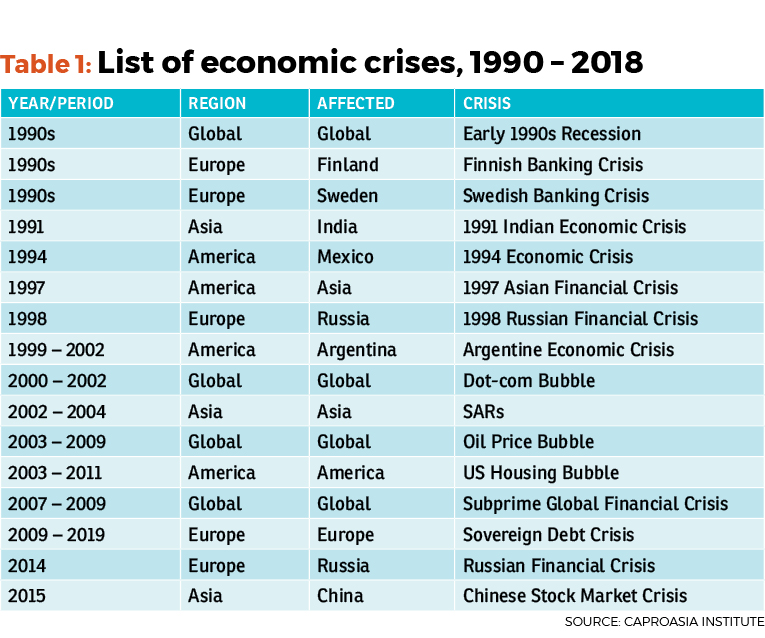 A similar trend is observed in luxury properties like detached houses, where a dip in prices was seen in 1998-1999, 2001, and 2018 (Figure 3). Of note is that price dips of high-end properties can be greater than of high-rise properties. Steeper declines were recorded at 13.6% and 6.7% respectively, in 1998 and 1999. This is understandable as consumers will temporarily move away from buying big-ticket items when a recession looms and the market is shadowed by uncertainties.
Subject to location, it is likely that prices of high-rise and high-end properties will experience a decline in 2020, and overhang units of these types of property will increase, offsetting the improvement that had been achieved through the Home Ownership Campaign (HOC) in 2019.
Terraced houses
In contrast, short-term fluctuations appeared to have less influence on prices of terraced houses — traditionally the most common affordable housing for mass buyers (Figure 4). To date, terraced house prices recorded the least volatility at -4.8% and -3.3% in 1998 and 1999, respectively; and have been experiencing a continual growth since then. They are less sensitive to economic factors mainly owing to the strong confidence among investors with regard to their relatively safer nature as a long-term investment tool, as well as their profitable returns that can provide cash flow amid uncertainties.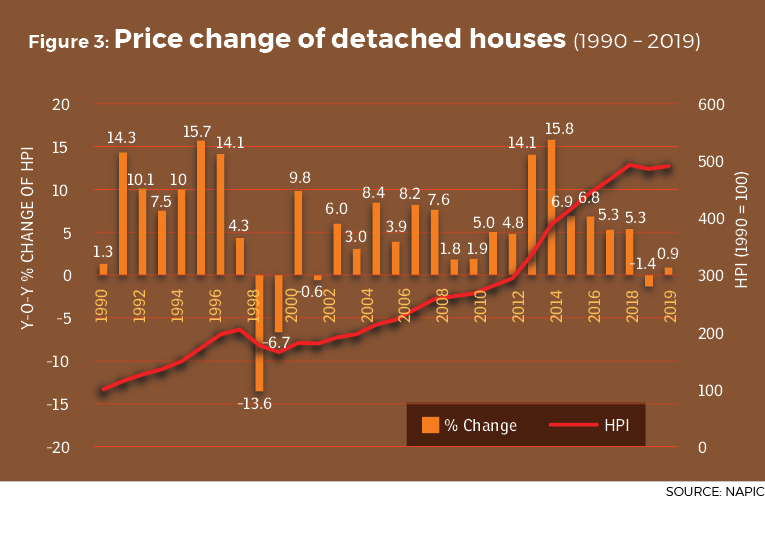 This is reflected when terraced house prices achieved a 6.7% and 2.9% growth in both 2018 and 2019, despite the housing market slowdown since 2015.
Hence, a moderate growth for terraced house prices is expected in 2020. However, realising that the country's property landscape has been changing in the past decade; where high-rise properties are representing as high as 30% of the total existing housing stocks, compared with terraced (41%) and detached houses (9%); the overall house price is deemed to be affected by the performance of high-rise properties, which will most likely be in a declining mode in 1H2020.
While a dampened property market is expected in 2020, a property market crash like the Asian Financial Crisis is not likely to happen again. This is because the root cause of the previous crisis was different from the one we are faced with today. In 1997, banks and the financial sector had to be bailed out by the government as they were short of liquidity. In contrast, today's banks are in a strong financial position to withstand the pandemic with capital and liquidity buffers. The economic costs brought by Covid-19 are almost certainly related to weak economic activities and poor market sentiments thus reducing seller and buyer traffic in the market.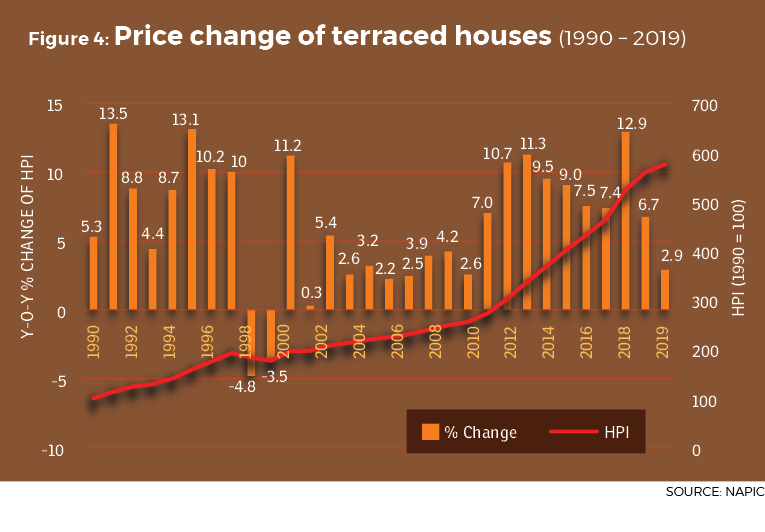 Also, market contractions caused by Covid-19 are unlikely to be as severe as those experienced during the Asian Financial Crisis — a plunge of 47.6% and 32.3% in both the value and volume of transactions. We are not experiencing a financial crisis today hence the decline in transaction volume and value will be more manageable. In fact, prior to the pandemic (since 2015), the country's housing market has seen a declining trend for four consecutive years. Throughout this period, slow growth in revenue and dwindling profit margins were a norm to most property developers.
In order to stay competitive in the market as well as to withstand the economic challenges and uncertainties, developers have adjusted their business strategies to suit the market recession. In this sense, developers are believed to be prepared enough to cope with the impact of the pandemic, and have even adapted to the new norm in the post Covid-19 business environment.
One should also realise that houses may not necessarily be more affordable in the post Covid-19 era. This is because, during the economic crisis, not only the housing market is going through adjustment, other markets are also doing the same, particularly the labour market and the financial sector. Wage growth could be lower or zero during the crisis, and the unemployment rate could hit a higher level than any other periods, leading to negative household debt-servicing capacity. Meanwhile, banks are likely to tighten their lending conditions in order to reduce their exposure to a higher risk of possible default from mortgage payments, making it even harder for first-time home buyers to enter the market.
Dr Foo Chee Hung is MKH Bhd manager of product research & development
Stay safe. Keep updated on the latest news at www.EdgeProp.my
This story first appeared in the EdgeProp.my pullout on May 14, 2020. You can access back issues here.