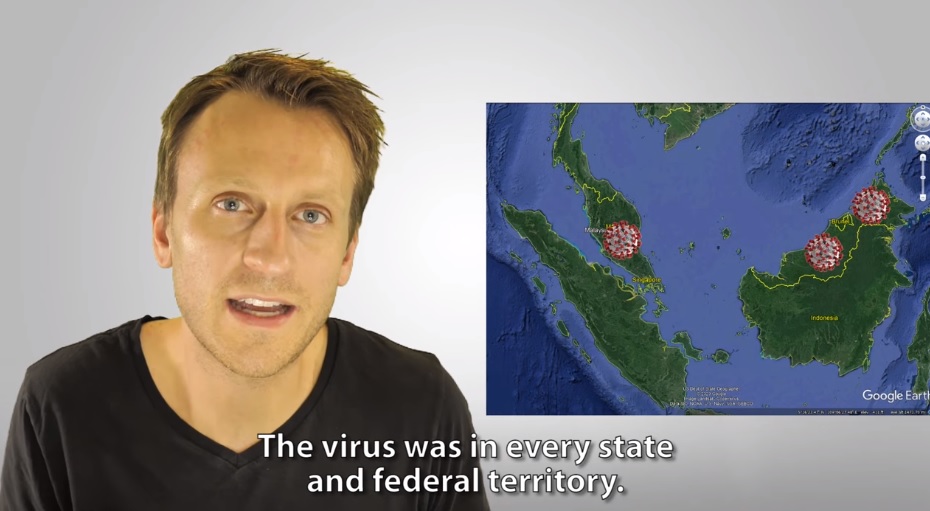 PETALING JAYA (May 21): An American dentist, whose videos praising the Malaysian government's response to the Covid-19 outbreak have gone viral, has denied allegations that he was paid to produce such content, Malaysiakini reported today.
The report said Dr Dustin Pfundheller's first video commending Malaysia for measures taken to tackle the outbreak was published on May 9 has been shared at least 56,000 times on Facebook and a lot more times on other social media platforms.
Catatan dari luar negara tentang kemampuan kita menangani covid19.

1/2 pic.twitter.com/Etck90LUk5

— Saifuddin Abdullah (@saifuddinabd) May 10, 2020
The video was also shared on the social media pages of Malaysian government agencies and some cabinet ministers.
According to Malaysiakini, the success of the video prompted Pfundheller to produce another video on Malaysia's response to Covid-19 on May 18, prompting speculation among netizens that he was paid to do so by the Malaysian government.
However, Pfundheller, who started making online videos while travelling across the globe, said he is "never sponsored".
"While there are many social media influencers who get paid to do particular stories, it is wrong to make assumptions that all those who make videos are being paid," he said when contacted by Malaysiakini.
"It's disappointing because my entire channel is to show that you shouldn't make assumptions," he said, noting that his policy to avoid making paid content is explicitly stated on his Instagram post.
Pfundheller added that before he released the video on Malaysia, he only had 53,000 followers - a small number compared to many influencers who have a million followers or more.
As such, it did not make sense for the Malaysian government to commission someone with a relatively small audience.
"Why would anyone pay someone with such a small following?" he asked, noting also that he is not a full-time content producer and works full time as a dentist.
'Malaysians have been good to me'
According to Malaysiakini, Pfundheller said he began researching about Malaysia's Covid-19 response after a Malaysian encouraged him to do so in the comment section in another video he produced.
Malaysia is one of 15 countries he featured in separate videos regarding how different countries and localities were fighting Covid-19.
He said he was glad to produce content about Malaysia because he had lived in Singapore for six years, with Malaysian flatmates.
"My dental assistants were Malaysian. I also made so many Malaysian friends and Malaysians who have always been so nice to me. It was nice to do a video that they could see about Malaysia," Pfundheller added.
In February, Malaysia received praise from the World Health Organisation for its preparedness in facing Covid-19.
As of May 20, some 81.4% of those infected have recovered while 1.6%, or 114 patients have died.
Malaysia conducts about 25,000 tests a day - a rate comparable to South Korea when compared to the number of cases recorded.
It has taken South Korea 65.44 tests to find each Covid-19 case, compared to Malaysia's 61.90.
In May, an average of 50 cases a day were recorded, including Malaysian returnees who undergo compulsory 14 days quarantine in designated centres after returning from overseas.
At its height, Malaysia recorded 150 to 200 cases a day, but the numbers reduced dramatically following a two-month movement control order that shut down schools, places of worship and most businesses.
The order was relaxed on May 4 to allow most businesses to operate and greater freedom of movement.
However, interstate travel is still banned, except for those with permission, while schools remain closed.
Malaysiakini said critics nonetheless have condemned the government's recent decision to allow university students to return to their hometowns and other interstate travel in special circumstances.
Yesterday, a student in Kedah tested positive when tested as a condition for her return to her hometown in an undisclosed Borneo state.
All students returning to Sarawak and Sabah have to undergo Covid-19 tests. A total of nine students have been found positive following those tests.
Kelantan, which had not had a case for about a month, recorded a new case yesterday, involving a heavily pregnant woman, who was permitted to travel from Ampang, Kuala Lumpur, to her hometown Kuala Krai, to give birth.
Click to watch Pfundheller's "Malaysia's Incredible Covid-19 Story"
Stay safe. Keep updated on the latest news at www.EdgeProp.my
Click here to see residential properties for sale in Kelantan.