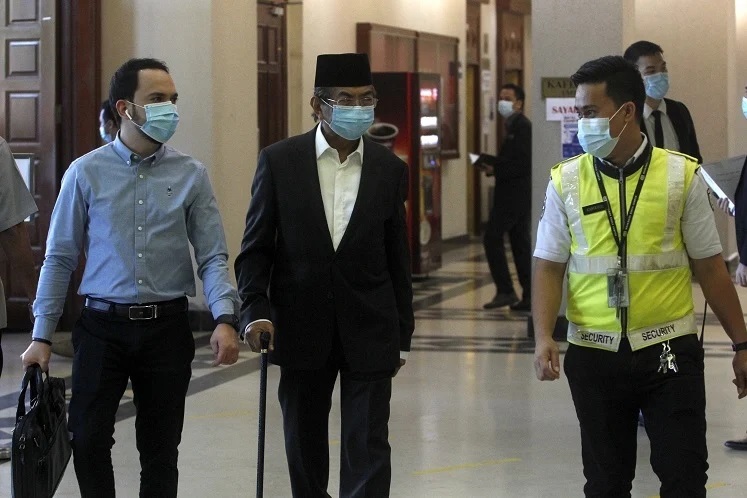 KUALA LUMPUR (June 9): The withdrawal of the 46 corruption and money laundering cases against former Sabah chief minister Tan Sri Musa Aman today was done as it was no longer tenable to continue with his prosecution, said Attorney General (AG) Tan Sri Idrus Harun.
Idrus said the decision was taken in accordance with powers exercisable at his discretion under Article 145(3) of the Federal Constitution.
In a statement today, Idrus commented on Musa's case, saying documentary evidence is vital to prove a case of this nature.
He said documentary evidence from companies and banks, which were expected, could not be obtained through Mutual Legal Assistance in Criminal Matters from Hong Kong.
Furthermore, he said the Department of Justice of Hong Kong advised that companies and banks in Hong Kong are only required to keep records for seven years and that it is highly unlikely that neither the banks nor the companies still have the records.
Apart from that, there are witnesses for the prosecution who have passed away, suffered serious medical ailments or not in Malaysia anymore, Idrus added.
Musa sent a representation to the Attorney General's Chambers (AGC) on May 13, seeking the case against him to be withdrawn and all charges to be quashed.
Subsequently on June 5, the AGC received an affidavit, which was filed in the High Court by Musa.
Idrus said the affidavit was affirmed by former attorney general Tan Sri Abdul Gani Patail, supporting the application by Musa to quash all the charges against him.
"The former attorney general defended the decision taken in 2012 to take no further action against Tan Sri Musa Aman as investigations revealed the monies involved were political funding," he said.
Idrus added that Abdul Gani also stated that the decision was made collectively by a high-level team comprising former head of AGC's prosecution division Datuk Tun Abdul Majid Tun Hamzah, former Malaysian Anti-Corruption Commission (MACC) chairman Tan Sri Abu Kassim Mohamed and former MACC investigation division director Datuk Seri Mustafar Ali.
After studying and perusing the investigation paper from a legal standpoint, Abdul Gani in exercise of his discretion had decided not to proceed with prosecution, Idrus said.
In light of the representation and the recent development in the form of the affidavit by Abdul Gani, Idrus said it was the responsibility of the AGC to review the whole evidence for this case.
"Having studied the whole available evidence and upon discussion being held with the prosecution and investigation teams, I decided to withdraw all the charges against Tan Sri Musa Aman," he said.
"This recent development, including the aforesaid affidavit-in-support that was filed, has caused a situation wherein it is no longer tenable to continue with the prosecution of Tan Sri Musa Aman. This decision was strengthened by a letter dated Dec 22, 2011 from the Independent Commission Against Corruption of Hong Kong stating that their investigation against Tan Sri Musa Aman was complete and, on the basis of known facts, no further investigative action would be pursued," he said.
The prosecution earlier today dropped all charges against Musa. High Court Justice Datuk Muhammad Jamil Hussin then ordered for the accused to be discharged and acquitted of all 46 charges.
Under the corruption charges, Musa, in his capacity as the Sabah chief minister and chairman of the board of trustees of the Sabah Foundation, was accused of receiving US$50.1 million from eight logging concessionaires as an inducement to approve logging concessions for 16 companies.
He was alleged to have committed the offences at eight banks and financial institutions in Hong Kong, China and Singapore between Dec 20, 2004 and Nov 6, 2008.
As for the money laundering charges, Musa was accused of instructing Richard Christopher Barnes, 67, to open an account at UBS AG Bank in the latter's name, with the intention of receiving proceeds of illegal activities through the account.
The former chief minister allegedly received US$37.84 million and another sum of S$2.5 million in proceeds from illegal activities from several individuals through the account under Barnes' name.
Stay safe. Keep updated on the latest news at www.EdgeProp.my