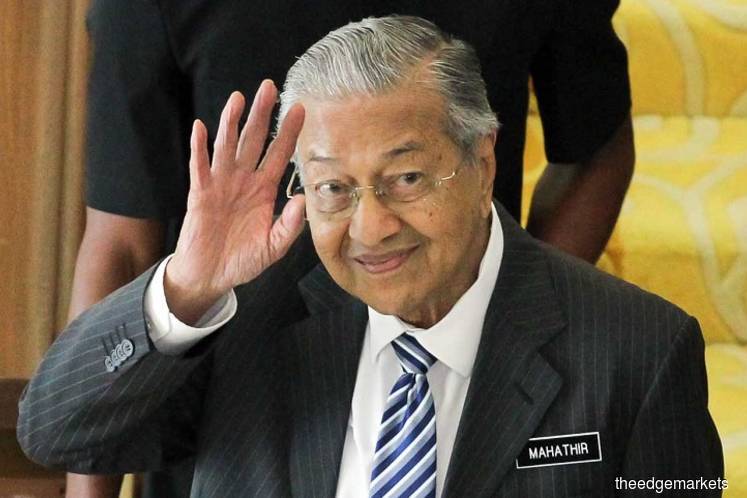 KUALA LUMPUR (June 26): Tun Dr Mahathir Mohamad (pictured) has revealed that he does not 'distrust' Datuk Seri Anwar Ibrahim as prime minister, but instead feels that the latter "has lost quite a bit of the support" from the people.
"While Anwar used to be very popular, now he has lost quite a bit of the support. I believe these people will not support an attempt to make a comeback by Pakatan Harapan if he is designated as prime minister," Dr Mahathir told the Asia Times news portal in an interview.
"It's not about distrust… A lot of people feel that, for a time at least, I should come back. I have no wish to come back. I mean, coming back three times is a bit too much. [Laughs] Again, the appeal by people is there, they all come, they all ask [and say] that if you are in, we will support. If you are not in, we will not support," he said.
"So, I have to take their views seriously because if we in the opposition now want to bring down the present government, we need to have a majority. At the moment, we do not have a majority," Dr Mahathir.
Asia Times also asked the ex-PM who would win if snap elections were held next week "you or (Tan Sri) Muhyiddin (Yassin)?"
[Laughs] "I think he will not win. Who will win will be the party that lost the last election, Umno, and Najib, provided of course if Najib is found not guilty. And we feel that that is what they are working towards. They want to declare Najib not guilty because if he is found guilty, together with five other people, then Muhyiddin would lose his majority.
"So Muhyiddin has to make sure that (Datuk Seri) Najib (Razak) is not found guilty. But if he is not found guilty, then he is going to compete in the election, and I think he's going to undermine the leadership of Muhyiddin in particular because he wants to be again the prime minister," he said.
Dr Mahathir also feels that Muhyiddin is not popular.
"Well, initially he was quite popular because he says that he's going to form a Malay Muslim government. Of course, the Malays like that. And then he says that DAP (Democratic Action Party) will destroy the Malays, so we need to bring down DAP.
"A lot of Malays believe what he says. But now they find that he is worse than the Najib government in terms of administration. He tends to do things on his own without any authority, any legal standing. So, people now are beginning to see the true Muhyiddin," Dr Mahathir told Asia Times.
Stay safe. Keep updated on the latest news at www.EdgeProp.my