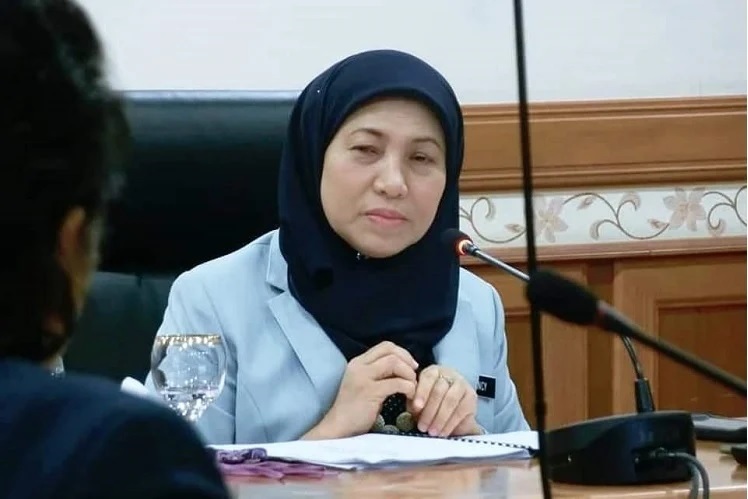 KUALA LUMPUR (July 15): The Ministry of Tourism, Arts and Culture (MOTAC) is forecasting a 75% drop in tourist arrivals for 2020, as compared to the preceding year, given the gloomy sentiment on international travel due to the Covid-19 pandemic.
Up to June 2020, the amount of losses faced by the sector stands at around RM44 billion, said Datuk Seri Nancy Shukri (pictured) (BN-Batang Sadong), comprising RM31 billion loss from international tourists and RM13 billion from domestic tourists.
Nancy, who is Minister of Tourism, Arts and Culture, said this in response to a question from Datuk Ahmad Nazlan Idris (BN-Jerantut), who further asked whether there are any other plans by the ministry to assist the tourism sector, as the one-off assistance previously provided was not sufficient.
"What are the steps to be taken by the ministry if the borders remain closed? Will there be any other assistance besides the one-off assistance?" asked Ahmad Nazlan.
However, Nancy only responded saying that tourist arrivals were already declining since January 2020, as other countries around the world had closed their borders and advised their citizens to not visit Asia.
She added that the ministry is assisting by focusing on promoting domestic travel.
Meanwhile, Muhammad Bakthiar Wan Chik (PH-Balik Pulau), who was formerly the deputy tourism minister, pointed out that Prime Minister Tan Sri Muhyiddin Yassin previously said that the overall recovery of the tourism sector will take four years.
Four years is a very long recovery period, he said, adding that businesses in the sector will suffer over this period, which will also affect Malaysia's economy, noting that tourism accounts for 15.2% of the country's GDP.
"What the Prime Minister meant was total recovery. We are expecting recovery to begin in the second quarter of next year, but this is just a forecast. We do have many plans to accelerate the recovery," replied Nancy.
She also said that many hotels have resumed operations, with occupation rates of between 75% and 100%, based on data from the Malaysian Association of Hotels (MAH).
However, Muhammad Bakhtiar disagreed with the statistics provided by the minister, which sparked a minor argument between the two.
"I think your data is wrong. It cannot be 75%. Average is 31% occupancy rate…" said the MP.
"That is the data we received! The ministry is the one that receives the reports week after week. Even if the data is wrong, that is the data we received!
"You're not the one that receives these reports," the minister retorted.
"But you said you received this data from MAH," said the MP.
"That is only one of our sources. The one that receives these reports on a frequent basis is MOTAC, not you, okay?" said Nancy.
Stay safe. Keep updated on the latest news at www.EdgeProp.my