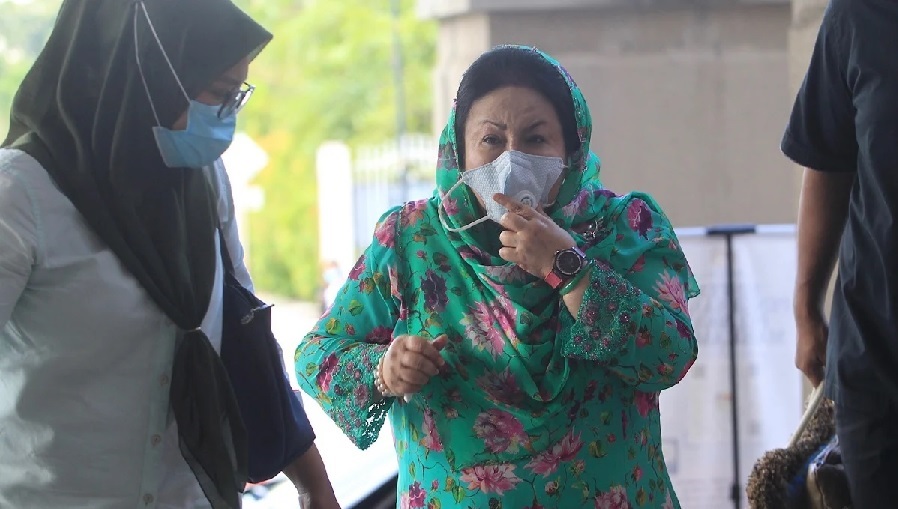 KUALA LUMPUR (Aug 5): The High Court here had today fixed Aug 17, 2020 to deliver its decision on Datin Seri Rosmah Mansor's (pictured) application to bar former Federal Court judge Datuk Seri Gopal Sri Ram from prosecuting her in her graft trial.
High Court Judge Mohamed Zaini Mazlan fixed the date after hearing submissions from Rosmah's lawyer Datuk Jagjit Singh and deputy public prosecutor (DPP) Ahmad Akram Gharib.
It was reported that Rosmah, who is former prime minister Datuk Seri Najib Razak's wife, is accused of soliciting RM187.5 million from Jepak Holdings Bhd to help the firm secure a RM1.25 billion project to supply solar hybrid power to 369 schools in Sarawak.
Rosmah is also accused of receiving RM5 million and another RM1.5 million in 2016 and 2017 respectively to ensure Jepak secures the contract.
At the High Court here today, Jagjit questioned Sri Ram's role as senior deputy public prosecutor in Rosmah's case as Sri Ram was previously appointed to only handle 1Malaysia Development Bhd (1MDB)-related cases.
"Why his (Sri Ram's) presence here in this case as this is not related to 1MDB. There is no press announcement saying Sri Ram is appointed to lead (the prosecution in) this case," Jagjit said.
Jagjit claimed that Rosmah has serious concerns on the possibility of power abuse that led to Sri Ram's appointment.
"The applicant (Rosmah) is entitled to the due process of the law as the Federal Constitution stipulates that all persons are equal before the law and hence they also require similar protection of the law.
"This must also include the duty of the court to dispense justice as well as safeguard my client's interests," Jagjit said.
Ahmad Akram said Rosmah merely wanted Sri Ram to produce his certificate of appointment from the Attorney General's Chambers and she is not seeking his disqualification as stated in the application.
The DPP said if Sri Ram produces his certificate of appointment, there should not be any further dispute on the matter.
Citing Najib's application to remove ad hoc prosecutor Datuk Sulaiman Abdullah in the SRC case, Ahmad Akram said the application was earlier dismissed by the High Court and Court of Appeal.
But when the matter reached the Federal Court, Akram said Tan Sri David Wong Dak Wah, who was then Chief Judge of Sabah and Sarawak, ruled that if Sulaiman's certificate of appointment was produced, there was no need to dispute Sri Ram's appointment.
"The court here should adopt the decision by the Federal Court in that case, namely if the certificate of appointment is produced, then it would be the end of the matter and there is no need to dispute why Sri Ram is prosecuting in this (Rosmah's) case," Ahmad Akram said.
Ahmad Akram said while the High Court here can listen to Rosmah's application, it does not have jurisdiction to decide on the case.
This led Justice Mohamed Zaini to ask: "Do you mean I can only see it (the case) but cannot touch?" Ahmad Akram agreed.
Citing Rosmah's application, Ahmad Akram subsequently said she only wanted to see the certificate and not challenge Sri Ram's appointment.
Justice Mohamed Zaini subsequently asked Ahmad Akram how Rosmah's application differ from Najib and Shafee's challenge in Sri Ram's appointment in the 1MDB case.
Ahmad Akram said Najib and Shafee's application involves both a civil and criminal challenge on Sri Ram's appointment and the Federal Court decided to grant leave on the civil case to hear the challenge.
Stay safe. Keep updated on the latest news at www.EdgeProp.my