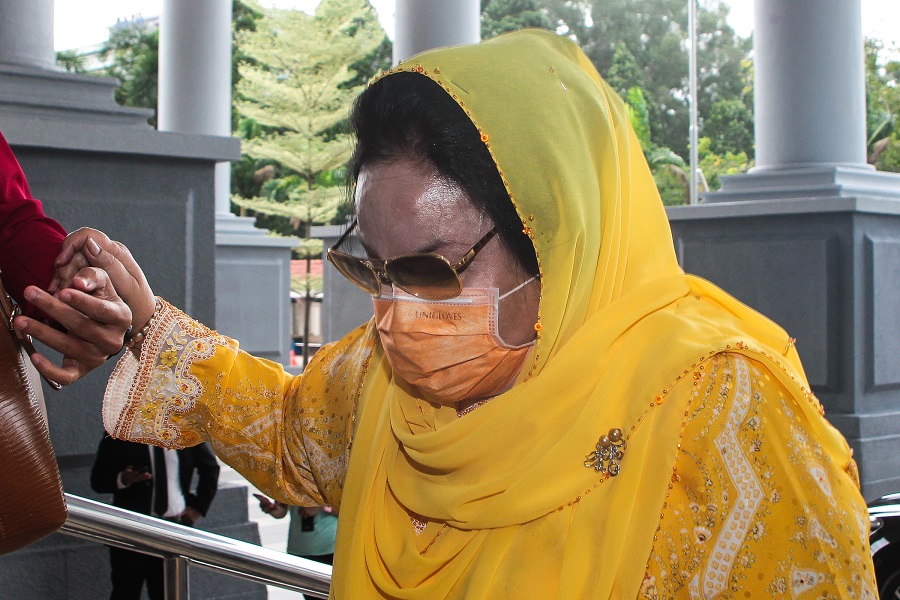 KUALA LUMPUR (Oct 7): A day after accusing prosecution witnesses of conspiring to secure her conviction for graft, Datin Seri Rosmah Mansor (pictured) admitted at the High Court on Thursday that she had no quarrels with them.
Questioned by senior deputy public prosecutor Datuk Seri Gopal Sri Ram about her allegation that these witnesses had conspired with the Attorney-General's Chambers to secure her conviction, Rosmah said it should be the witnesses who should be asked this question.
The witnesses included Rosmah's former staff Datuk Rizal Mansor, former education minister Datuk Seri Mahdzir Khalid, and the ministry's former secretaries-general Tan Sri Madinah Mohamad and Datuk Seri Alias Ahmad.
Sri Ram referred to each of the witnesses' testimony, stating that she had played a role in asking them to hasten the approval of a solar hybrid project costing RM1.25 billion.
Mahdzir, who is a federal lawmaker and Umno vice-president, had testified that on the night of June 23, 2016, at a buka puasa function in Seri Perdana, Rosmah had asked him about the project and he had responded by saying that he would look into it.
The former education minister, who is now rural development minister, had testified that Rosmah contacted him on Dec 22, 2016, asking him to abide by the minutes as stipulated by her husband Datuk Seri Najib Razak.
"It is clear that Rosmah has an interest in this solar project by the Education Ministry," Mahdzir had testified.
Sri Ram went on to ask Rosmah whether she knew Mahdzir well, and she replied that she did not know him well, beyond Umno circles.
Sri Ram: Do you have arguments with him?
Rosmah: No, he was in my husband's cabinet
Sri Ram: Why should he tell a lie against you?
Rosmah: That you have to ask him.
Sri Ram posed similar questions to Rosmah about the testimonies of Madinah and Alias that she had asked for the project and initial payment to be expedited.
Rosmah replied that she knew both of them, as they sit in the Permata council.
Rosmah also admitted that she had no quarrels with Madinah or Alias.
Sri Ram: You heard their evidence against you that you asked them to help Jepak?
Rosmah: Sri Ram, you have to ask them that.
At one point, Rosmah's counsel Datuk Akberdin Abdul Kader objected to Sri Ram asking his client about an opinion, but this was overruled by the judge who said the witness knew what the prosecution was getting at.
Sri Ram: Can you give a reason why Madinah and Alias would concoct the truth?
Rosmah: You have to ask them.
Sri Ram: Can you give any reasons?
Rosmah: No.
Rosmah had made similar allegations against Rizal, accusing him of being the person who actually solicited the bribe and receiving the RM6.5 million, and of working with the prosecution to go against her, in order to have his charges dropped,
But she admitted on Thursday that she had no quarrels with Rizal.
She acknowledged that although Rizal was an incompetent worker, she had helped him get a "datukship" from Pahang.
"Saya kesian (I pitied him). I don't give the title, I did not obtain it for him, it is up to the Pahang government to give. He may have entered his name through others which I do not know," the witness said.
Sri Ram: Throughout your relationship with Rizal, apart from his role in issuing statements, have you ever had a quarrel with him?
Rosmah: No.
Sri Ram: Yet, you accused him of conspiracy against you with the prosecution?
Rosmah: Yes.
Sri Ram had earlier asked every member of the prosecution team to introduce themselves to Rosmah, and then asked her whether she knew them personally or had contact with them.
As they were introduced to her, she mostly replied that she had no contact with them, nor had any quarrel with them.
Sri Ram: I put it to you there is no basis in your assertion entered on your conspiracy claim in order for the witnesses to give evidence against you.
Rosmah: I disagree.
Sri Ram: I put it to you that there is no basis for your allegation that Rizal falsely implicated you in your allegation to conspire with the prosecution?
Rosmah: I disagree. What about you? You have been appointed with your fiat which we are objecting to?
This led to Sri Ram to say that he was not part of the Attorney-General's Chambers.
Rosmah was also asked about the money bags placed in her residence, where she told the court that she was not at her home at the time.
She agreed when Sri Ram pointed out that she did not give an alibi on the matter in her witness statement claims.
The hearing continues before Justice Mohamed Zaini Mazlan on Oct 21.
Get the latest news @ www.EdgeProp.my
Subscribe to our Telegram channel for the latest stories and updates