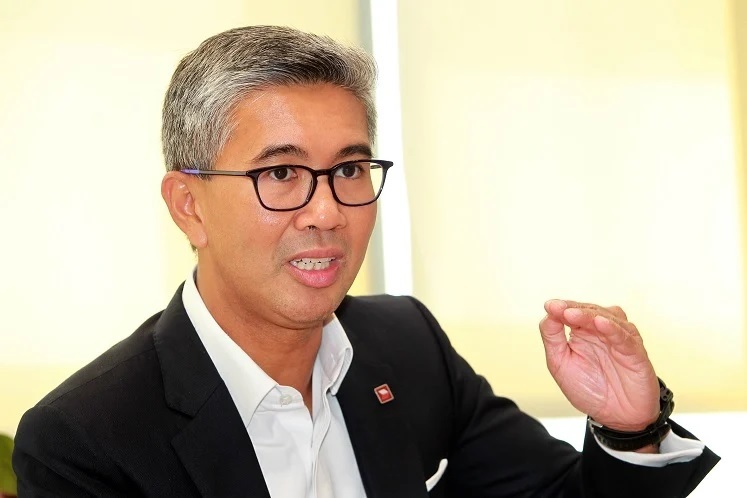 KUALA LUMPUR (Aug 6): The previous Pakatan Harapan (PH) government had allegedly sought a US$4 billion settlement with Goldman Sachs over 1Malaysia Development Bhd (1MDB) scandal, Finance Minister Tengku Datuk Seri Zafrul Aziz (pictured) told the Dewan Rakyat today.
During his winding up speech earlier, he said that there were records proving that the previous government, on Dec 13, 2019, offered an out-of-court settlement for an amount of US$4 billion with Goldman Sachs. However, the US-based investment bank rejected the offer and made a counter-offer of US$1.5 billion.
Zafrul pointed out that a letter dated Feb 11, 2020 between former attorney-general (AG) Tan Sri Tommy Thomas and former prime minister Tun Dr Mahathir Mohamad stated that Goldman Sachs raised its offer to US$1.75 billion, which included US$164 million in taxes and US$567 billion in fees that 1MDB had paid to the investment bank.
"The recommendation given by the former AG in the letter was to seek an out-of-court settlement. This [contradicted with] his previous statement that the Perikatan Nasional government should not settle out of court," he said.
"It is therefore disingenuous of him to say we should not have done exactly what he wanted to do in the first place," added the minister. The ruling party's members of Parliament cheered while hearing it.
However, Tony Pua (PH-Damansara) questioned whether Thomas had actually recommended the PH government to accept the US$1.75 billion offer and said that, as far as he knew, the PH government rejected the offer as well.
Pua also clarified that Thomas said there should not be an out-of-court settlement until Goldman Sachs and its directors were brought to court to face justice.
"That's also disingenuous for you to say that he said there should be no settlement out of the courts.
"He said that the right time for an out-of-court settlement would be after Goldman Sachs and its directors were brought to court to face the allegations against them. That [would give] us — I quote from his statement — the maximum leverage to obtain the highest compensation from Goldman Sachs," emphasised Pua.
However, Zafrul said that while legal action had been initiated against Goldman Sachs by the PH government, none of the bank's directors were brought to court.
Later, former finance minister Lim Guan Eng (PH-Bagan) asked the incumbent minister whether the Cabinet's approval was actually sought before accepting the US$3.9 billion settlement with Goldman Sachs.
The settlement of US$3.9 billion comprised US$2.5 billion in cash and US$1.4 billion in assets.
He also pointed out that Goldman Sachs on July 24 said there was no significant risk exposure for the US$1.4 billion in assets, as the amount covered the 1MDB-related assets that had already been seized.
Zafrul replied that the Cabinet had agreed to allow AG Tan Sri Idrus Harun and his negotiating team to reach a settlement with the bank.
"This is extraordinary. A US$3.9 billion settlement cannot be decided on just by one or two individuals. You are talking about more than RM10 billion! It should be approved by the Cabinet! This is exactly like the 1MDB case, whereby one person made all the decisions. This is an issue of accountability and transparency," said Guan Eng.
Guan Eng's comment sparked an outrage from the ruling party MPs, with Dewan Rakyat Speaker Datuk Azhar Harun struggling to get the situation under control.
Eventually, the situation devolved into yelling from both sides of the political divide, which resulted in Zafrul ending his speech and the speaker subsequently postponing the sitting to next Monday.
Stay safe. Keep updated on the latest news at www.EdgeProp.my