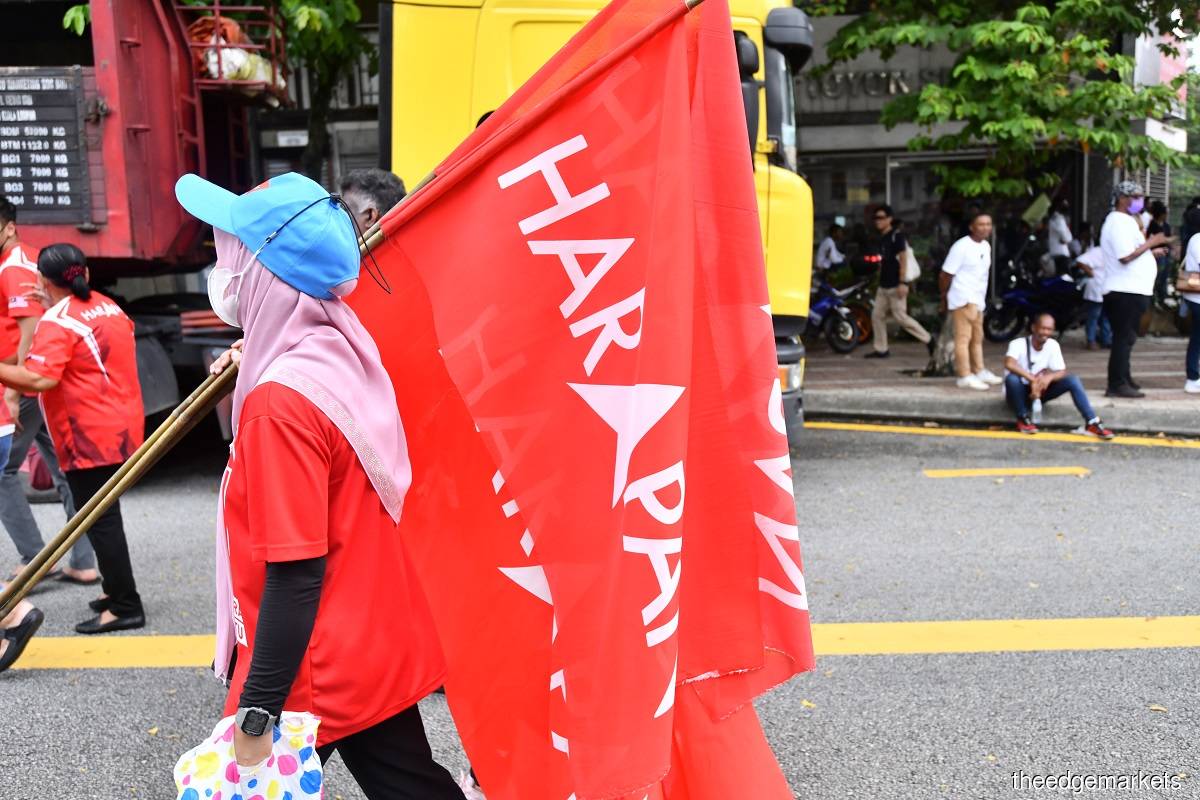 "We will not raise or change the maintenance cost, but we are proposing for the government to take over the management and carry out the maintenance for low-cost flats with no managements."
KUALA LUMPUR (Nov 7): Pakatan Harapan (PH) on Monday (Nov 7) has proposed to establish a housing tribunal and re-introduce loan guarantees amounting to RM3 billion to solve the issues of rental discrimination and first-time home ownership as part of its election manifesto.
In a statement, Tawaran Harapan committee member Rajiv Rishyakaran highlighted the rejection faced by first-time buyers due to not having a payslip for working in informal jobs, freelancing work, or lack of previous bank borrowing.
"The reality is also that for this category of house buyers, renting will likely be more expensive than servicing a bank loan.
"For example, a RM250,000 house will cost the buyer RM1,143 [per month in instalments], and for that same type of property, the rent may be between RM1,000-1,200. In another example, low-cost flats that cost RM42,000 will incur monthly instalments of RM200-250 while renting will likely cost between RM400-600 per month.
"These families will have to incur the same or more monthly outlay if they can't buy but have to rent their homes," he said.
Rajiv said that in 2019, PH's administration under former finance minister Lim Guan Eng launched the RM1 billion loan-guarantee programme managed by Bank Negara Malaysia (BNM) for first-time home buyers and affordable houses.
PH intends to revive the initiative after winning the election this November, with a bigger sum.
"A RM3 billion fund willl be allocated as a guarantee to banks for first-time home buyers under this scheme," he said.
Meanwhile, PH's manifesto also included issues of discrimination in the rental market as landlords could "pick and choose" their tenants, as "when there is damage to their property or loss due to unpaid rent, there is no simple solution to reclaim their loss".
"Landlords who face unpaid rent and damaged property have to resort to expensive legal services to sue the tenant to recover these losses under our present system today.
"On the same note, tenants also need recourse when landlords fail to keep the property in decent condition as per the tenancy agreement, such as making sure roof leaks and malfunctioning toilets are fixed," said Rajiv.
PH said there was a need for a housing tribunal as it is cheaper and does not require a lawyer.
"Tribunals also are more likely to come to a verdict quickly, giving the landlord or tenant quick relief to their predicament."
The statement also touched on the issue of low-cost flat residents facing difficult living situations. In contrast, landed property owners have local councils on maintaining roads, drains and street lights despite both paying assessment tax.
Rajiv stated that low-cost flat residents were unable to form their own management committees and had not conducted their annual general meetings (AGMs).
"Under the Strata Title Act, the maintenance falls under the management corporation (MC) or the joint management body (JMB), and both are formed by the residents of the flats," said Rajiv.
"A lot of flats are unable to form their own MC or JMB due to the residents not being present in the AGM or becoming a member," he added.
"PH aims to correct this situation by intervening by taking over maintenance to provide basic services such as rubbish disposal, functional lifts and clean drains," said Rajiv.
Rajiv responded to questions regarding maintenance costs for low-cost flats, stating that PH would only cover maintenance works as the maintenance cost was available.
"We will not raise or change the maintenance cost, but we are proposing for the government to take over the management and carry out the maintenance for low-cost flats with no managements," he explained.
He also said that under the Strata Act, low-cost flats are able to conduct their own AGMs and determine their own maintenance costs. "Although there is a monthly charge, low-cost flat residents are not paying it due to no maintenance being carried out," he added.
Additionally, Rajiv mentioned that the cost that will be incurred by the federal government for carrying out the maintenance is expected to be not more than RM1 billion from the federal budget.
On Sunday, Perikatan Nasional also announced housing issues as part of its manifesto. This includes the "Skim Perumahan Mikro Belia Mampu Sewa" in major cities, in addition to improving housing purchasing schemes for B40 and M40 groups such as the rent-to-own scheme and land purchasing.