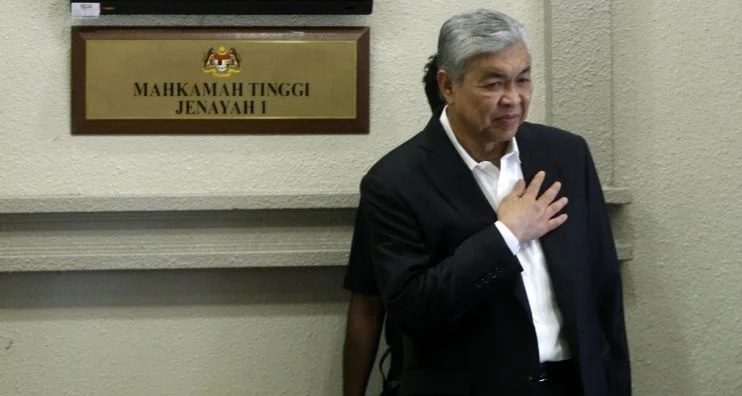 KUALA LUMPUR (Aug 15): A lawyer who was acting on behalf of former Deputy Prime Minister Datuk Seri Ahmad Zahid Hamidi (pictured) told the court yesterday that he did not have reason to flag cheques bearing a cumulative amount of RM76.9 million to Bank Negara Malaysia as he had no cause to believe they were illegal.
Testifying at Ahmad Zahid's corruption and money laundering trial, lawyer Muralidharan Balan Pillai, who is a partner at Messrs Lewis & Co, said he was told by Ahmad Zahid that the funds he was receiving via the cheques were for charity and religious purposes, and that the origin of the money was legitimate.
Defence counsel Hisyam Teh Poh Teik had cross-examined the witness yesterday. Muralidharan, who is the 87th prosecution witness, had admitted that the funds could easily have been audited internally and externally.
The lawyer also testified that as stipulated by the Anti-Money Laundering and Anti-Terrorism Financing Act 2001 (AMLATFA), the legal firm had performed its due diligence by giving a letter of undertaking to the bank where the funds were deposited, stating that they had identified their client and the source of the funds.
When asked by Hisyam if he thought it was necessary to write to Bank Negara Malaysia, the witness reiterated that he was assured that the money was from legitimate sources.
"The funds were from clear and legitimate sources and for this reason also we did not write to the central bank to say our client was involved in money laundering activities." he said.
Three days ago, the lawyer had told the High Court that 92 cheques totalling RM76.9 million were sent by the Bagan Datuk lawmaker to the legal firm between May 20, 2016 and April 9, 2018.
However, Ahmad Zahid was not a trustee for Yayasan Al-Falah, which was a client of the firm, but is in fact a trustee for another foundation called Yayasan Akalbudi.
His brother Datuk Nasaee Ahmad Tarmizi is the chairman and trustee for Yayasan Al-Falah, which was set up by Ahmad Zahid's family for charitable works. Ahmad Zahid is not involved in Al-Falah.
Muralidharan admitted that the ex-Home Minister and Yayasan Akalbudi had never employed the firm, but he had sent money for Al-Falah's use.
Hisyam asked him if Nasaee was aware that Ahmad Zahid was giving instructions on behalf of Al-Falah, to which the lawyer replied in the negative.
He also said that there was no letter suggesting that the accused was acting for Al-Falah.
Ahmad Zahid, 67, is facing 47 charges, with 12 of them involving criminal breach of trust, eight for corruption and 27 for money laundering involving tens of millions of ringgit of funds belonging to Yayasan Akalbudi.
EdgeProp Malaysia Virtual Property Expo 2020 (VPEX 2020) is happening now! Find out more exclusive projects and exciting deals here
Stay safe. Keep updated on the latest news at www.EdgeProp.my