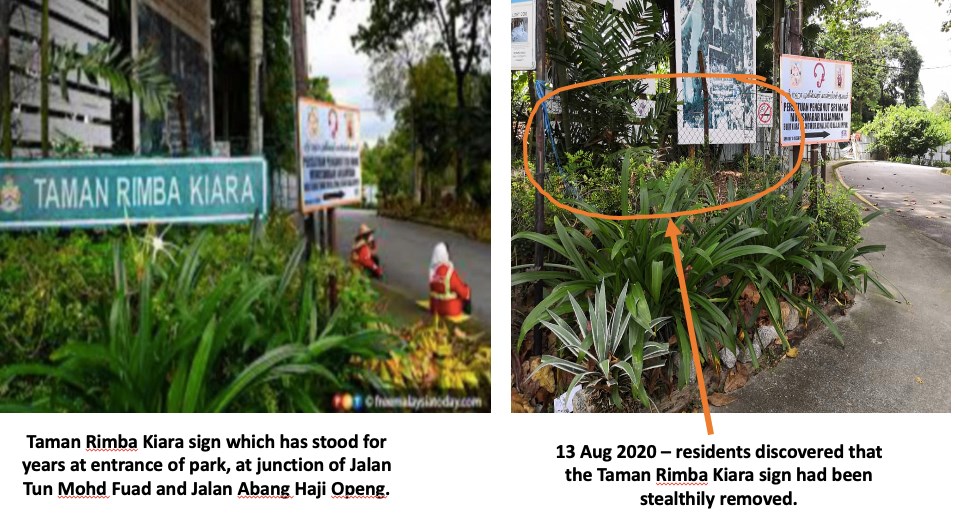 KUALA LUMPUR (Aug 15): Residents around the area are reported to be "furious" over the removal of the road signage for Taman Rimba Kiara.
They discovered the removal of the signage (at the junction of Jalan Tun Mohd Fuad and Jalan Abang Haji Openg in Taman Tun Dr Ismail) on Thursday morning and they are now fearing that "this could be one step closer to 'erasing' the park from the map", reported the Malay Mail.
"This comes not long after DBKL's attempt to rename Taman Rimba Kiara as 'Taman Awam Bukit Kiara', which Federal Territories Minister Tan Sri Annuar Musa said was a mistaken move by a DBKL officer and had reversed this move after a huge outcry from residents," said a posting in the Selamatkan Taman Rimba Kiara Facebook page.
"It appears to be the next step in a quiet, creeping plan to remove all evidence and traces of the original footprint of Taman Rimba Kiara, even while the court case is still ongoing at the Court of Appeal," it added.
Save Taman Rimba Kiara Working Group coordinator Leon Koay told Malay Mail that the residents "are livid".
"It certainly looks like a deliberate step towards erasing the park as we have known it.
"Specifically by who, we don't know at this point, but is it coincidence that DBKL tried to rename the park recently?" he questioned.
The on going Taman Rimba Kiara case involves residents challenging a development project comprising nine apartment blocks, part of a joint venture between Yayasan Wilayah Persekutuan and Memang Perkasa Sdn Bhd.
Federal Territories Minister Tan Sri Annuar Musa said recently that no work will be done on the park pending a decision at the Court of Appeal.
EdgeProp Malaysia Virtual Property Expo 2020 (VPEX 2020) is happening now! Find out more exclusive projects and exciting deals here
Stay safe. Keep updated on the latest news at www.EdgeProp.my