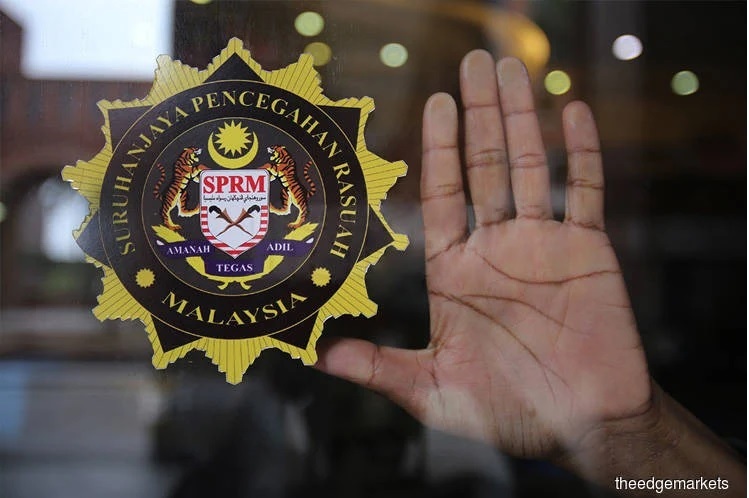 KUALA LUMPUR (Oct 6): An investigating officer with the Malaysian Anti-Corruption Commission today denied that there was selective malicious prosecution in the solar graft case involving Datin Seri Rosmah Mansor, as claimed by her lawyers, and said the case actually began with an investigation into her then special aide, Datuk Rizal Mansor.
The IO, Noornabilah Mohd Aziman, told the High Court that she lodged a report against Rosmah on Nov 9, 2018. During cross-examination by Rosmah's counsel, Datuk Akberdin Abdul Kader, she said the MACC first investigated a complaint against Rizal, before turning to Rosmah.
Noornabilah said she retrieved the MACC's investigation papers on Rizal from its IO Shahidan Mohamad when she worked on the investigation on Rosmah.
She, however, does not know who made the complaint against Rizal as she was not involved in that investigation. Hence, she could not determine who was behind it.
She then agreed with the counsel that Rizal was one of those slapped with graft charges involving Jepak Holdings Sdn Bhd and the solar hybrid project involving 369 rural schools in Sarawak. She also agreed that the charges against Rizal were later dropped and Rizal was acquitted.
Following that, Akberdin brought up documents that showed a purported demand by Rizal for RM25 million from Jepak Holdings, and said Rosmah's aide had received RM500,000 from the company. Rizal also received RM50,000 in several subsequent payments, Akberdin said, to which Noornabilah agreed.
The counsel then told the court that four months before Noornabilah lodged the report against Rosmah on Nov 9, 2018, the MACC had investigated Pekan Umno secretary Datuk Ahmad Aazmey Abu Talib. Akberdin said the MACC had also raided Ahmad Aazmey's house, which Noornabilah agreed did happen, to retrieve several documents.
She also agreed that Aazmey had been remanded for several days after that. However, she said she had no idea that Ahmad Aazmey had allegedly received RM2 million from Jepak Holding's former managing director Saidi Abang Samsudin, and had sought another RM50 million after that.
Noornabilah also replied that she did not know anything when Akberdin suggested that Aazmey was supposed to face 20 graft related charges, but had not yet been charged with anything until now. "I do not know about this as I am not the IO (of his case)," the witness said.
Then Akberdin suggested that charges could also have been preferred on former Education Minister Datuk Seri Mahdzir Khalid, who was also investigated by the MACC, as he had apparently sought RM60 million from Jepak Holdings through his proxy Mohd Fuad Yassin, but the witness again said she knew nothing about this.
The lawyer then produced a Berita Harian news report in court that wrote about the possibility of Mahdzir being charged, and claimed that the MACC itself was not satisfied that the former minister had not been charged.
Akberdin subsequently suggested that Rosmah was the target of malicious and selective prosecution, based on the fact that the charges initially levelled against Rizal were withdrawn, while Ahmad Aazmey and Mahdzir were never charged.
Akberdin: I put it to you that the MACC investigated Rizal, Ahmad Aazmey and Mahdzir but the actual target of the investigation is Rosmah. That is our case.
Noornabilah: Yes.
However, she told the court earlier today that she was only responsible for investigating the issue. "I only investigate, the decision to charge or not is not within my powers," the IO said.
Akberdin further suggested that the money offered by Jepak Holdings' Saidi to Rosmah was part of a political donation to her husband Datuk Seri Najib Razak. The witness, however, said she had no idea about this.
To the suggestion that Rizal, Ahmad Aazmey and Mahdzir had conspired with Jepak Holdings to ensure the company obtained the solar hybrid project, Noornabilah disagreed.
Noornabilah is the last prosecution witness testifying in Rosmah's graft trial involving the solar project, where the former premier's wife has been slapped with three counts of graft. Rosmah has been charged with soliciting RM187.5 million from Saidi for the project, and obtaining RM6.5 million in bribe from Saidi between Dec 20, 2016 and Sept 7, 2017.
Senior DPP Datuk Seri Gopal Sri Ram, meanwhile, informed the court today that the prosecution would be recalling Mahdzir as a witness on Oct 20.
The hearing before Justice Mohamed Zaini Mazlan continues tomorrow.
Get the latest news @ www.EdgeProp.my