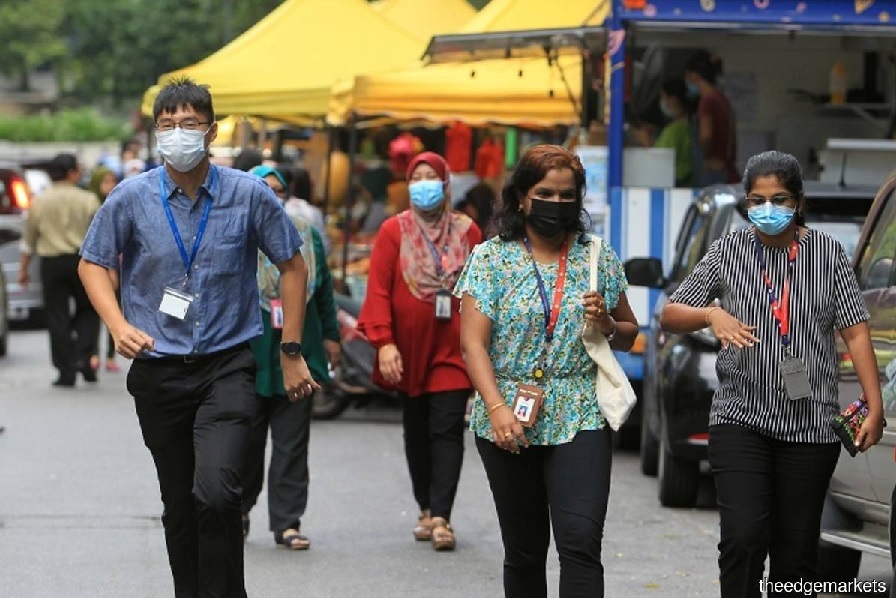 KUALA LUMPUR (Oct 28): The recent resurgence in the number of Covid-19 cases indicates that the path towards Malaysia's anticipated economic recovery in 2021 may not be smooth but instead bumpy.
The turbulent political scene in the country has added another layer of uncertainty, especially with the upcoming Budget 2021 slated to be tabled to Parliament on Nov 6.
Here are some quick takes by the experts on Malaysia's path to economic recovery:
On the economic impact of the resurgence in Covid-19 cases
RHB Investment Bank Bhd ASEAN economics research head Peck Boon Soon:
Indeed, we do expect the resurgence of new cases but a more targeted MCO (Movement Control Order) will be implemented. As such, we do expect the recovery to still be slow and uneven and full of difficulties.
The resurgence is likely to happen for a few more rounds until the vaccine is found. However, a more targeted MCO is likely to be implemented rather than a full lockdown like [the one imposed] in March. This would reduce the impact on the economy.
MIDF Research economist Abdul Mu'izz Muhammad:
The expected recovery in 2021 is based on the assumption that the strict movement control or nationwide lockdown that took place in 1H20 (first half of 2020) will not be reintroduced; economic activities will remain open and operate according to the SOPs (standard operating procedures) that have been developed; and vaccine administration will be available next year and thus will effectively contain Covid-19 pandemic.
We do not rule out a possible recurrence of a resurgence in Covid-19 infections until effective treatment and vaccines are available.
UOB Malaysia economist Julia Goh:
We see downside risks to growth materialising amid the third wave of infections. Prior to the recent Conditional Movement Control Order (CMCO), several economic data points for August hinted at a continued recovery albeit slower.
The reinstatement of CMCO and tighter movement restrictions underscores the challenges for a sustainable recovery. More pertinent is that it affects key areas that are major contributors to Malaysia's economic output, including Selangor (24% of total gross domestic product [GDP] in 2019) and Kuala Lumpur (16%).
Although economic and business activities are allowed, restrictions on the number of people at work premises weigh on operating capacity and output.
Hong Leong Investment Bank Bhd head of research Jeremy Goh:
The domestic Covid-19 count could throw a spanner to the recovery momentum, and this is the key risk. The hotspot states of Sabah, Kedah and Klang Valley collectively made up almost 50% of the nation's GDP (based on 2019 numbers).
Having said that, we still think a nationwide lockdown will be an act of last resort as the opportunity cost would be higher than before as the economy is still recovering from the first MCO and the current cumulative death rate of 1.4% is lower than the peak of almost 10% during the first MCO in March.
On the pace of economic recovery
TA Investment Management chief investment officer Choo Swee Kee:
Economically, we believe that nothing could be worse than now and the economy can only recover and get better as we control the pandemic.
RHB Investment Bank Bhd ASEAN economics research head Peck Boon Soon:
We share the central bank's view that things are gradually improving. This was led by exports and the relaxation of the MCO. The latter, together with the fiscal stimulus, has led to an improvement in domestic demand.
Hong Leong Investment Bank Bhd head of research Jeremy Goh:
Encouraging recovery signs have been seen on consumption indicators: (i) the Consumer Sentiment Index has rebounded from end-1Q20 (first quarter of 2020) to end-2Q20; (ii) while still negative, the year-on-year decline in retail sales is subsiding; (iii) August domestic credit card spend was almost back to pre-Covid days; and (iv) monthly auto sales are back to the 45,000-55,000 normalised range.
We are keeping our 2020 GDP forecast at -5%. This factors in a recovery in 2H20 but still with a negative print. The targeted lockdowns in 4Q20 may pose a dampener to corporate earnings recovery; on this front 4Q20 earnings may turn out lower than 3Q20, but still better than 2Q20.
MIDF Research economist Abdul Mu'izz Muhammad:
We expect the recovery in Malaysia's economic growth to be gradual but with heightened uncertainty given the rapid rise in [confirmed positive] Covid-19 [cases] which could have a significant downside effect on the economy if left unchecked.
If restrictions are reintroduced and tightened, sectors such as travel & tour services, restaurants, hotels & accommodation, and even retail trade will continue to struggle, being negatively affected by the [movement restrictions] and [reduction in] consumer and tourist spending.
Reintroduction of lockdowns in other countries could also affect the outlook for Malaysia's international trade activity.
On what policymakers should do
RHB Investment Bank Bhd ASEAN economics research head Peck Boon Soon:
China's measures in containing the spread of the virus is something we could learn from. Only when we are able to put the virus spread under control would a recovery follow.
Although fiscal consolidation should always be on the government's mind, the government should not bring down its deficit too fast in 2021 to allow it to have more room to work with if the Covid-19 spread worsens.
However, in the event that things turn out to be better than expected, the government could always achieve a lower-than-predicted deficit.
MIDF Research economist Abdul Mu'izz Muhammad:
For a stronger and sustained recovery, the government needs to ensure the new wave of Covid-19 cases is effectively contained, as the rapid rise in the number of infections would hamper confidence in the economy and therefore limit the strength of the current economic recovery.
The availability of an effective vaccine will be a factor to watch, as countries in different parts of the world also experience a sharp resurgence in their Covid-19 infections.
Besides, the government will have to consider providing additional policy support for the people and the business community, especially for industries hit hard by the ongoing global crisis, particularly when the macroeconomic condition starts to deteriorate again.
UOB Malaysia economist Julia Goh:
We expect further fiscal support measures in the coming Budget 2021 that could include extension of cash aid, wage subsidies, and assistance for SMEs (small and medium enterprises).
However, the risk of not having the budget passed puts the burden of policy support entirely on monetary policy. In that scenario, interest rates would very likely be cut.
On the political situation
TA Investment Management chief investment officer Choo Swee Kee:
We feel that the current political scene is too volatile to predict and we can't be caught in stasis but must look forward.
Our general view holds true despite the current political uncertainty as many businesses do not depend on the government for revenue and would be most glad if government, authorities or political persons do not interfere in their business development.
However, we are well aware that some segments of the economy, like construction, are highly dependent on the government and would likely be affected.
Get the latest news @ www.EdgeProp.my