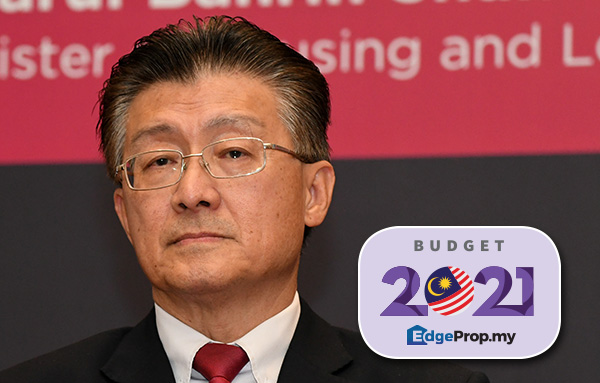 PETALING JAYA (Nov 6): For years, the victims of the abandoned projects have suffered in silence, but the newly-announced federal budget has addressed to their concerns and to a certain extent could reduce their burden, said the National House Buyers Association (HBA) honorary secretary general Datuk Chang Kim Loong (pictured).
In a post-budget feedback statement, the association lauded the government's proposal for a stamp duty exemption on loan agreements and Memorandum of Transfer (MOT) where 'white knight' contractors are reviving abandoned projects with the original house buyers of abandoned housing projects be extended for a further five years to December 2025.
Read other Budget 2021 news on EdgeProp.my/Budget2021
"HBA supports this proposal as the affected buyers/victims have suffered a lot from the abandonment for no fault of theirs except for the lax and lack in the Ministry of Housing's monitoring, supervision and enforcement process. The exemption will to a certain extent reduce the burden of the original buyers/victims," he added.
Budget 2021 was announced today at Parliament by Finance Minister Tengku Zafrul.
Meanwhile, HBA is also in agreement to the full stamp duty exemption up to Dec 31, 2025 for the MOT and for loan agreements for first-time homebuyers for properties with selling prices of up to RM500,000.
"This is a good proposal as the proposal is restricted to first-time house buyers and the Stamp Duty savings of RM9,000 and RM2,250 on the loan agreement (assuming 90% financing) will certainly help first-time homebuyers who wish to buy their first home, irrespective whether from housing developers or the secondary market," he added.
Chang added that the RM1.2 billion allocation in the budget to build comfortable and quality homes for the lower income segment is a noble aspiration by the Perikatan National government to ensure that every rakyat including the lower income segment has access to comfortable and quality housing.
The budget allocation will be disbursed to various incentives including RM500 million to build 14,000 housing units under People's Housing Project (PPR); RM315 million for 3,000 units of Rumah Mesra Rakyat built by Syarikat Perumahan Negara Berhad (SPNB); RM125 million for maintenance of low and medium-low cost strata-housing and also in upgrading old houses and those damaged by natural disasters and RM310 million for Malaysia Civil Servants Housing Programme (PPAM).
"HBA is also grateful that Budget 2021 announced that banks will continue to offer a targeted loan moratorium for those affected by Covid-19. Such a targeted loan moratorium will be much welcomed by those affected by the pandemic so that they do not need to worry about their loan obligations as they try to get back on their feet," Chang concluded.
Get the latest news @ www.EdgeProp.my