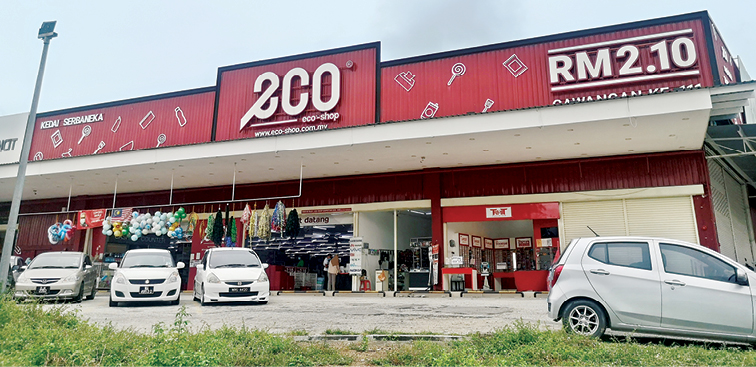 PETALING JAYA (Nov 14): They have been called different names such as fixed-price, low-priced, general merchandise or discount stores but are popularly known as RM2 stores.
Some of the brands under this segment are Eco-Shop, Zon Jimat, Ninso, Super Jimat, Noko, Setia, NT Shop, Cheap2shop, Mr Save and Mr Dollar.
According to a report in the latest issue of The Edge Malaysia, these stores have "been gaining prominence and their sales are projected to continue on an upward trajectory".
Savills Malaysia associate director and head of retail services Murli Menon told the weekly that "their popularity is not just confined to Malaysia".
"This has been a growing trend not just here but globally as well. There has been a huge growth in this category of stores in the US and other parts of the world, especially in the last 12 to 24 months, and this has happened quietly and below the radar," he says.
"There is a strong tendency to be thrifty wherever possible," he added.
Convenience also played a large role in their growth. "They have a wide array of goods, which makes it convenient for smaller purchases, quick pick-up of souvenirs or last-minute purchases," Menon explained.
"Many of these players started by catering for budget-conscious consumer, today, they are attracting all income, racial and age groups," Retail Group Malaysia managing director Tan Hai Hsin told The Edge.
"There are always some household items, plastic ware, kitchenware, stationery, toys and decorative items that you do not want to spend too much on. Also available are packaged food, snacks and beverages," he said.
The RM2 started out in "low catchment and rural areas" but they are now "expanding beyond the rural areas and moving into urban locations as shopping trends are changing", Menon said.
"People are not shy or embarrassed to shop 'low'. It is more about shopping wisely and looking for better deals and offers, especially for low-involvement items [products that buyers generally give less thought to and are often impulse buys]," he said.
Menon said the entry of Mr DIY Group (M) Bhd into the RM2 store segment via Mr Dollar "is expected to lead to such stores mushrooming in malls".
RM2 store Noko opened in Sunway Putra Mall in Kuala Lumpur in September and is expected to expand to other Sunway group malls.
Sunway Malls & Theme Parks CEO HC Chan told the business publication that "the response has been very encouraging and has surpassed expectations".
"Apart from appealing price points, the extensive range of merchandise has also been pivotal," Chan said.
"We are in advanced stages of talks to have two more stores across Sunway malls, bringing the tally to three," he added.
Read the full report in this week's The Edge Malaysia
Get the latest news @ www.EdgeProp.my