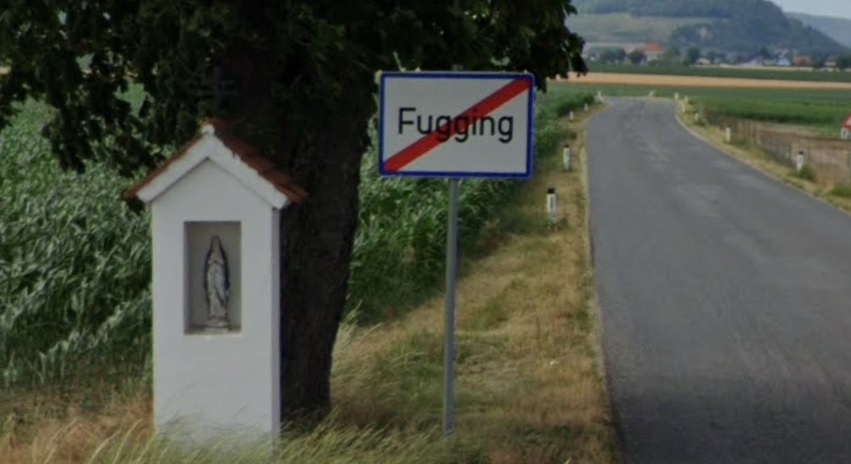 KUALA LUMPUR (Nov 28): Citizens of an Austrian village have decided once and for all to change its name to the more acceptable Fugging from the former F***king, said numerous news reports.
According to The Guardian, which managed to view minutes from a municipal council meeting published on Thursday, the village of about 100 souls and 350km west of Vienna, will be called Fugging from Jan 1, 2021.
The previous name which to many in the English speaking world meant copulation to cursing resulted in the village attracting "tourists" who became a nuisance when they stop next to the signpost to the entrance of the village to take photos, "sometimes striking lascivious poses for social media", wrote the Guardian.
One person who is not amused at all about being a source of jokes is Andrea Holzner, the mayor of Tarsdorf (the municipality to which the village belongs).
"I can confirm that the village is being renamed. I really don't want to say anything more – we've had enough media frenzy about this in the past," Holzner told the regional daily Oberösterreichische Nachrichten.
According to Deutsche Welle locals "have grown frustrated by the thefts of the town signs by tourists and people photographing the sign".
The German broadcaster noted that the tiny village was largely unknown to the outside world "until the birth of the Internet and it became "included on lists of the funniest or most explicit place names".
A Forbes report revealed that the village was founded by a Bavarian nobleman named Focko in the sixth century but "it wasn't officially inhabited until around 1070. A map from 1825 uses the settlement name of Fuking."
It was also reported that two nearby hamlets are called Oberf***ing and Unterf***ing.
Get the latest news @ www.EdgeProp.my