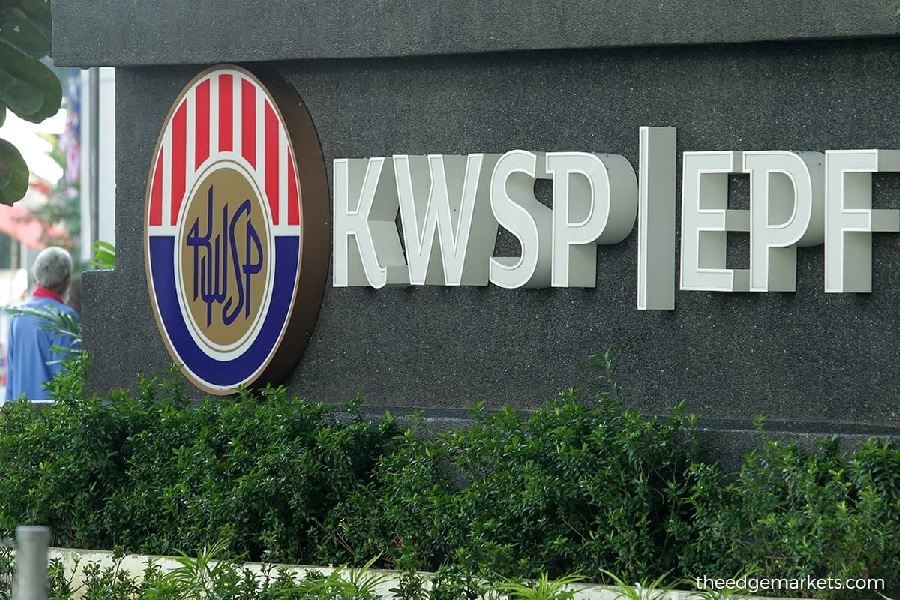 KUALA LUMPUR (Dec 2): The Employees Provident Fund (EPF) now allows contributors with Account 1 savings of not more than RM100,000 to withdraw up to RM10,000 under its expanded i-Sinar facility, with the payments to be staggered over a maximum period of six months. The first payment can be as much as RM5,000.
Meanwhile, those who have more than RM100,000 savings in Account 1 can now withdraw up to 10% of their savings or up to RM60,000 — whichever is lower. The amount will similarly be paid out on a staggered basis, over a maximum period of six months, with the first payment being as much as RM10,000.
It said the expanded facility will now benefit up to eight million eligible members, an increase from the two million eligible contributors initially announced in November.
The statutory pension fund has separated its eligible contributors into two categories.
Category 1 comprises members who are workers in the formal sector, self-employed workers and workers in the gig economy, those who have not contributed to the EPF for a period of time, those who have lost their jobs, those who are housewives and those given no pay leave.
Those under Category 1 will only be eligible if they have not contributed to the EPF for at least two consecutive months on application, or those who are still working but have suffered a reduction of their base salary by 30% and above from March 1 onwards.
Eligible members under Category 1 will not be required to provide supporting documents and approval will be automatic based on EPF's internal data, with members needing to only apply online via isinar.kwsp.gov.my starting Dec 21.
"Payment for eligible members under this category will be done from the middle of January 2021," it said in a statement.
Meanwhile, Category 2 comprises members who have seen a 30% reduction or more in their total income, which includes base salary and other benefits such as allowances and overtime from March 1 onwards, whereby the reduction can only be verified with supporting documents.
Those under this category will have to provide their salary slips before and after reduction of income and employer's notice of suspension or reduction of allowances and/or overtime claims.
Those who are not able to provide these supporting documents may provide other relevant supporting documents such as bank statements or employer's written acknowledgement for due consideration.
Category 2 members can start applying online via isinar.kwsp.gov.my starting Jan 11, 2021.
"To ensure due consideration is given for applications, member's application status will be notified to members within two to three weeks after their application is submitted. Payment will be done before the end of the following month, after the application is approved," said EPF.
To illustrate the updated facility, an eligible member with savings of between RM10,100 and RM100,000 will be allowed to withdraw a maximum of RM10,000, with a first month payment of RM5,000.
However, if the member's total savings amount to RM10,000, the total maximum amount that can be withdrawn would be RM9,900, as a minimum balance of RM100 is required to be kept in their Account 1 in order to be maintained as an EPF member.
The same goes for members with any amount of savings below RM10,000. For example, if the member has RM4,500 in savings, only up to RM4,400 can be withdrawn in order to observe the RM100 minimum balance requirement.
Meanwhile, for those with Account 1 balances exceeding RM100,000, a total of 10% of their savings up to a maximum of RM60,000 may be withdrawn with a first month payment of RM10,000.
A member with a balance of RM500,000 may withdraw up to RM50,000, with a first month payment of RM10,000, while someone with savings of RM800,000 may withdraw up to RM60,000, with a first month payment of RM10,000.
"To ensure the application process is smooth, members are advised to register for i-Akaun, update their mobile number to receive the transaction authorisation code (TAC) at EPF kiosk or counter, as well as ensure that their bank account number is active," EPF said.
When the i-Sinar facility was first announced last month, members were required to replenish their Account 1 balances after they have been re-employed or regained their source of income as part of an "advance", with those taking advantage of the facility to redirect 100% of their monthly EPF contributions back into Account 1, as opposed to the usual 70:30 contribution ratio between Account 1 and Account 2.
However, there is no mention of any repayment structure under the updated facility.
Previously, eligible contributors who have RM90,000 and below in Account 1 savings were only allowed to take an advance of up to 10% of their savings — a maximum of RM9,000 — while those with balances of above RM90,000 were limited to a maximum of RM60,000.
Get the latest news @ www.EdgeProp.my