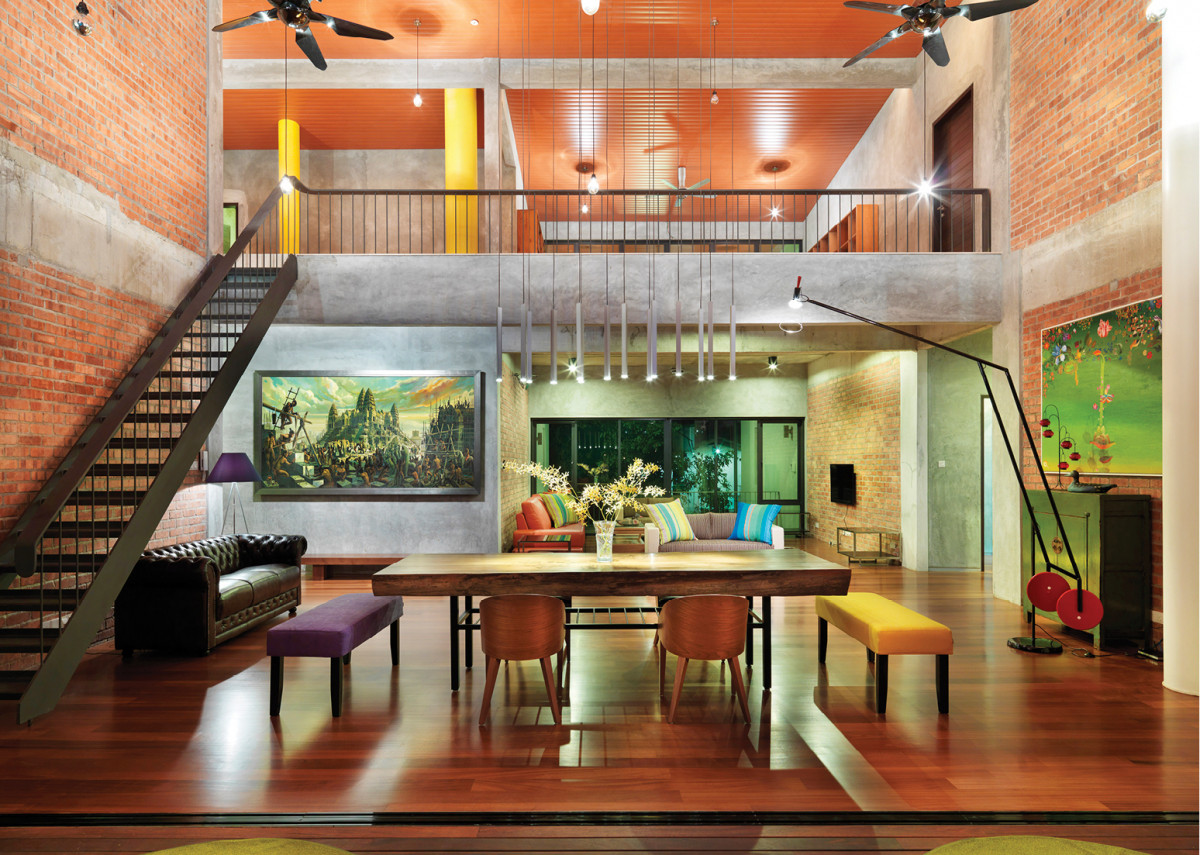 An award-winning architect and a past president of the Malaysian Institute of Architects (PAM), Dr Tan Loke Mun is a living testimony of green and sustainable living.
S11 House is Malaysia's first Green Building Index (GBI) Platinum-rated building, which is the highest GBI rating level. The GBI was introduced back in 2009 to promote sustainable building practice. Incidentally, Tan was also one of the driving forces and initiators behind this effort.
Though completed a decade ago in 2010, the S11 House is still a work-in-progress at the 3-storey building perched atop slightly elevated grounds at a quiet cul-de-sac.
Although the site sits a green tropical house today, it wasn't always the case. Erected on the site previously was an old bungalow, which over the course of time had become dilapidated and run-down. That was in the past as it is now a stunning, sustainable and functional home to Tan's family of four plus two dogs — Toffee and Silky, koi fishes and chickens.
One would be immediately greeted with the expansive garden and pool, with large frangipani trees towering and shading the home. Of the many trees there, five had actually been carefully preserved from the original site by Tan. In fact, they were the main reason which drew Tan to purchase the plot of land — because he says the leafy trunks were very rare sightings then. The ground floor reaches out to the garden in the front, with the flora and fauna enveloping a swimming pool. Over at the opposite side of the house sits a koi pond.
The design not only promotes cross ventilation but evaporative cooling too by the Venturi effect — one of the many eco-friendly features that are accorded centre stage at S11. Other distinct features one would notice is the black-water treatment, wind turbines, roof extract fans, daylight tubes and insulated roof.
The founding director of ArchiCentre and DTLM Design Group, who designed the award-winning S11 House, shares with EdgeProp.my on why green living will never go out of style even after decades, and why a home should have a soul too — to be nurtured to become a thriving entity that gives life to the home.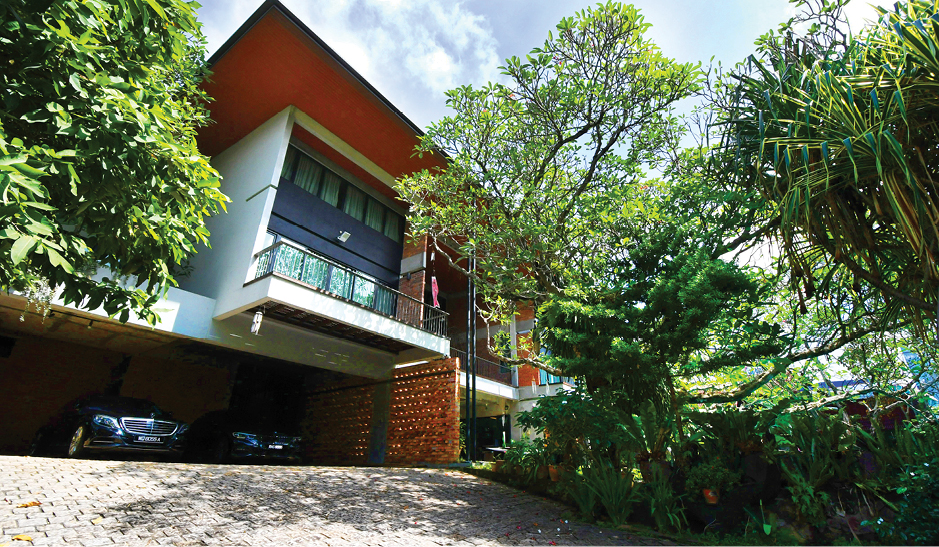 Ten years on – the home is still a work-in-progress
Earlier this year, Tan added 20kWP of solar PV onto the roof to complement the 5kWP that he had installed in 2010. The house is now essentially a Net Zero Energy house where the solar panels generate as much electricity as needed. He is now looking into incorporating battery storage technology to take the house to the next level of self-sufficiency and future-proofing.
"Ten years ago, when I built this house, I put in 5kWP of solar PV on the roof. That time, the cost of 1kWP was about RM25,000 with payback of about 40 years. But with the government incentive and grant through the Suria scheme, we managed to reduce it to about 12 years. In February this year, I added 20kWP of solar PV and this is the new installation. Now, 1kWP only costs me RM4,000 — the price has come down tremendously. Basically, with 25kWP of solar PV on my roof, I can generate enough electricity to power the entire house. I don't need any more electricity from TNB (Tenaga Nasional Berhad) or the power company," he tells EdgeProp.my.
A distinct feature of the house is how there are pieces of art and decor of different subjects in place. While there isn't one word to exactly describe the theme of the house, perhaps the best way to call it would be an eclectic home. Tan is a strong believer in recycling, reuse and repurposing.
"Over the years I've collected quite a lot of artefacts. Generally the criteria I use for the artefact that I collect is that it must be functional, beautifully made and it gives me pleasure. That is the criteria when it comes to art and craftwork and artefacts that I've collected throughout the years. When you put them all together, this may not relate to that. But when it comes together, it is like a museum, it is curated. It is eclectic but it all comes together beautifully," he elaborates.
Old materials from the previous demolished old house were not wasted. For instance, one would notice the old clay bricks which had been cleaned and re-used for feature walls and old crushed concrete roof tiles for gravel fill. Timber wood and steel were salvaged and given new lives in Tan's home.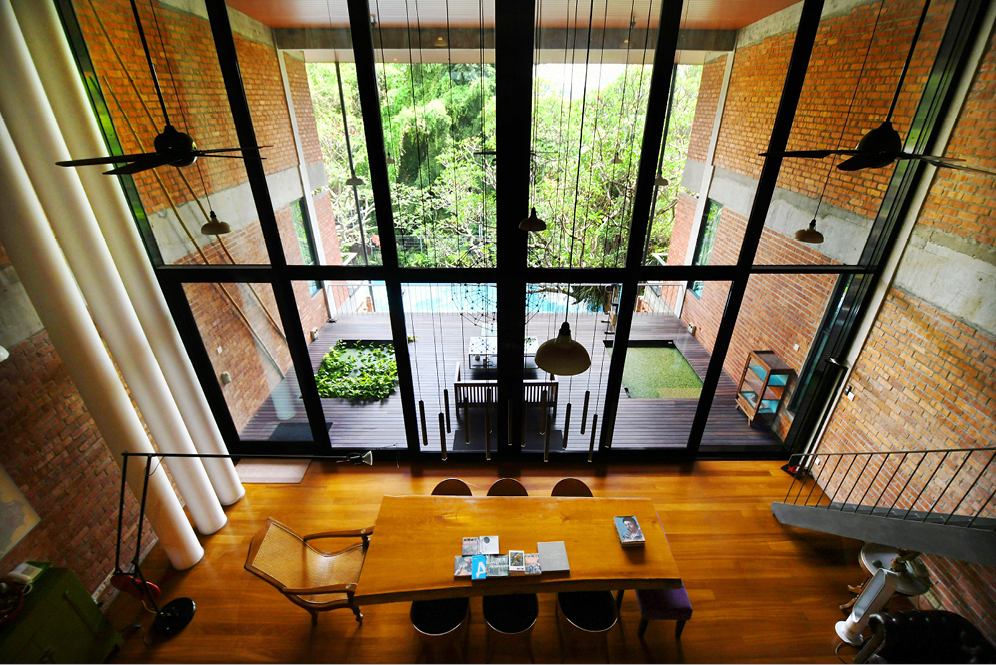 A cool resort home
Tan says that in just a blink of an eye, they have been in this house for 10 years now.
"We moved in in 2010 and now it is 2020. This has been a very unusual year because of the Covid-19. In the early part of Covd-19, we were stuck in the house for a few months and we were so glad that it is a cool house, has incredible facilities and set in a resort-type of planning. We sort of enjoyed that moment in time where the whole family was together, cooped up in a very resort-style of setting," he shares.
The S11 House has a clear north-south orientation for all its openings and windows. Meanwhile, the east and west walls are coated in heat reflecting paint in camouflage motif and left void of significant glazed openings. Shaded by a wire netting screen wall of fruit and vegetable climbers, these would help to reduce much of the heat gain through the east and west walls.
Tan's son, Matthew who joined us for the interview, says the core of the house – the double-height family room at the first floor, with seven-metre high sliding glass doors opening to a generous view of the garden in front, is his favourite part of the house.
"As a kid growing up, it was where we spent most of our time with families and time playing games. As we grew up, it started to change its purpose. It is encompassed within trees, and it has such a big space that you feel like it is your private sanctuary. I guess I made most of my memories here, especially as this is a living room as well and that is the purpose of a living room," Matthew shares in delight.
He says that he also brings in quite a lot of friends to the house because it is just a nice place to hang out and they enjoy coming over.
"What surprises me is that they remind me over and over of how interesting this place is. Because I've lived here for so many years, it has become more of a [normal] home rather than something crazy.
"When people come over, different people have different reactions. Some of them are more calm and composed and we just talk and they ask me questions, but others will come in and pull out their phones and start recording. They start asking: 'What is this place? Is this a home or what?' It is interesting to see how different people react to it and also it always gives me a reminder of what kind of home I am living in," Matthew relates.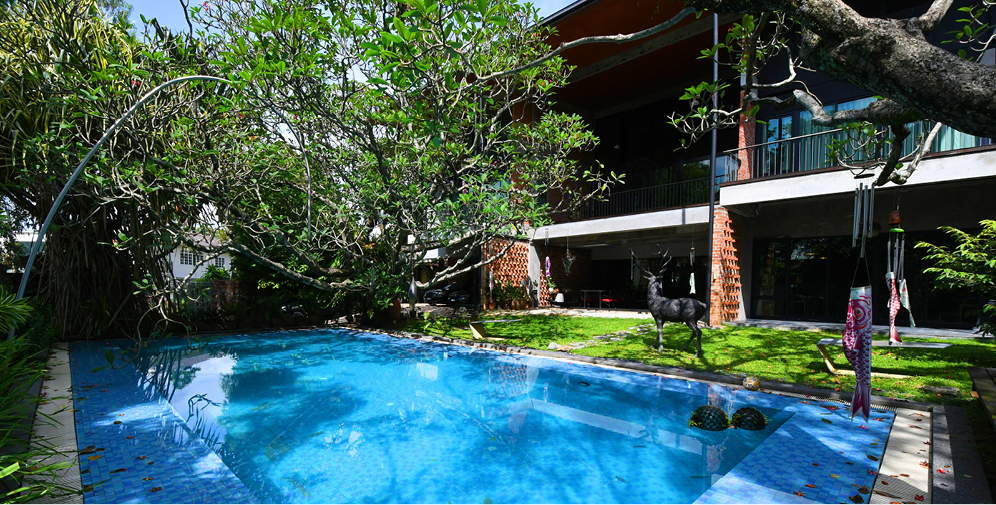 A home must have a soul
Tan says that a green building can be very technical with the different jargons being thrown around, often putting people off. To put it simply, he says that it is about technology and new things that emerge that you should try to put into your house to make it more and more sustainable.
"People say that the house is like a machine that you are living in but a machine without a soul is just empty — it is emptiness. What I try to do is to transform this green machine that I constantly refine and tune and add things to it to make it perform better. But I try to put into it things that will make it into a comfortable home," Tan shares.
Because of Tan's passion for art and good craft, and when he sees some things that remind him of his younger days — things that are functional and well designed, he tends to collect them. On the third floor is where he dedicates the space for his art collections – from paintings to artefacts, all of which have got their reasons to be there.
"The house is something like a museum, where my brother who came from the US, [when] introducing this house to his daughter, said that this is the house of an architect, which is totally different because everything has a function and meaning.
"And in that sense it is what I have collected throughout the years. It brings that soul into the machine. While it is efficient and effective, it is still not hard and empty. It has a soul within it," Tan concludes.
One can only wonder how the home will continue to transform in the next 10 years to come.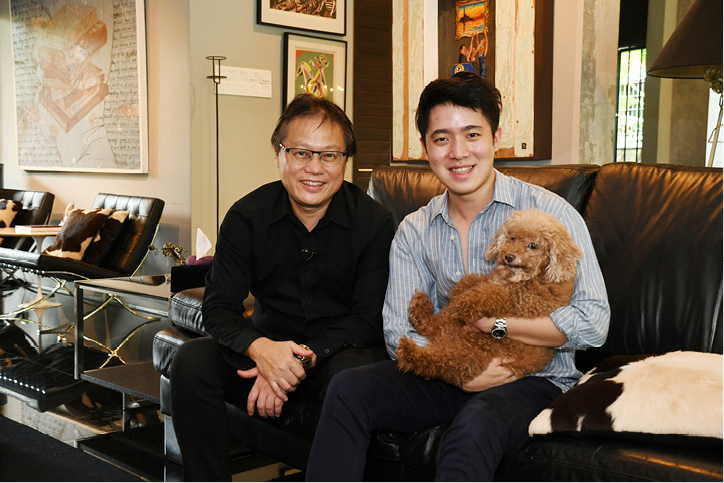 This story first appeared in the EdgeProp.my e-Pub on Dec 18, 2020. You can access back issues here.
Get the latest news @ www.EdgeProp.my
Subscribe to our Telegram channel for the latest stories and updates
Like our content? Check out
Narratives
– where we curate stories based on topics to keep you well and broadly informed about Malaysian real estate.
Looking for property? Check out
Location Scan
, where we summarize all available options and facts you need in a few clicks. We have updated the tool to include MRT3 stations too.
Curious how much you can borrow? Use
LoanCheck
to get your maximum loan eligibility from various banks, or
LoanReport
to get a FREE CTOS/CCRIS credit report.