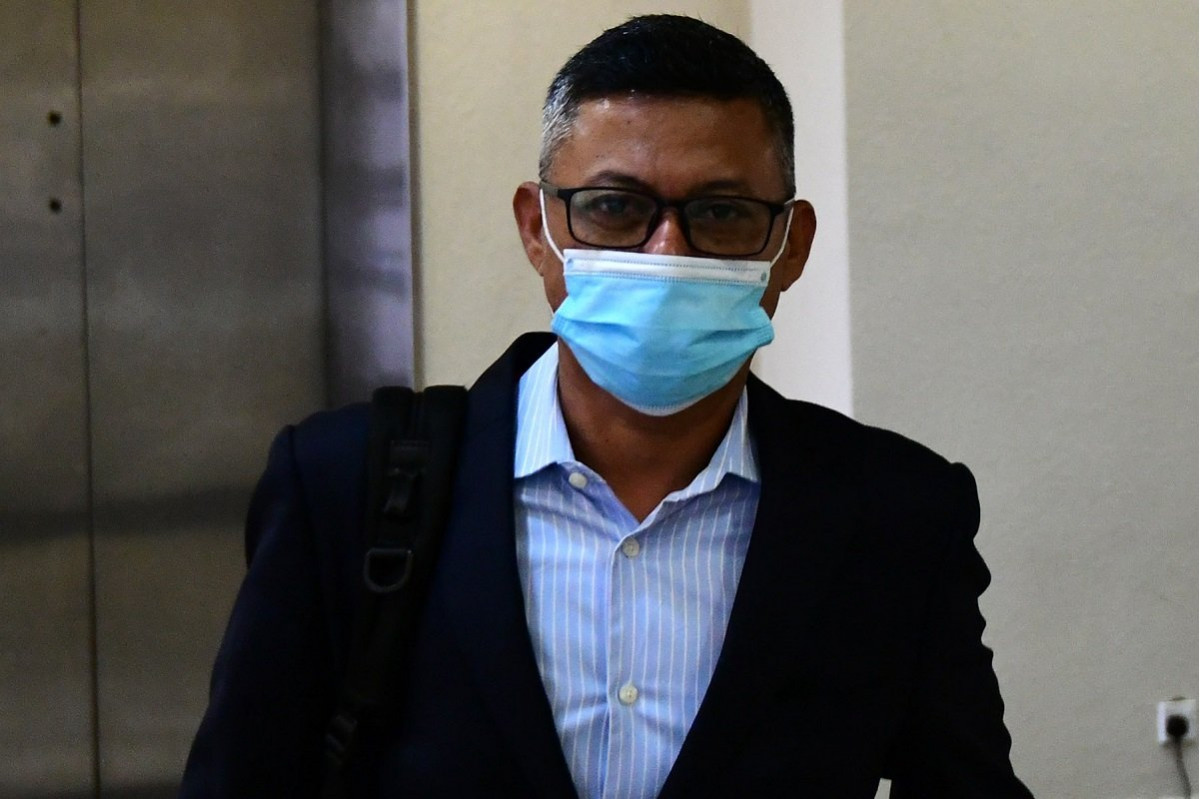 KUALA LUMPUR (Jan 6): Former 1Malaysia Development Bhd (1MDB) CEO Mohd Hazem Abdul Rahman (pictured) seemed to be non-committal about putting the blame on Goldman Sachs and his predecessor Datuk Shahrol Azral Ibrahim Halmi with regard to the issues surrounding the controversial fund's acquisition of Mastika Lagenda Sdn Bhd.
During the continuation of cross-examination today, Hazem was quizzed over the 49% call option granted to Aabar Investments PJS Ltd (BVI) as well as a purported security deposit of US$577 million for Aabar to secure a guarantee from International Petroleum Investment Corp (IPIC).
Datuk Seri Najib Razak's senior counsel Tan Sri Muhammad Shafee Abdullah put it to the witness that the deal was "a criminal scheme to embezzle" the proceeds from the bond issuance by 1MDB Energy (Langat) Ltd.
The lawyer said the scheme was conspired by Goldman Sachs, at the behest of fugitive businessman Low Taek Jho, former 1MDB finance director Terence Geh Choh Heng, former general counsel Jasmine Loo, Shahrol and former CFO Azmi Tahir, among others.
However, Hazem said: "I cannot fully comment on this."
Shafee continued to push on the alleged conspiracy, which he said Shahrol and Azmi were a part of, pointing to a directors circular resolution (DCR) dated October 2012 relating to the bond issuance and an extract of the resolution which was presented to external parties.
The lawyer highlighted the fact that the extract of the DCR had an additional paragraph which stated the granting of the 49% call option to Aabar as well as the security deposit in consideration for IPIC's guarantee.
This paragraph is not present in the original DCR, and both the DCR and its extract were signed off by Azmi.
"This gave a misleading picture, that the directors had passed a resolution pertaining to the 49% option and that IPIC is the guarantor. This is totally wrong," said Shafee, to Hazem's agreement.
The witness said he did not question Azmi or Loo over the security deposit payment to Aabar, as he believed there was a guarantee by IPIC and that it was "common knowledge" at the time.
Later, Shafee brought up Shahrol's previous testimony in court on there being two Aabars — the "real Aabar" and the "fake Aabar" — and that 1MDB had signed the agreement with the "fake Aabar".
"Based on what Shahrol said, would you agree that it was negligent of him? He had to have ensured that a check was done to make sure they were signing with the right party," said the lawyer.
"Yes," responded the witness.
"Do you agree that he was being negligent?" Shafee further asked.
"I cannot comment on that," said Hazem.
High Court Justice Collin Lawrence Sequerah also interjected, saying that it is not fair for the witness to give his own opinion on an action taken by someone else.
Criminal charges against Goldman Sachs and its two Asian subsidiaries relating to 1MDB were withdrawn by the Attorney-General's Chambers in September 2020.
The withdrawal of charges came after the Malaysian government came to a settlement with Goldman Sachs over its involvement in raising US$6.5 billion in bonds for 1MDB's independent power plant purchases and the Tun Razak Exchange (TRX) and Bandar Malaysia projects.
It was reported that Goldman Sachs had agreed to a settlement amounting close to US$4 billion.
Get the latest news @ www.EdgeProp.my
Subscribe to our Telegram channel for the latest stories and updates