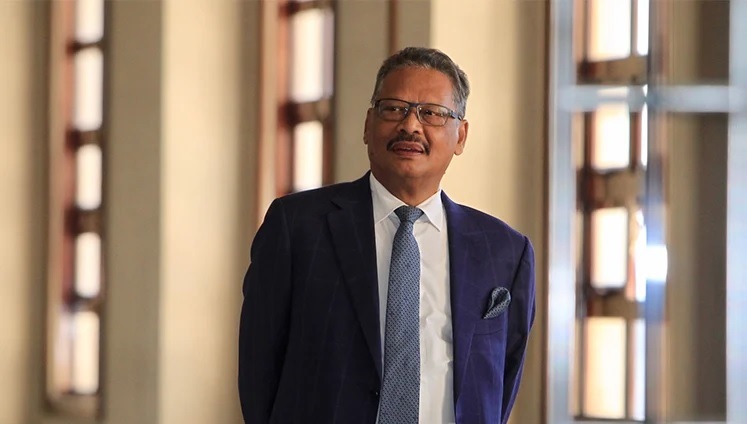 KUALA LUMPUR (Feb 4): Former Attorney General (AG) Tan Sri Mohamed Apandi Ali (pictured) has lodged a police report against his successor Tan Sri Tommy Thomas, claiming that the latter "scandalised and humiliated" officers of the Attorney-General's Chambers (AGC) in his memoir entitled "My Story: Justice in the Wilderness".
In a statement to the media shortly after lodging his report at the Sentul police district headquarters, Apandi said he made the police report to ensure justice is done.
He claimed that the book contains elements of criminal defamation against him as well.
"The purpose of this police report is for justice to be done not only for me, but also for others who have been scandalised and humiliated by the book, especially officers of the Attorney-General's Chambers.
"They are caught in a predicament of having to defend themselves and, at the same time going, against their former head of department," Apandi said in his statement.
In his report, sighted by theedgemarkets.com, Apandi accused Thomas of being in breach of Section 500 of the Penal Code which deals with defamation.
He also claimed that Thomas divulged secrets of national importance in the book, allegedly violating Section 8 of the Official Secrets Act 1972 and Section 203A of the Penal Code.
Section 203A reads: "Whoever discloses any information or matter which has been obtained by him in the performance of his duties or the exercise of his functions under any written law shall be punished with a fine of not more than one million ringgit, or with imprisonment for a term which may extend to one year, or with both.
"The reason I made this report is for investigations to be conducted into contents of the book," Apandi said in his police report.
In his media statement, Apandi claimed that Thomas had "looked down" on officers of the AGC.
"As a former Attorney General, I sympathise with the officers who have been looked down on in a condescending manner by Tommy Thomas. This is very unbecoming of him as he should realise that the officers are the backbone of the legal service. I can vouch that the officers are dedicated, and I could not find fault with their service during my tenure," he said.
Apandi was accompanied by his lawyer Datuk Baljit Singh Sidhu when lodging the report.
Get the latest news @ www.EdgeProp.my
Subscribe to our Telegram channel for the latest stories and updates