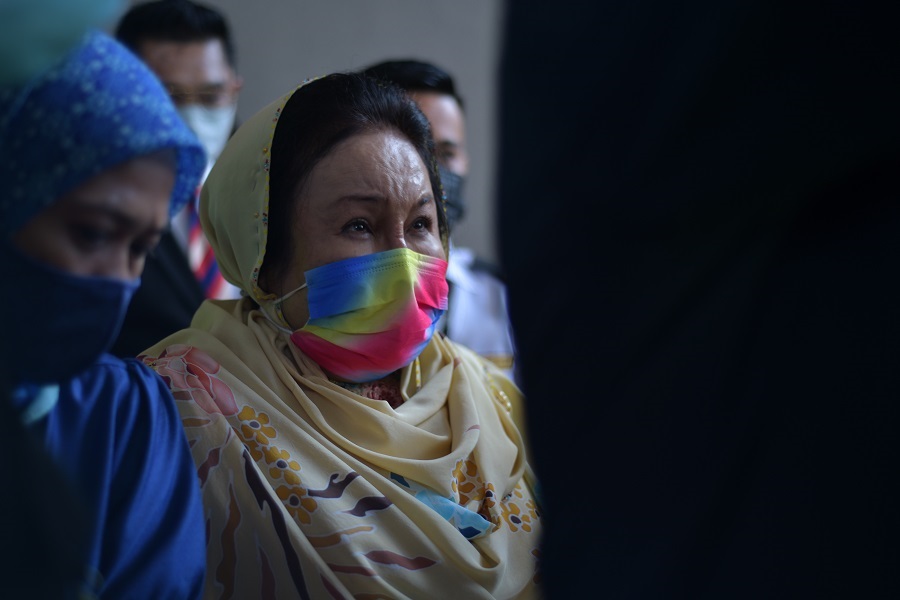 KUALA LUMPUR (Feb 18): Datin Seri Rosmah Mansor (pictured) and her lawyers are unhappy that the High Court had ordered her to enter her defence for her solar graft case, saying it did not provide any grounds for its decision.
Datuk Jagjit Singh, who leads her legal team, said she is emotionally upset and distressed with the decision.
"The defence team is saddened that his lordship did not give reasons in his decision to call her defence. We do not know the thinking of the court and at best we can only speculate on the court's decision.
"We respect the court's decision but this [not providing the grounds] is something we voice with great concern," the senior lawyer who appears with Datuk Akberdin Abdul Kader said.
Rosmah, 69, has earlier been ordered by Justice Mohamed Zaini Mazlan to enter her defence for all three charges of graft in relation to the multi-billion ringgit solar hybrid project for 369 rural schools in Sarawak.
She is charged with soliciting a RM187.5 million bribe out of a total of RM1.25 billion project that was awarded to Jepak Holdings Sdn Bhd director Saidi Abang Samsudin between January and April 2016 through her aide Datuk Rizal Mansor.
She also faces two charges of receiving a total of RM6.5 million — RM5 million and RM1.5 million from Saidi between Dec 20, 2016 and Sept 7, 2017 at her official residence in Seri Perdana, Putrajaya and also her private residence in Jalan Langgak Duta.
The trial took place over a period of 34 days including last week's submission at the end of prosecution's case with 23 witnesses.
She had arrived in court at 9.15am amid a flurry of photographers. Her husband Datuk Seri Najib Razak arrived separately 10 minutes later. After the decision, Najib went straight to his 1Malaysia Development Bhd-Tanore trial before High Court Justice Collin Lawrence Sequerah.
Najib may be called to testify
Jagjit also revealed that the defence had so far decided to call five or six witnesses and that does not include the 10 witnesses that is offered by the prosecution.
When asked whether Rosmah's husband Najib could be one of them, Jagjit said it was possible.
"Yes we are looking into that direction," he said.
On whether Datuk Ahmad Aazmey Abu Talib — also known as Cikgu Aazmey — would also be called as a witness, the senior lawyer replied that he was also being considered.
Aazmey is Pekan Umno division secretary, who is said to have sought Najib's go-ahead for Jepak Holdings to bag the project before it encountered some problems.
Jagjit said they have not decided as to who among the 10 witnesses that the prosecution offered would be called.
"We have yet to discuss this," he added.
The senior lawyer said Rosmah's defence maintained that she is innocent as there is no solicitation done by her, and that she had not received the alleged money.
"All this is accepted by Rizal (Datuk Rizal Mansor, her aide). Nevertheless, we are prepared to argue the case without knowing the grounds. We are hampered by this [no grounds for decision] as we have to look at every ingredient to disprove the case," he added.
The court has fixed nine days — June 9, 10, 15, 16, 17, 22, 23, and July 12 and 15 — as the trial dates.
Deputy Public Prosecutor Ahmad Akram Gharib had earlier informed the court that among the witnesses offered are a special action squad personnel identified by the codename 'Vivo' who had accompanied the delivery of the money bags to Seri Perdana and three Maybank officers along with Najib.
Meanwhile, senior Deputy Public Prosecutor Datuk Seri Gopal Sri Ram told some reporters on the sidelines that there was nothing wrong with Justice Zaini not providing grounds for his decision.
He cited three other cases where senior judges themselves in the past did not provide grounds but will provide maximum evaluation in delivering the final verdict at the end of the trial.
Get the latest news @ www.EdgeProp.my
Subscribe to our Telegram channel for the latest stories and updates