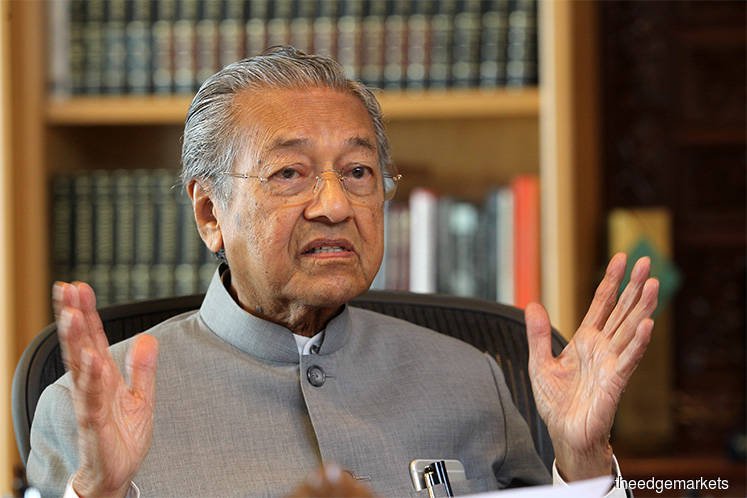 KUALA LUMPUR (Feb 18): Former prime minister Tun Dr Mahathir Mohamad along with four other Pejuang leaders were today allowed to intervene in lawyer Dr Syed Iskandar Syed Jaafar Al Mahdzar's originating summons (OS) seeking the court's interpretation of the Yang di-Pertuan Agong's discretion in deciding whether or not to declare a state of emergency.
The other lawmakers are former Kedah menteri besar Datuk Seri Mukhriz Mahathir (Jerlun MP), Datuk Amiruddin Hamzah (Kubang Pasu), Datuk Dr Shahruddin Salleh (Sri Gading) and Datuk Marzuki Yahya, who is a senator in the Dewan Negara.
Mahathir and the four are part of the yet-to-be registered Parti Pejuang Tanah Air party.
Justice Datuk Seri Mariana Yahya decided to allow the applications by the group and other parties to intervene in the matter to enter, ruling that it is a public interest and constitutional issue, and that the applicants had legitimate and real interest in the matter.
Mahathir and the four were represented by Rafique Rashid Ali, who confirmed today's decision.
Meanwhile, lawyer Mohd Haniff Khatri Abdulla, who appeared for Association of Muslim Lawyers and Nazirah Abdul Ghani, along with lawyers Mohd Khairul Azam Abdul Aziz and Malcolm Fernandez also confirmed that they were allowed to intervene in the case.
Another non-governmental organisation Centre for a Better Tomorrow (Cenbet), represented by K Shanmuga, was also allowed to intervene in the OS.
It was reported that Syed Iskandar, who had filed the OS on Oct 30 last year, had posed two questions of law to be determined by the court, namely:
whether on a true construction of Article 40 and 150 of the Federal Constitution, the Agong has an unfettered discretion not to declare an emergency despite the advice of the prime minister or Cabinet in the contrary
whether Act 514 (Occupational Safety and Health Act 1994) which amended Article 150 by adding clauses (8) and (9) is violative of the basic structure of the constitution having regard to Article 4(1).
In a press statement, Syed Iskandar said he filed the action to ensure that anyone who becomes prime minister will not face problems while dealing with those who are supposed to guard the Constitution when bills are sent for Royal Assent.
Syed Iskandar was represented today by R Kenghadharan. The proceedings were done online.
Get the latest news @ www.EdgeProp.my
Subscribe to our Telegram channel for the latest stories and updates