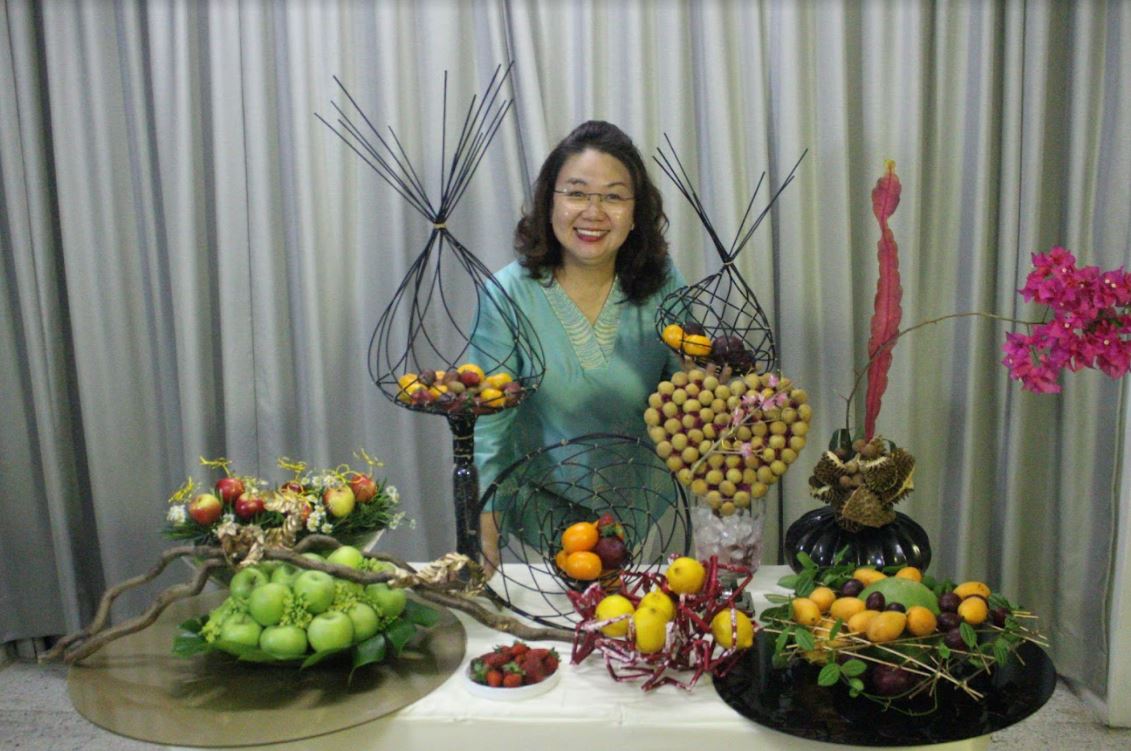 After playing magic tricks in turning Chinese New Year (CNY) regular items and plain vegetables into gorgeous decorations, principal of Amtrol Flower Designing Eunice Teo continued to demonstrate her skill, this time using fruit and materials that are readily available at home, to create party decors that not only glam up your home but are also edible!
In the third episode of At Home with Eunice, which was live-streamed on Edgeprop.my Facebook page on Feb 23, Teo continued to live up to the no-wastage principle in her creations.
To achieve that, she said it's crucial to decide the design theme before choosing on colours. Most importantly, you must know the materials well before using them as this could give you endless possibilities on the designs.
Additionally, viewers also got some tips from Teo on choosing fruit that does not attract insects and will last long especially in our warm climate.
At Home with Eunice is presented by EdgeProp.my, sponsored by Matrix Concepts Holdings Bhd, and supported by Nippon Paint Malaysia and Amtrol Flower Designing. Hosted by EdgeProp.my writer Natalie Khoo, the six-episode mini-series is live-streamed on EdgeProp.my Facebook page every Tuesday 8pm.
In every episode, Teo will be giving out the decor pieces created for the series to the lucky audience members who tune in and post their questions or comments during the session, through a random selection.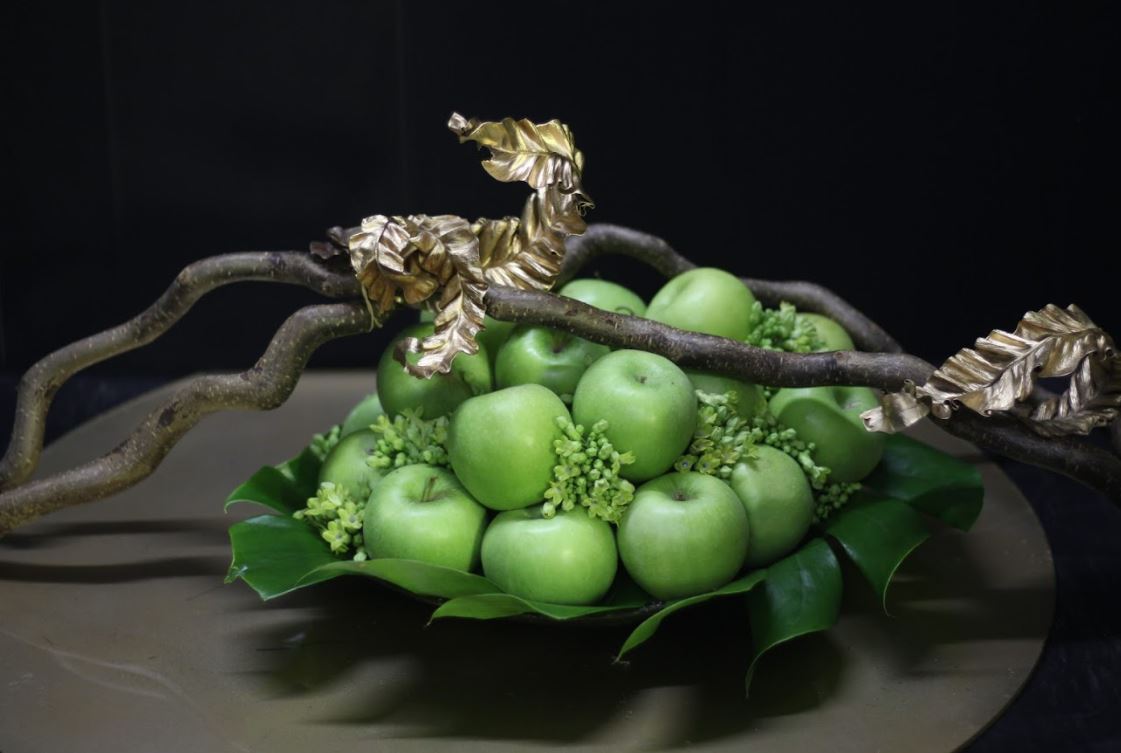 The apple application
In the first demonstration, Teo showed how she elevated a serving of green apples to double up as a decor piece on your party table. Above a stack of green apples positioned on a wide plate, Teo placed two medium-sized twigs and paired them with bird nest leaves that had been spray-painted in gold.
Adding a delicate touch to the decoration, Teo added night-blooming jasmines between the apples. "Because the apples and the flowers are the same colour, it creates a texture that makes the colour more vivid. Truly simple and sophisticated for the modern home," she enthused.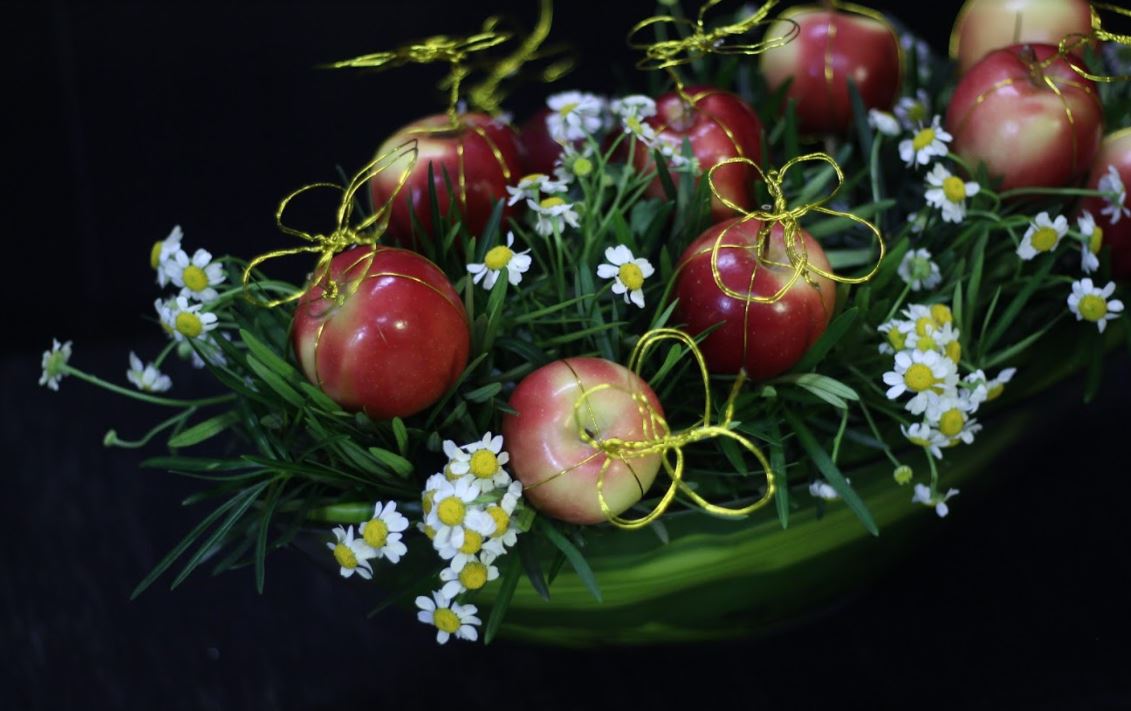 In another decorative piece with small red apples, Teo worked wonders by securing a gold wire around every apple, with the top end twisted into a butterfly shape. They are then poked through with sticks and arranged into flower foam placed in a shallow glass vase that had been wrapped with iron leaves at its side and surrounded with shortened song of India shoots.
For a finishing touch, embellish the fruit decor with chamomile flowers, and it was ready as a child's birthday table piece and a great start to encouraging children to take an apple a day to keep the doctor away.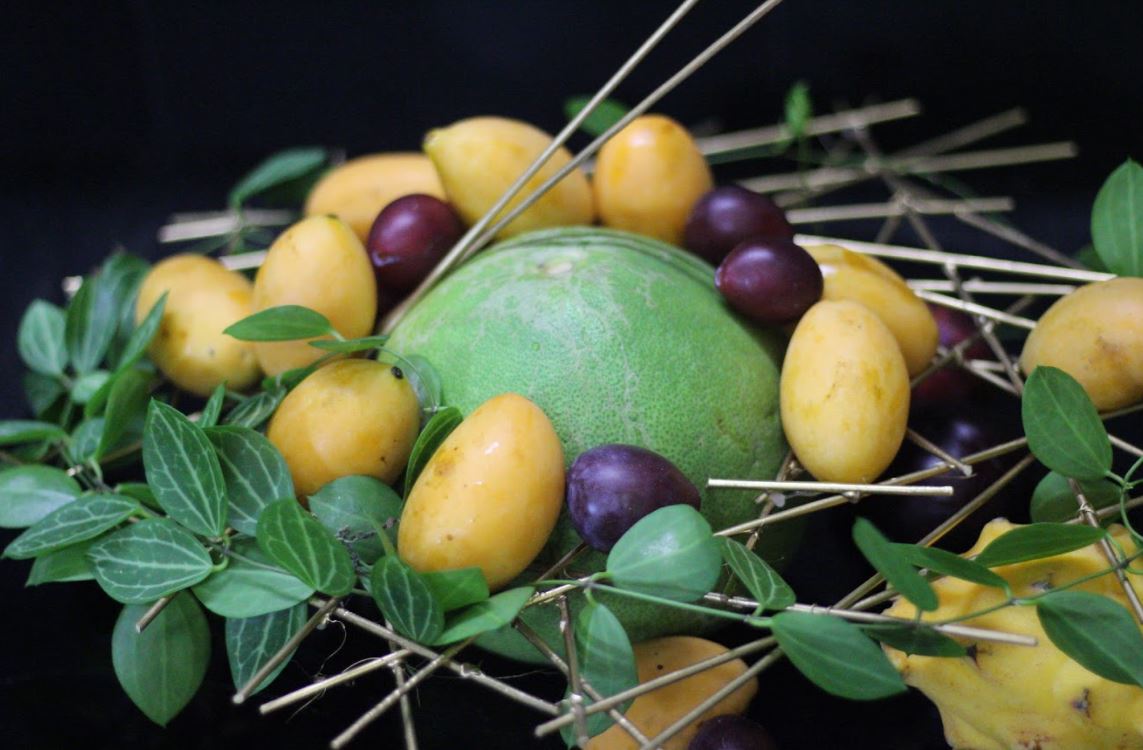 Pomelo centrepiece
As the Lunar New Year season draws to an end, Teo took the opportunity to feature another CNY fruit as the star of this decorative piece, that is the pomelo. Firstly, Teo assembled and glued together several wooden skewers into a single-level structure that has a space in the middle just right for the pomelo.
To secure the structure at the mid-height of the pomelo, Teo used a mini tube, which was then obscured with a few brightly coloured plum mangoes (kundang) and sugar plums. Teo described this piece as something to "eat with our eyes, not with our mouth". For a finishing touch, Teo put caladiums around the structure and voila – a centrepiece for the dining table!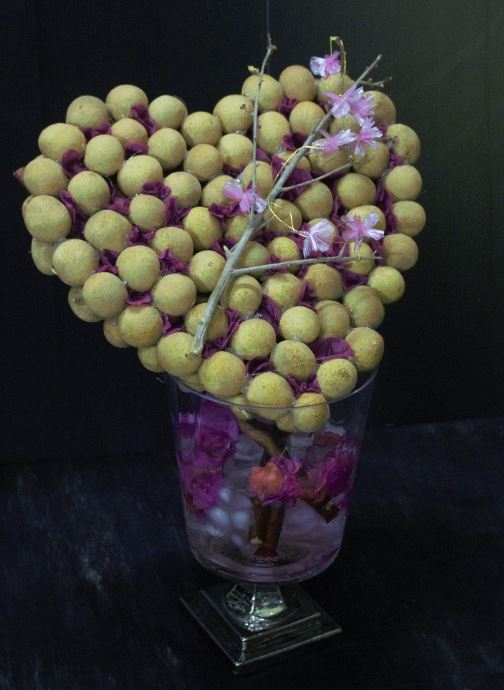 A literally sweet heart
Although Valentine's Day was more than a week ago, "you can have Valentine's Day everyday with this decorative piece", Teo quipped. Using fresh unpeeled longans, Teo assembled them in a heart-shaped mould and glued them together. She then lined the longans in two layers to achieve a 3D effect. After that, she fixed small pieces of flower-shaped wrapping paper in the gaps between the longans. Finally, place the heart-shaped fruit into a glass bowl filled with ice to ensure the longan will be cool and fresh when served at your party.
Eunice's tips: Caution! Be careful not to burn the skin of the longan when applying the hot glue.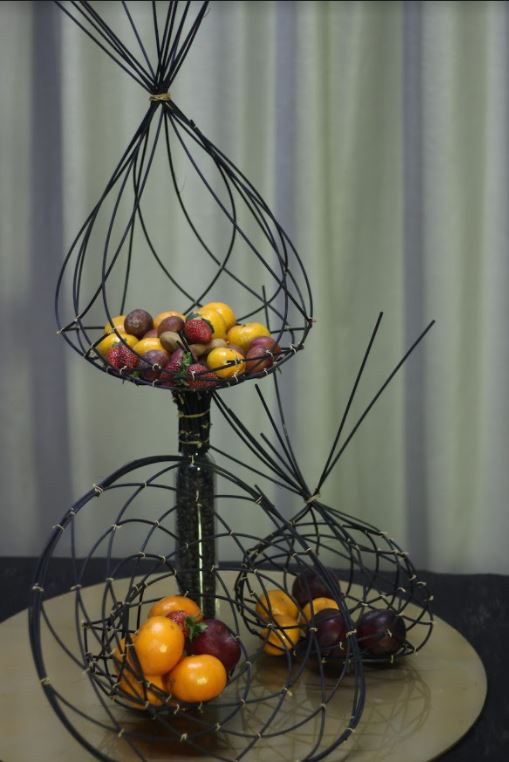 The rattan nest to greet the guests
For this piece, Teo displayed three different designs with rattans that had been weaved and tied together to look like a nest. With it, you can place any fruit that you want in the nest-like space. The whole design was sleek and clear-cut and ready to greet your guests.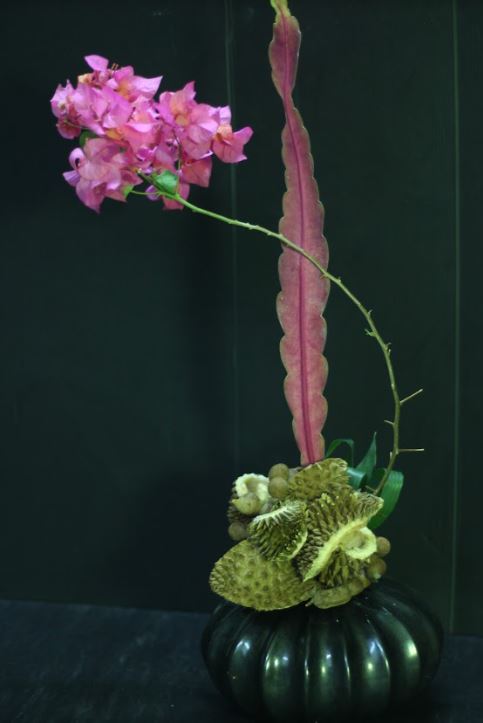 A minimalist piece with durian husk
Teo adopted the Japanese flower arrangement technique of Ikebana style where she played around the negative space with the details and curves of the materials to create this minimalist design.
Utilising stacks of dried durian skin decorated with wires, Teo paired them with dried tamarind to create a contrast between the smooth and spiky textures. She then secured a single pink epiphyllum leaf with a hidden wooden skewer and added bougainvillea flowers as a finishing touch. Even though it was minimalistic, there were so many stories to tell from this arrangement, Teo shared with the viewers.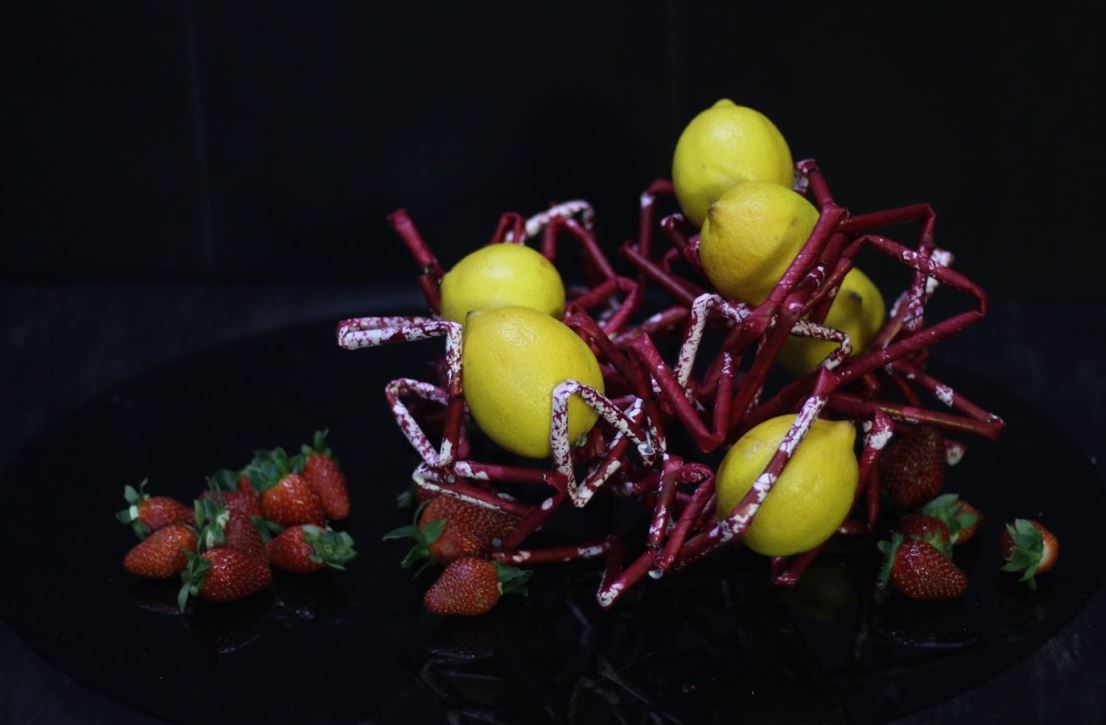 Paper straws for basket
Bringing out the red straw construction from the previous episode, Teo inserted thick wires (16 gauge wires) into the straws and bent and twisted the structure into a modern-looking triangular shape. With this added sturdiness, Teo then added a few lemons on top of it and placed a plate of strawberries next to it. The brilliant colours are sure to be an eye-catching display as your guests help themselves to the fruit.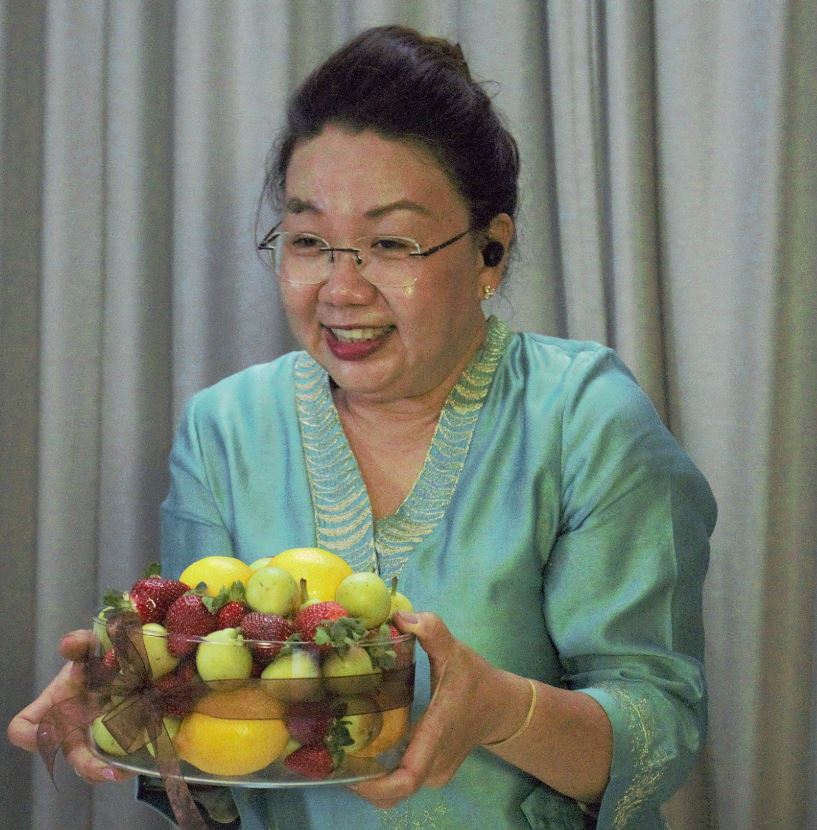 No-effort fruit bowl
In this series, Teo wanted to highlight to viewers that designing did not have to be complicated. Instead, she wanted them to be practical when designing by utilising anything around the house.
To emphasise this message, Teo showed how even the smallest effort could turn something ordinary into something beautiful. In this design, Teo suggested visualising the colours of a variety of fruits and put all the chosen fruits into a clear glass container. Then tie ribbons around it and there you have it – a simple fruit display that took no effort at all.
Get the latest news @ www.EdgeProp.my
Subscribe to our Telegram channel for the latest stories and updates