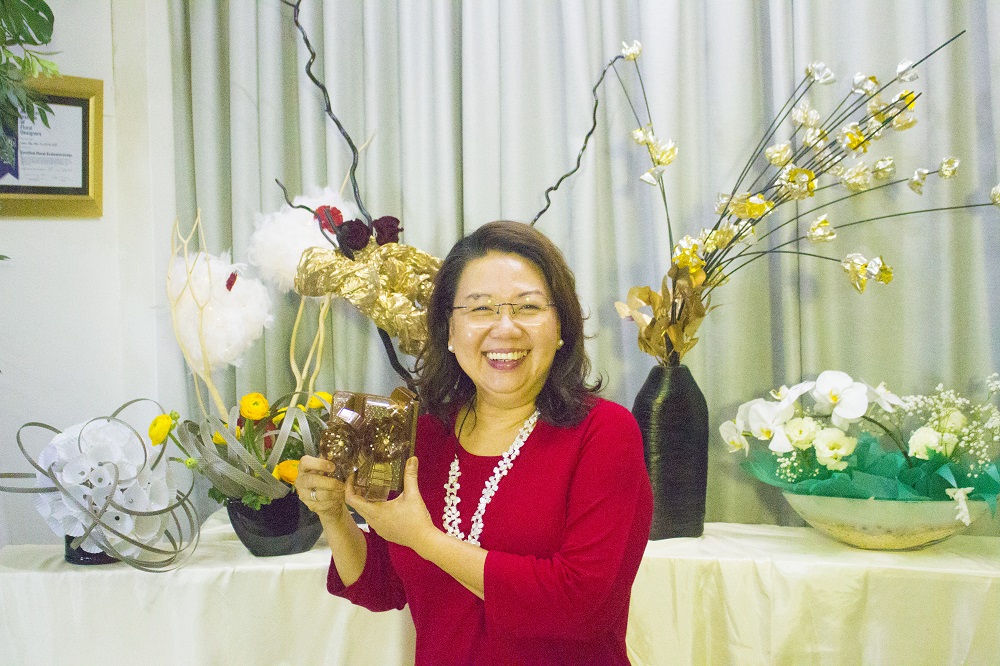 We all know plastic is harmful to the environment but the usage of plastic items and materials has made our lives easier. Nevertheless, there are ways to reduce and reuse plastic, as well as to upcycle it into artsy pieces that could light up our living and working spaces or even be gifted to brighten up someone's day.
In the second-last episode of EdgeProp.my's six-episode mini-series of At Home with Eunice, Amtrol Flower Designing principal Eunice Teo has again created wonders using some unexpected plastic items, turning them into seven gorgeous handcrafted pieces that will wow your guests.
The versatility of the plastic material allows for lots of ideas. With some simple tactics, combined with some readily available materials or even dried flowers from home, you could create your very own decorations, said Teo in the live stream on EdgeProp.my's Facebook page on March 9.
Invite spring to your home
Materials needed: A dark-colour bowl, plastic packaging straps and colourful blooms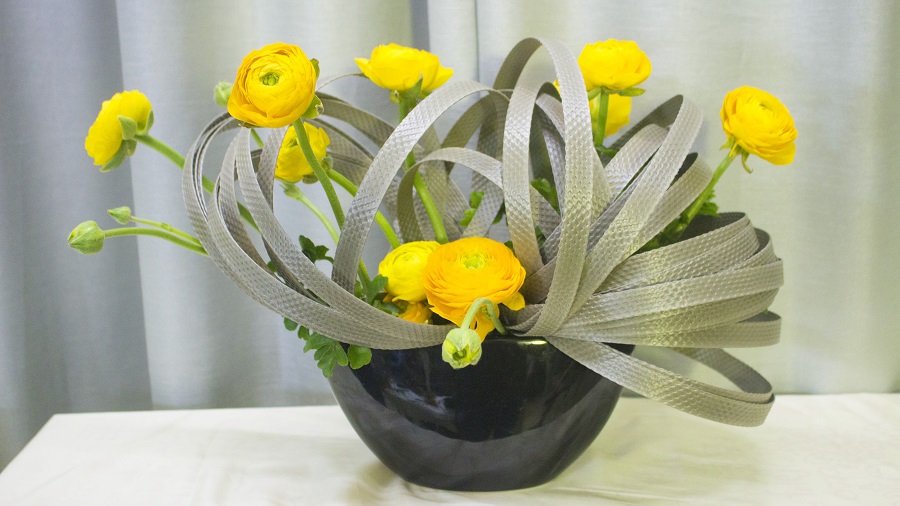 In this item, Teo utilised the grey colour plastic packaging straps that are normally used to secure your deliveries that come in cartons. Bending them into a plain black bowl, she created a curvy structure, in which she interspersed with spring flowers from the Netherlands - Ranunculus.
The essence of this decor piece is to play with the contrast of plain and bright colours to enhance your home ambience.
"There's no special technique to arrange the plastic straps (to create the form). Just gently spread them out on the bowl that is filled with a moistened flower foam block," said Teo.
Hide the flower foam with some foliage, then put in five to seven big bright blooms, and you would have completed a handiwork that is bound to be a conversation piece.
A gift for a gentleman
Materials needed: Cookie container, plastic egg trays, grey plastic strips and black and white colour spray paints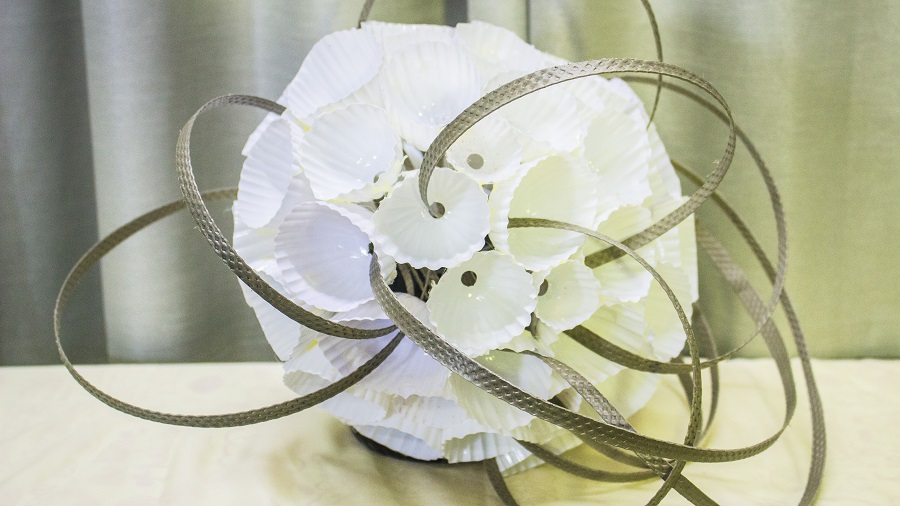 Decor pieces are not only for women. Eunice showed how, with a dash of deftness and expressiveness, you could create a unique lamp shade for the men in your lives!
By now, you would probably be running out of storage space for the empty Chinese New Year (CNY) cookie containers. Before you discard them, try this out. Spray the inside of the container with a coat of black and let it dry. This will serve as the stand of the lamp shade.
Secondly, cut out the cups of the plastic egg trays one by one and spray paint them white. Once it dries, glue them all together to form a dome structure which will serve as the shade atop the cookie container stand.
For a wisp of contrast, encircle the shade with a few strips of dark grey plastic strips (cut out from any waste plastic you can get your hands on) and voila! A DIY lamp shade is done!
Even if you want to make do without a light bulb, it stands as an elegant piece of table decor on its own.
Vintage jewellery box
Materials needed: Cookie trays, hot glue and some pearls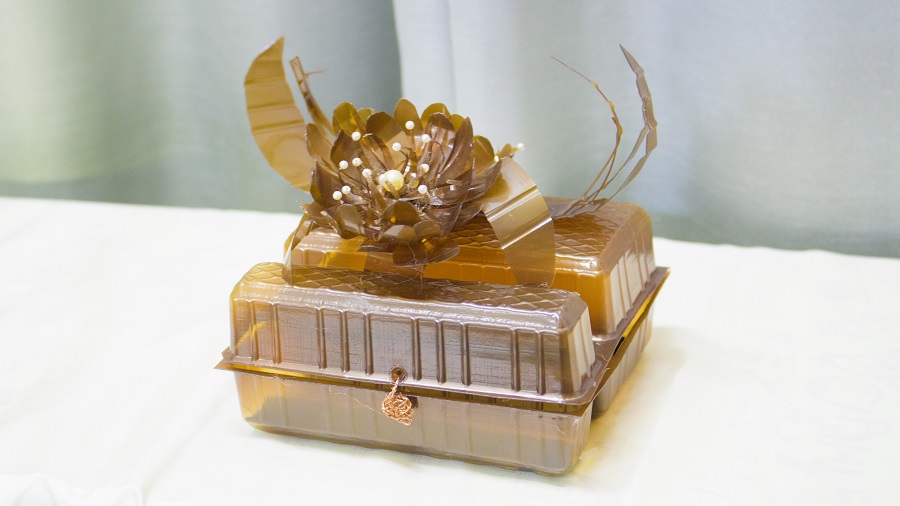 While thinking about upcycling plastic for the fifth episode of At Home with Eunice, Teo came across the idea of repurposing the cookie trays of her favourite vegetarian almond cookies.
Teo cut the rectangular-shaped tray into two, then glued them up and made it into a box with a lid. The different compartments of the cookie tray make it just nice to keep some costume jewellery.
To level it up, Teo made use of other cookie trays, cutting them into petal shapes and assembling them into Tan Hua flowers (epiphyllum oxypetalum), also dubbed "queen of the night", and arranged some small pearls over them.
The upcycled plastic cookie tray now has a new function as a vintage-like jewellery box.
From old to gold
Materials needed: Used hamper plastic wrappers, a few sticks or branches and gold colour spray paint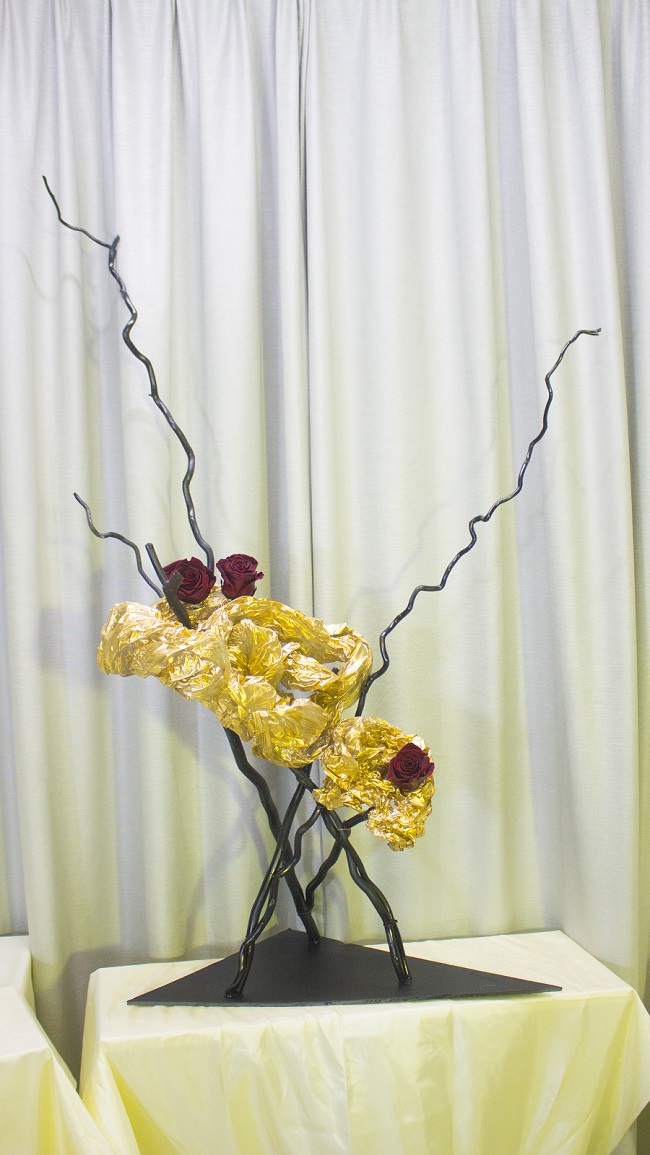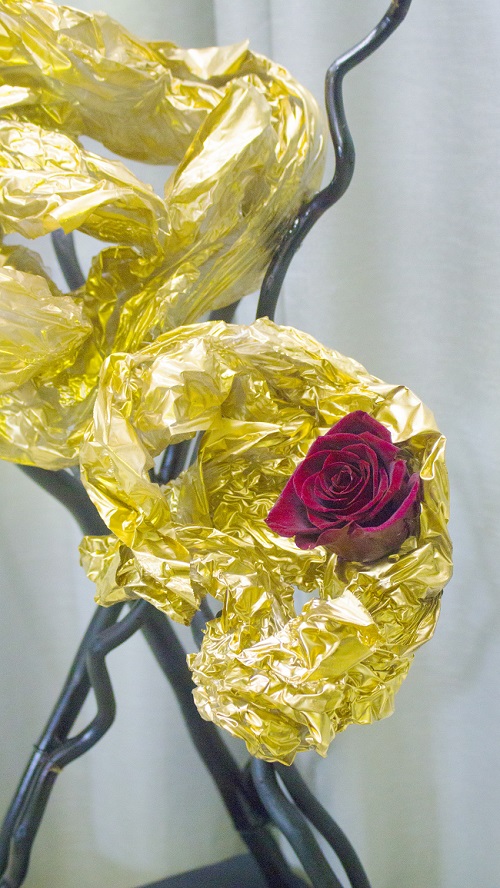 Unwrapping CNY hampers could be fun, but the resulting amount of waste plastic wrappers could be quite staggering.
If you feel bad about adding them to the mounting non-biodegrables on Earth, why not turn them into an exquisite art piece?
Teo has discovered that she could stiffen the clear plastic into any shapes by first, rolling it up, and then simply heating it up using a hair dryer. Blow at the balls of plastic from different angles to form your preferred shape. Once you have got a few wads, jazz them up with a coat of gold spray paint.
Next, use any sticks or branches to create a simple standing structure, then gently glue the golden nuggets on it.
The lightweight decor piece could be placed in any corner of your home. If you have dried roses from wilted bouquets, you could place two to three buds on the design to enliven it.
Eunice's tips!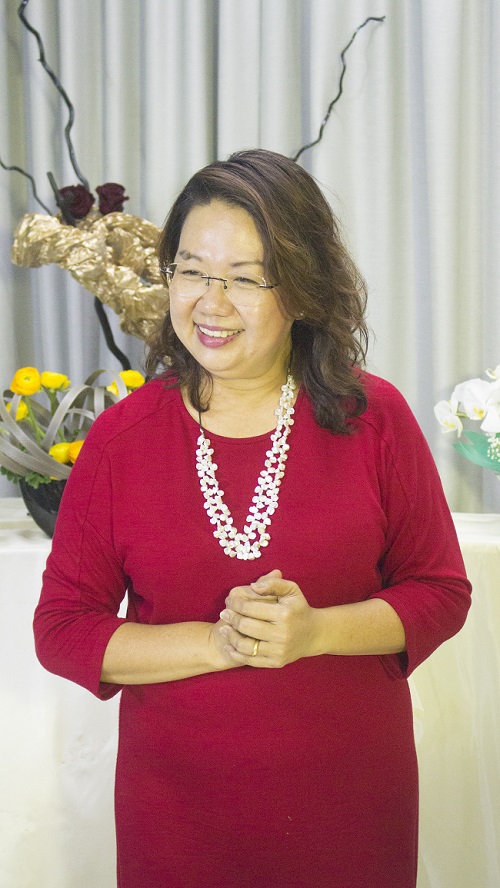 Do not overdo the roses – less is more, two to three blooms will be enough to make a statement.
Seaview in a vase
Materials needed: A boat-shaped vase or bowl, green colour plastic book covers, used candles, fresh flowers and sea shells or marbles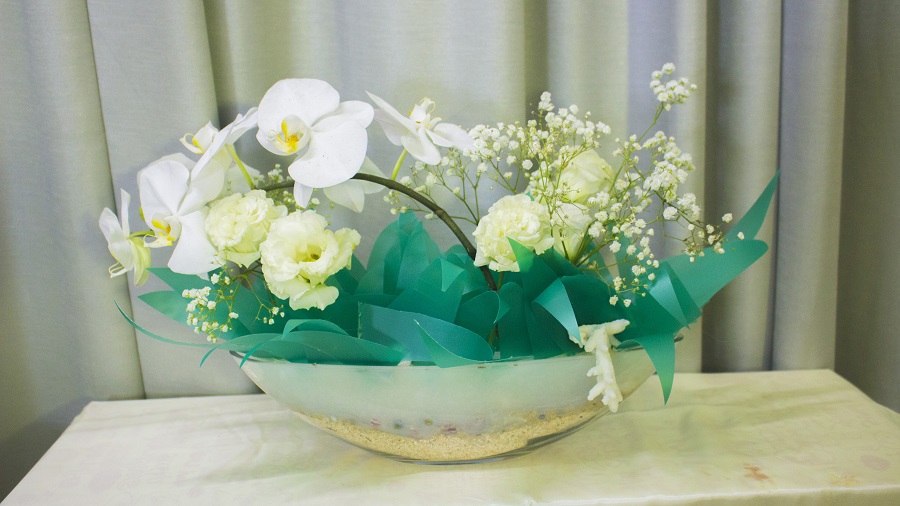 Ever ready with a thinking cap, Teo has found a way to turn the stiff plastic of book covers into "grass" by cutting them into triangular pieces.
To curl them, just swipe your scissors' blade over the triangular pieces with a little pressure.
Next, fill the bowl with sand, and over it, pour hot wax melted from old candles. When they are semi-cooled, insert the "grass" into the wax, arranging them to fill up the bowl. Then, scatter some seashells and marbles among the greens.
"This is inspired by children's amazing imagination. Seashells make people think of the sea while the marbles resemble water bubbles," she explained.
The design is completed with a stalk of gorgeous orchid flowers from Teo's garden, some white blooms and baby's-breath flowers.
"The combination of the green base and plain colour flowers make it a beautiful centrepiece for the dining area," said Teo.
Romantic light
Materials needed: Heart-shaped plastic box, plain colour paper and LED light bulbs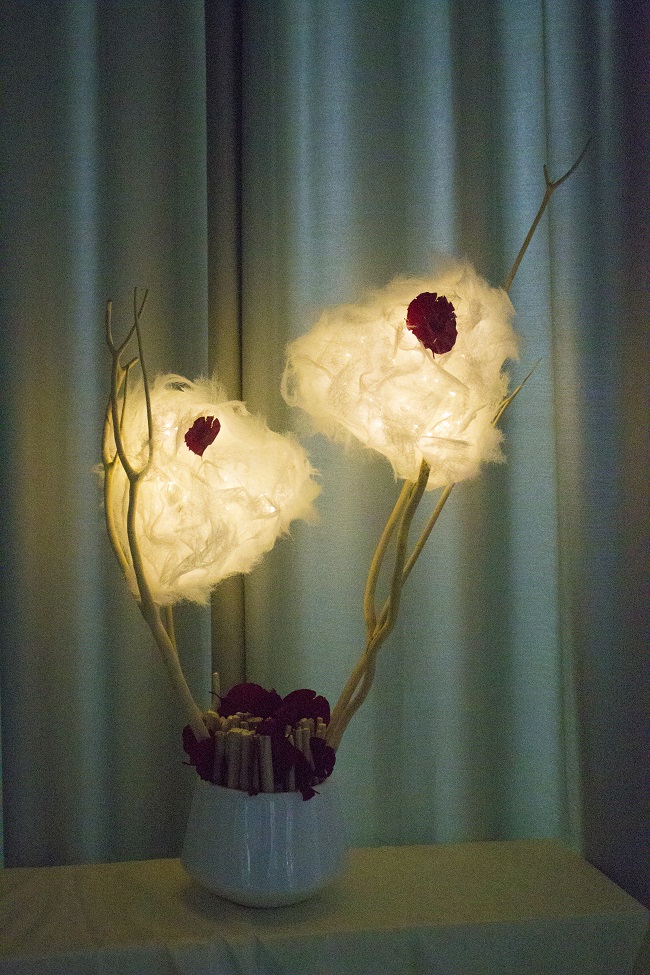 Do you happen to have any heart-shaped boxes at home? If yes, do try out this simple trick that would surprise your loved ones.
Teo pre-fitted some LED lights into these boxes and stuffed them with randomly-torn used fibre tissue bouquet wrappers to create a furry filling.
Next, she affixed the heart-shaped lights atop a simple branch stand which she has at home. Some red rose petals are strewn on the base, and to highlight their presence, she glued a singular scarlet petal as a striking contrast against the whiteness of each "love light".
If this were the last thing your eyes beheld before you closed your eyes to sleep, it would surely help transport you to a romantic dreamland.
Shiny poppy flowers
Materials needed: A bottleneck tall vase, gold or silver colour plastic trays of mandarin oranges and long skewer sticks (spray painted black)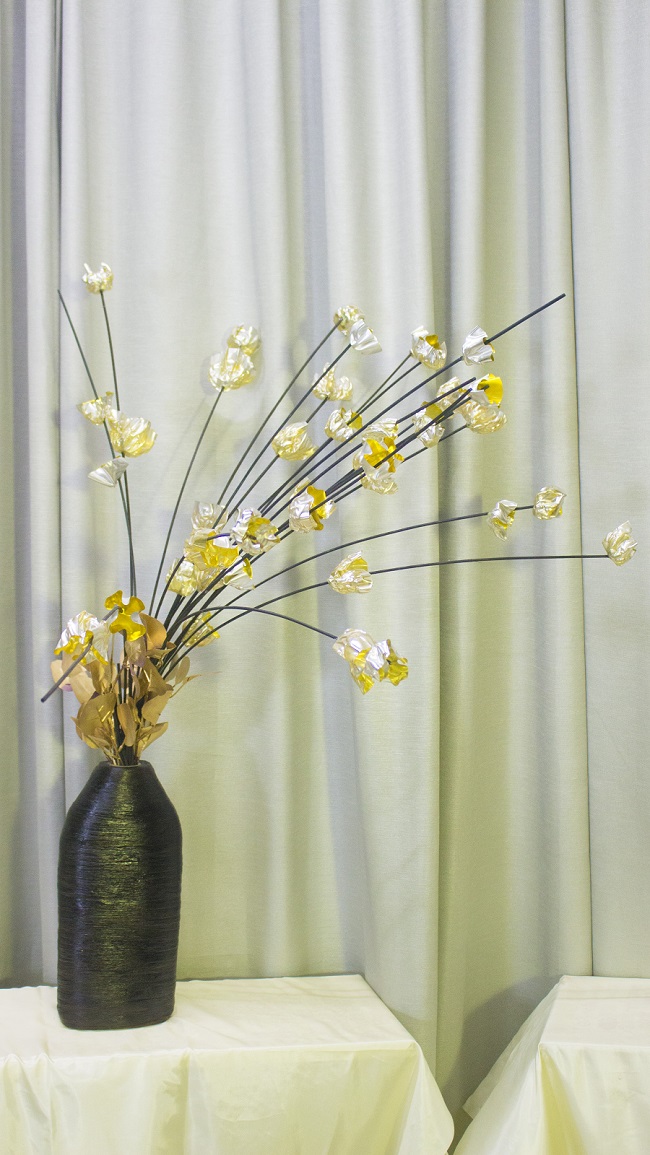 Ever drawn to the glitter of silver and gold, Teo saved the mandarin orange trays of this tint and ingeniously turned them into poppy-like artificial flowers.
How? First, cut out the cups from the tray one by one. Then, using a stick, press the concave piece into a tea light candle holder and blow hot air on it using a hair dryer.
The heat will shrink the plastic craters into a crumpled shape like poppy flowers. Cut out a small hole in the middle of the "flowers" and poke through them with long skewer sticks. Each stick could have three flowers at different heights.
Make a bunch of these, place them in a bottleneck tall vase and you have a striking dining table visual display. For added glamour, Teo said you could put some candles on the tables and the flowers will gleam.
Eunice's tips!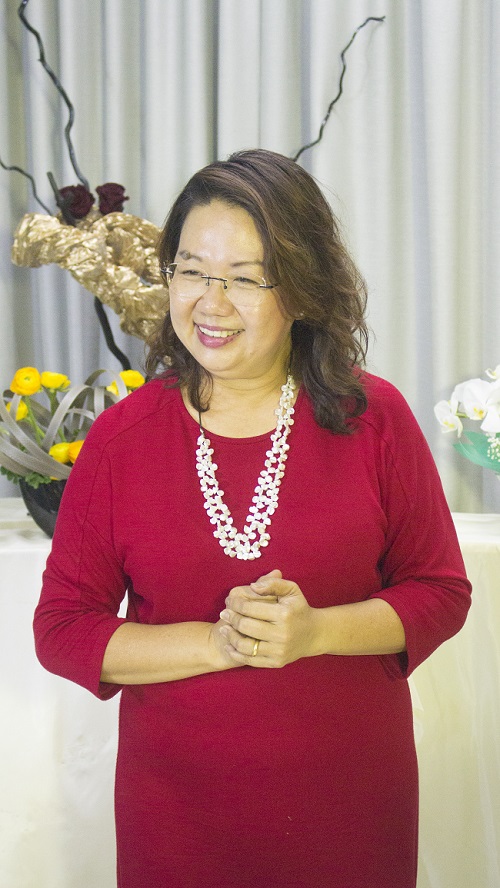 Wear a face mask while heating up the plastic material to avoid inhaling the harmful chemical odour.
Stay tuned for the last episode of At Home with Eunice!
At Home with Eunice is presented by EdgeProp.my, sponsored by Matrix Concepts Holdings Bhd, and supported by Nippon Paint Malaysia and Amtrol Flower Designing.
Hosted by EdgeProp.my writer Natalie Khoo, the six-episode mini-series is live-streamed on EdgeProp.my Facebook page every Tuesday 8pm.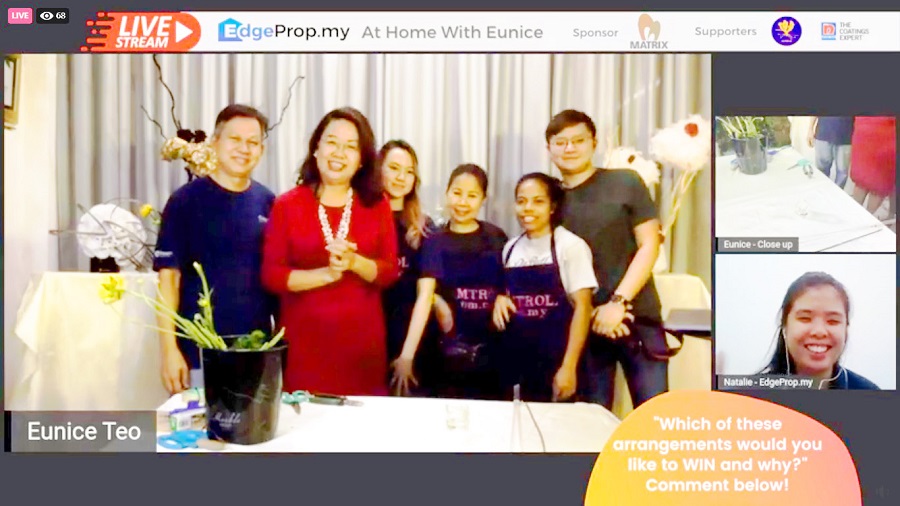 In every episode, Teo will be giving out the decor pieces created for the series to the lucky audience members who tune in and post their questions or comments during the session, through a random selection.
In the final episode which will go live next Tuesday night (March 16), Teo will give new life to the fallen leaves or little twigs in your garden, turning them into unique decor pieces that will surprise your guests.
Get the latest news @ www.EdgeProp.my
Subscribe to our Telegram channel for the latest stories and updates