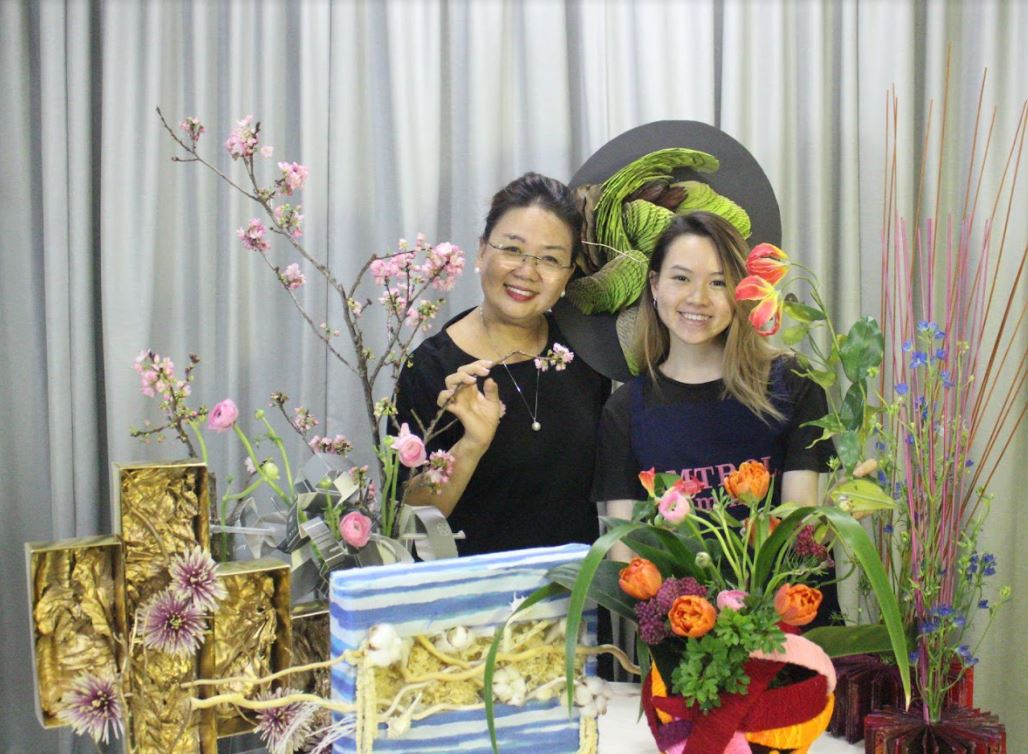 Following the end of the Chinese New Year, it's time to upcycle the numerous packaging boxes at home into lovely artistic pieces rather than add to the global problem of mounting waste.
In the fourth episode of EdgeProp.my's mini-series of At Home with Eunice, Amtrol Flower Designing principal Eunice Teo showed easy and inexpensive ways to transform paper-based boxes into decorative pieces for the home – this time, without involving anything edible.
"I am sure everyone has boxes of different sizes at home from delivery parcels, such as those that contained fruit," said Teo in the live stream on EdgeProp.my's Facebook page on March 2.
Other boxes that can be of use include those from online shopping or boxes that hold cookie containers, to name a few. Because many have probably received numerous gifts in boxes from families and friends, there will be plenty of packaging waste.
Drawing inspiration from the saying "one person's trash is another person's treasure", Teo transformed paper-based boxes, especially those for Mandarin oranges, into beautiful pieces of art to add vibrance and colour to the home.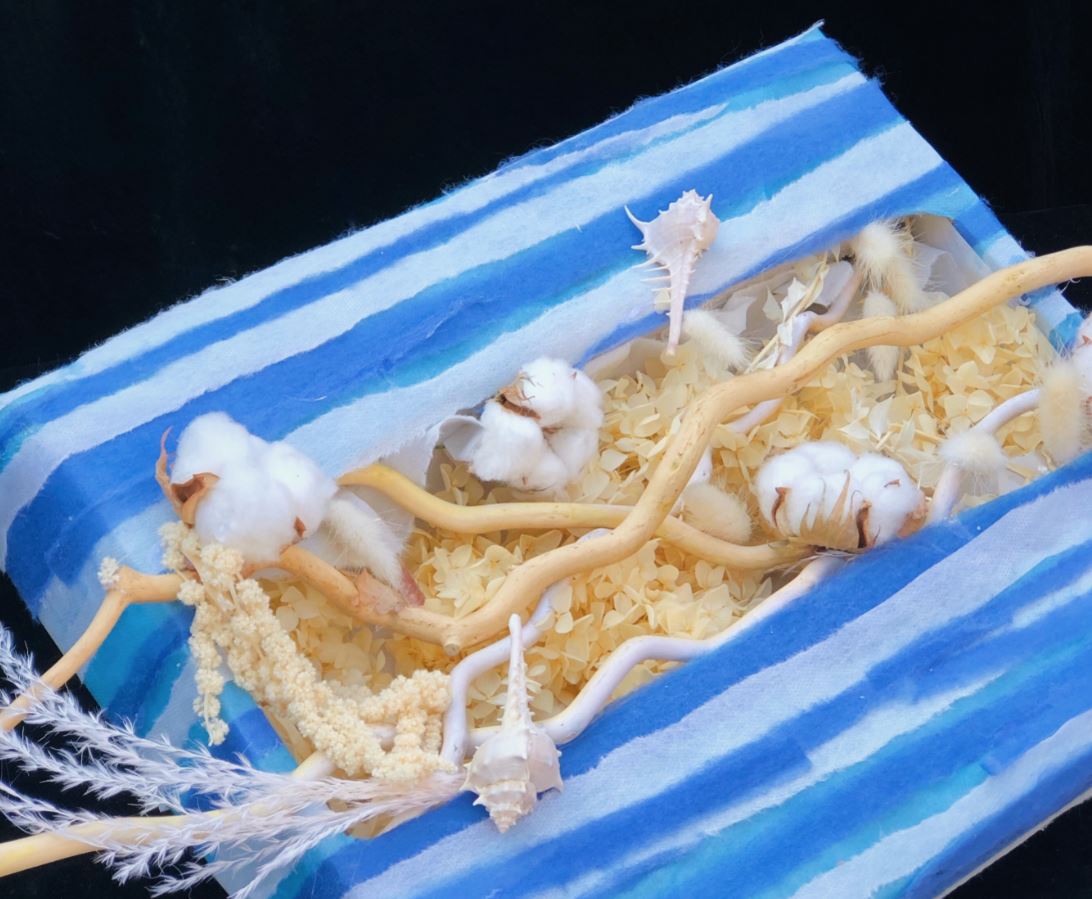 A seaside zephyr
To start off, Teo showed how you can turn a regular box into a wall art piece to bring in a feel of the beachside to your home.
First, make a rectangle-shaped cut-out in the middle of the box cover, and then glue up all the sides so the box stays intact. Emphasising the effect of colours, Teo had the whole outer layer of the box wrapped in white-and-blue-stripes paper, which somehow brings the ocean to mind.
Within the cavity of the box, you can either affix a floral foam or simply use hot glue to fasten a sporadic arrangement of twigs, preserved hydrangeas and dried cotton flowers until you achieve your desired 3D art piece effect.
For the natural hue, Teo spray-painted the preserved flowers in cream or vanilla, but she said you can use any of your preferred flowers or dried flowers from a bouquet. To maintain their shapes, dry them by turning them upside down.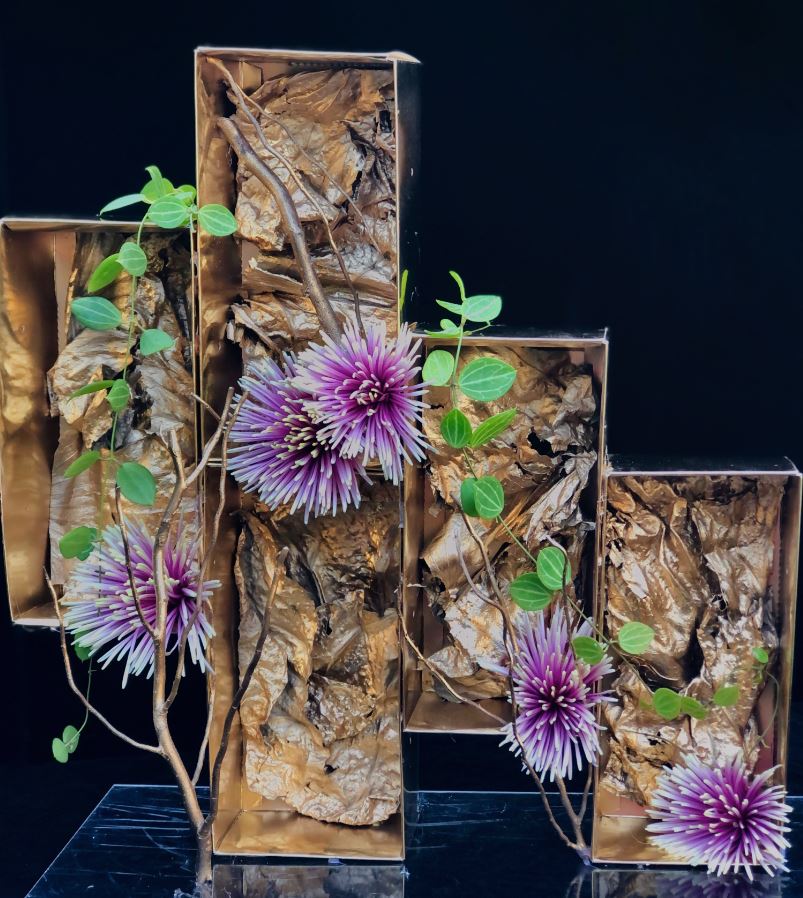 Steps of success
Sometimes you may receive gifts that come in glossy gold boxes which seem too pretty to discard. Here, Teo demonstrated how you can utilise them creatively.
Having glued them together into a step-like structure signifying rising success, Teo had the boxes filled with dried lotus leaves pre-spray painted in gold. Because the construction is light, Teo glued the structure onto a clear acrylic sheet to give it stability.
The final step is a few large blooms of chrysanthemums inserted randomly within the fillers and voila! You have created a stunning visual impact that's bound to inspire some of your guests to similar earth-saving ventures.
To keep the flowers fresh, Teo said the stems should be pre-soaked in water to keep them well hydrated. Then, just before using them, cut the stems to the desired length and seal its end with candle wax. This way, the flowers will last for at least two days.
"If chrysanthemums are not readily available to you, feel free to utilise any other type of flowers, such as frangipanis, or simply leave the boxes as they are. The choice is yours," she said.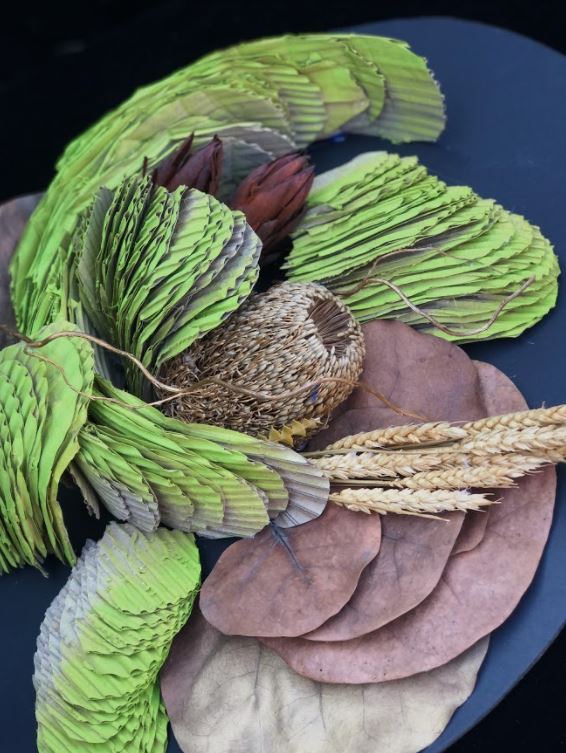 The green "chips"
This design is created from the corrugated layer found within carton boxes. Through trial and error, Teo discovered you could remove the outer "skin" of this layer by soaking it in water.
Taking inspiration from potato chips, Teo cut the corrugated cards into oval-shaped pieces, and then spray painted them in light green, but only partially, to complement the original brown shade of the card and maintain an overall natural hue.
These "chips" were then hot-glued rhythmically piece by piece onto a cardboard base to form a 3D texture. For the final touch, an embellishment of dried flowers, leaves and twigs were added, and you would have crafted a wall adornment that would add character to your room.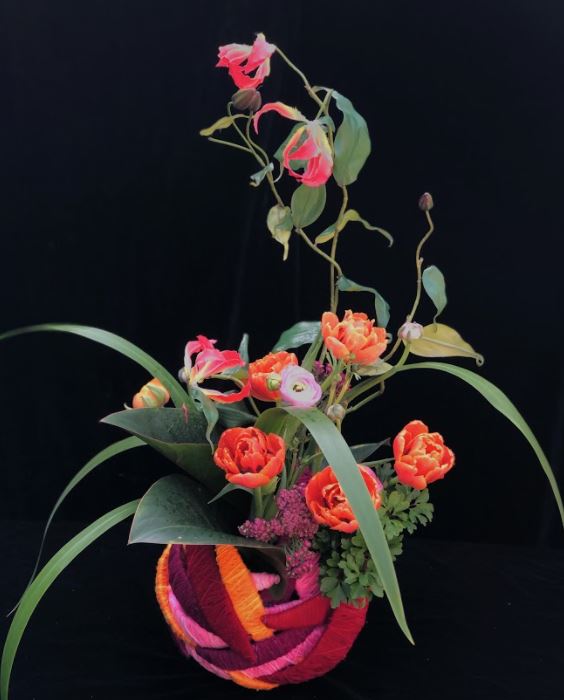 Fun basket
Colourful brilliance is the theme of this ball-like decor that gives your living area a vibe of fun.
First, Teo cut cardboards into many long leaf-like pieces, hot-glued a tiny metal wire along the centre of the "leaves" and overlaid each piece with colourful yarns of bright orange, fuchsia and burgundy.
The glued-down wires enable the "leaves" to be bent and shaped into a round basket, where Teo proceeded to use for a floral arrangement.
To complement the rich colours of the basket, Teo suggested choosing a stalk or two of brightly-coloured blooms such as gloriosas or fire lilies as the main focus. As these flashy flowers are not easy to get locally, Teo made do with the artificial version but surrounded it with other fresh big blossoms and fresh green foliage, making sure there is enough negative space in between to avoid obscuring the handcrafted vessel.
"This will bring a visually uplifting experience to visitors who will be refreshed by the scent of fresh flowers of your choosing," she enthused.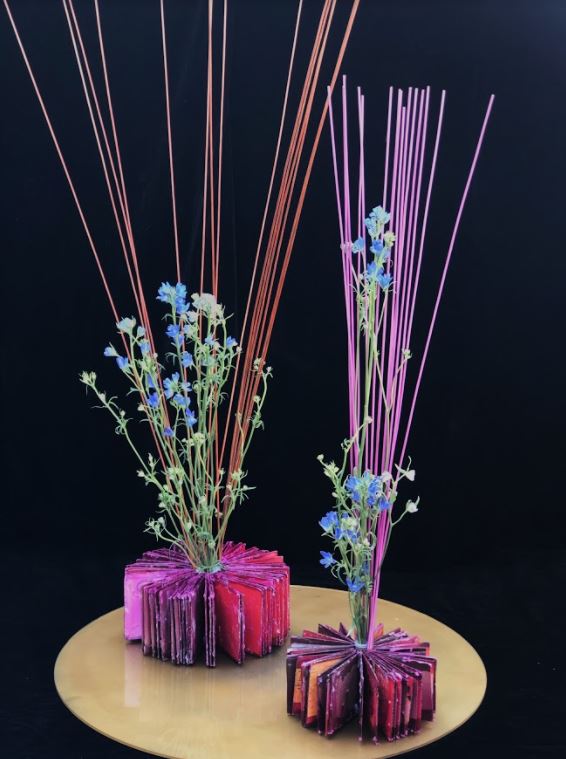 Longevity
Probably the most time-consuming among Teo's creations, this piece requires hours of cutting and hole-punching and looping. Making use of mandarin orange boxes, Teo had them cut into hundreds of small rectangular pieces. Next she punched a hole in their centres, and bound them together with a wire to form an upright circular structure with a void axis.
To glam up the composition, Teo coated them in melted wax, courtesy from all the used candles collected from past events. The then-glossy surface was spray painted in a deep colour, and you have an elegant receptable where you can let your creativity run free with any floral formation.
To demonstrate, Teo dressed hers up with colourful long sticks and simple petite flowers to signify vitality and longevity.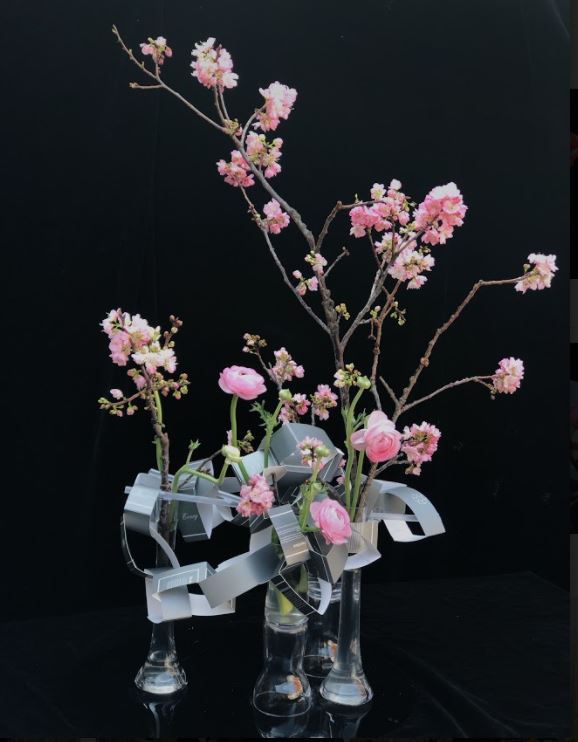 Loving heart
Beautiful – this is the the first word that will escape the lips of anyone who lays eyes on this creation.
Not one to throw away pretty boxes, Teo found a way of turning them into a chain to enhance her floral craft. Cutting the silver boxes into short strips, Teo folded one and glued the ends to form a triangular ring. The next strip is looped into this ring before it is folded into the same shape and so on, until a chain of silver triangles are formed.
This chain is then elevated above a row of tall clear glass containers to draw to it the level of attention it deserves.
Next, Teo took advantage of the stalks of fresh sakura (cherry blossom) newly shipped in from Japan and positioned them artfully into the glasses, accompanied by some green leaves.
As you admire the completed craft, you can't help sensing this is how the heart feels like when in love.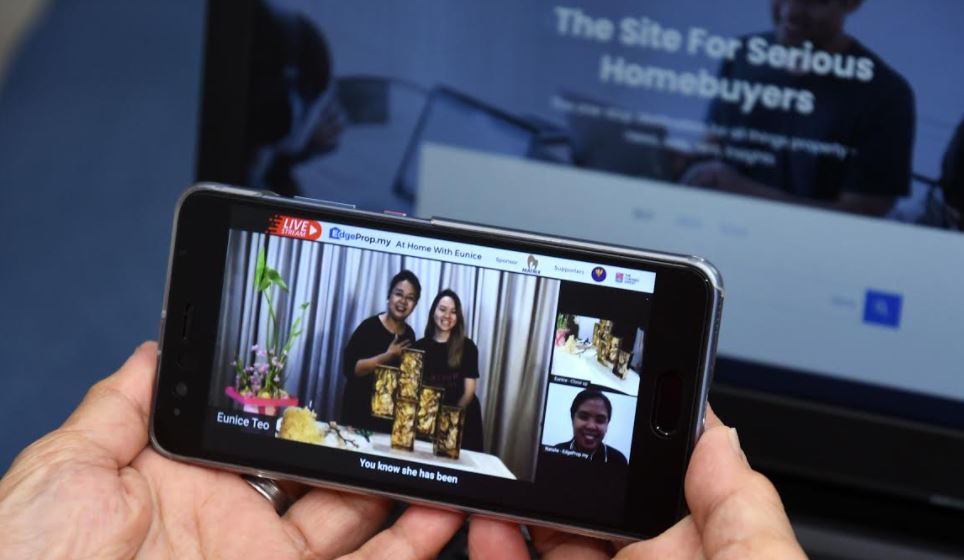 Stay tuned for more fun decor ideas!
At Home with Eunice is presented by EdgeProp.my, sponsored by Matrix Concepts Holdings Bhd, and supported by Nippon Paint Malaysia and Amtrol Flower Designing.
Hosted by EdgeProp.my writer Natalie Khoo, the six-episode mini-series is live-streamed on EdgeProp.my Facebook page every Tuesday 8pm.
In every episode, Teo will be giving out the decor pieces created for the series to the lucky audience members who tune in and post their questions or comments during the session, through a random selection.
In the upcoming episode which will go live next Tuesday night (March 9), Teo will be sharing ways to avoid contributing to plastic waste by upcycling it into beautiful decor pieces.
Click here to register for the reminder of the second episode of "At Home with Eunice".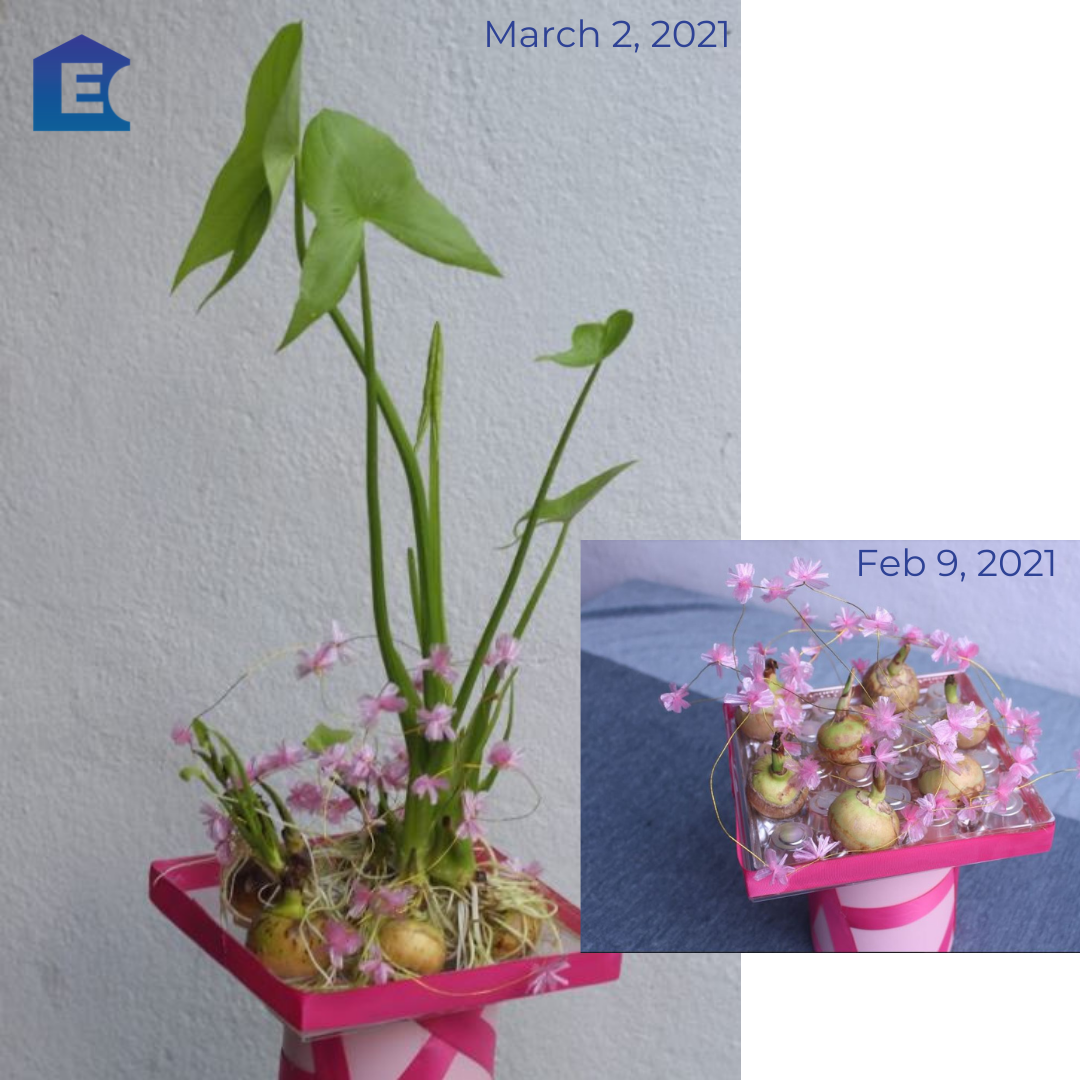 Do you still remember the CNY-theme arrangements used arrowhead bulbs in the first episode of At Home with Eunice? Click here to view the previous episodes to get more DIY decor ideas.
Get the latest news @ www.EdgeProp.my
Subscribe to our Telegram channel for the latest stories and updates