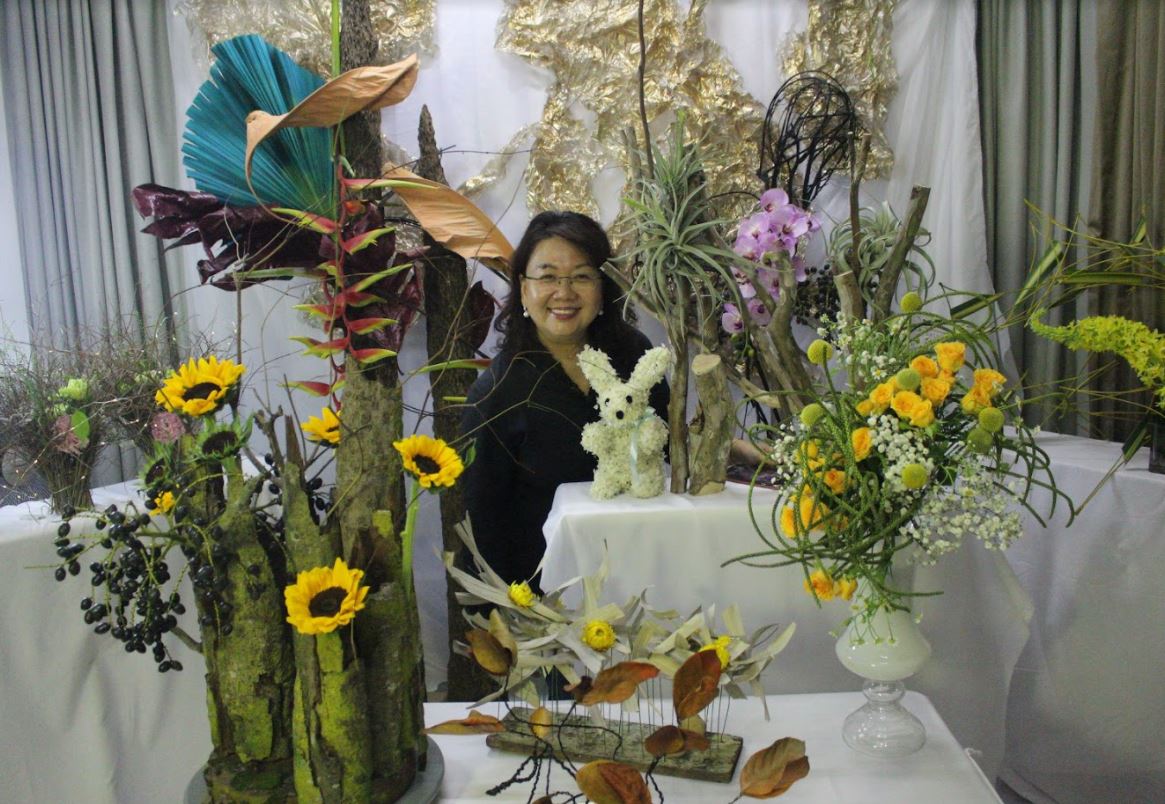 Nothing should be wasted, even the fallen twigs and leaves in the garden could also be upcycled to create unique decor pieces.
In the final episode of EdgeProp.my's six-episode mini-series of At Home with Eunice, Amtrol Flower Designing principal Eunice Teo demonstrated her creativity and artistic expertise in crafting eight artsy items that are not just fit for the home, but also helps to spruce up the living quarters while remaining sustainable.
"Whenever you take a walk through nature, have a look around at what can be picked up and used as decoration materials," said Teo during the live stream on EdgeProp.my's Facebook page on March 16.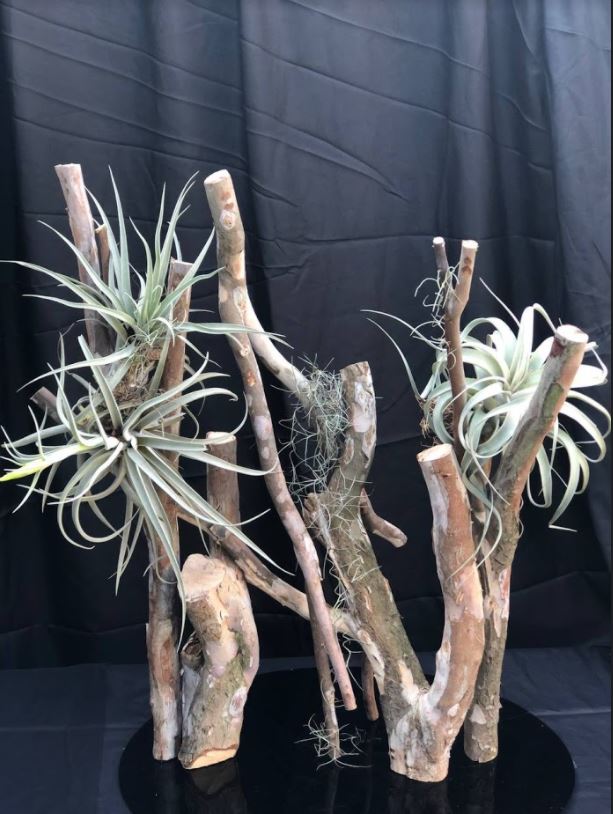 Artsy branches
Materials used: Tree branches, a plastic base and air plants (Tillandsia)
Broken tree branches may look pretty lifeless when lying on the ground, detached from their trunks, but their still sturdy shapes, each individually crafted by nature, are an art in themselves, if you know how to highlight them.
Trust Teo to do it, and under her keen artistic eyes and crafty hands, these offshoots were turned into a contemporary piece for a modern home.
First, Teo cut a few branches into Y-shape, stood them in a formation on a circular plastic base and fastened them with screws.
The only other item Teo needed to bring out the aesthetic quality of the nature-moulded specimens are some air plants from her garden, and the piece is ready to blend into a minimalistic-concept home.
Eunice's tips: For busy people who want to grow some fuss-free greens, consider air plants. Just hang them in the garden, and they could live in rain or shine.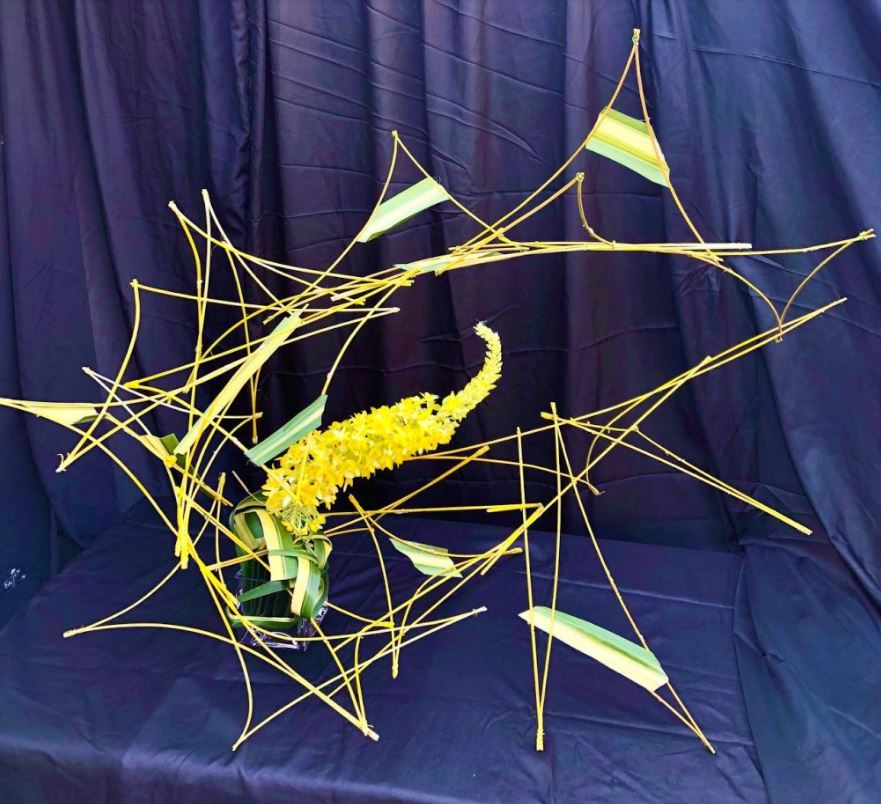 Natural connections
Materials used: Lidi sticks (the rachis from coconut palm leaves), green leaves, flowers and a small vase with moistened foam
In Teo's second creation, she tied the pliable lidi sticks (commonly used to make brooms) into a few triangular shapes and joined them all together to form a big circular shape. Next, some fresh leaves were sporadically arranged within the structure.
Under the formation, Teo placed the focal point – an Eremurus flower (commonly known as a foxtail lily) in a vase pre-filled with moistened foam, explaining that the simple structure was suitable to showcase flowers with a strong character.
Eunice's tips: Flowers stay fresh longer when kept hydrated in a cool environment, such as an air-conditioned indoor space.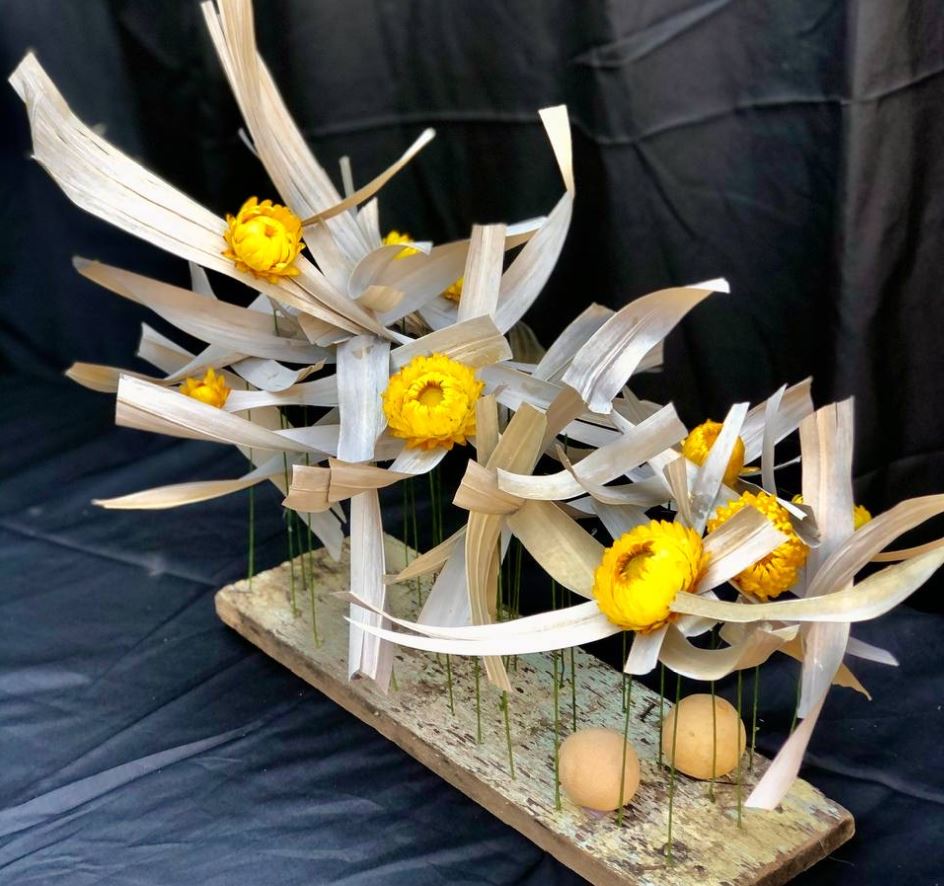 Floating sensation
Materials used: A plank of wood, Everlasting Flower, glue, wires (no. 20) and dried palm leaves
Teo spotted this dry wood plank discarded at a roadside. Noticing its special texture, her creative mind couldn't help but found a purpose for it.
Her first step was to affix some wires straight up on the plank. Next, she glued some dried palm leaves so that they were elevated above the wires.
"Cut the fan palm leaves into small long pieces and curl them up using a pair of scissors or just by hand. Put them on top of the structure and they will look like they are floating," she said.
For some colours, Teo glued some Everlasting Flowers from Cameron Highlands above the leaves.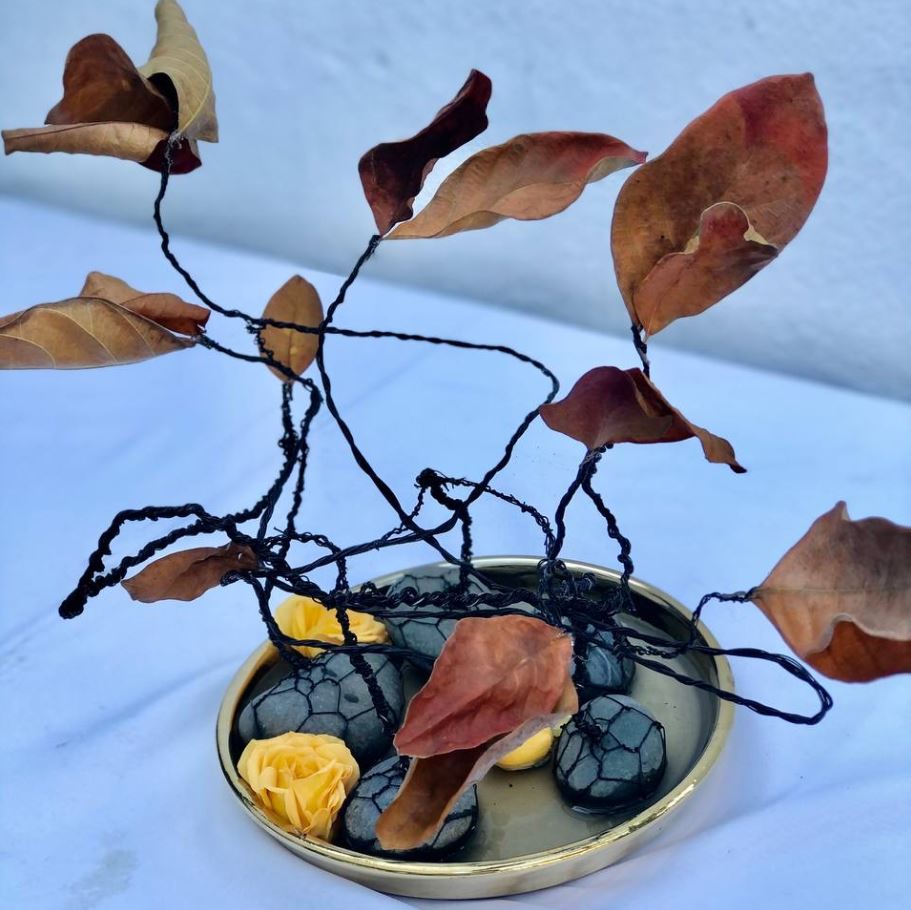 Sense of Zen
Materials used: Dried leaves, five or six cobblestones, black wires, a plate to serve as a base, glue and flowers such as roses, frangipanis or orchids
This is one decor that does not need a long time to craft. Teo weaved black wires around the cobblestones and twisted the wires into branches, on which she attached some dried leaves from her garden.
It looked nice enough on a shallow plate, but to level it up, Teo put some water on the plate and floated some colourful blooms on the water.
This simple table decor could create a Zen ambience during tea time at home.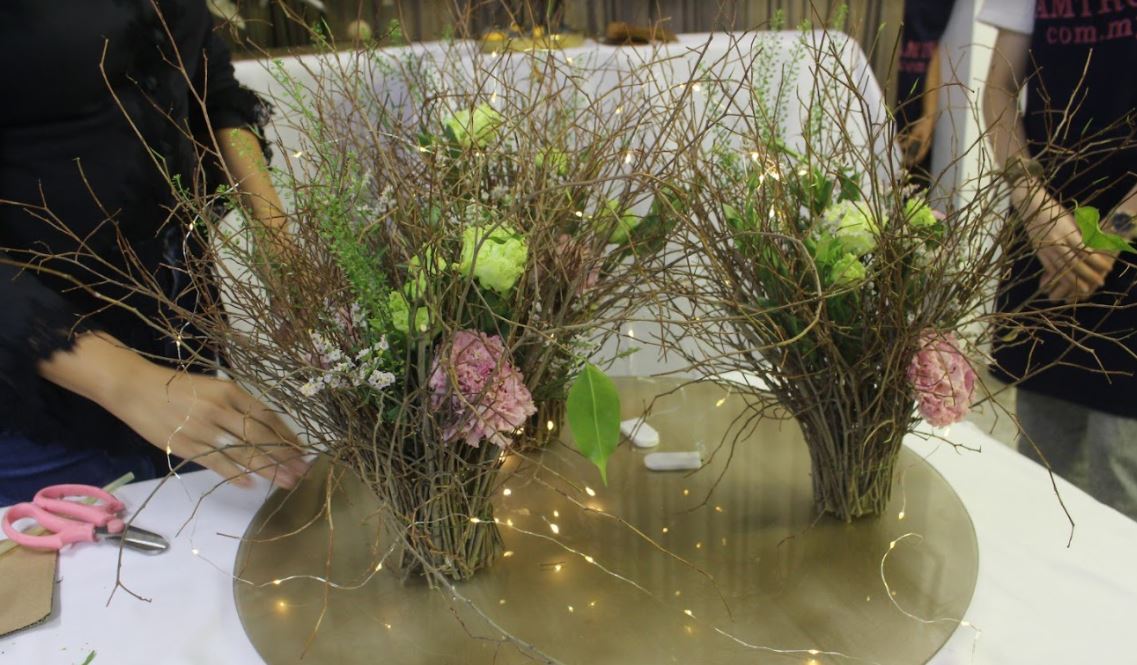 Wild bouquet
Materials used: A short glass vase to hold a bouquet, green wires, fresh flowers, twigs and some affordable Thlaspi Green Bells sourced from Cameron Highlands
The ficus benjamina tree is quite common in Malaysia. Teo selected a bunch of young branches from this tree to create a wild bouquet to bring a country feel to your dining area.
Tie up the branches around the glass with a green wire and put some fresh flowers and Thlaspi Green Bell in between the branches.
Teo revealed that Thlaspi Green Bell used to be expensive as it had to be imported from Holland. Now, it is relatively easy on the wallet, thanks to planters in Cameron Highlands.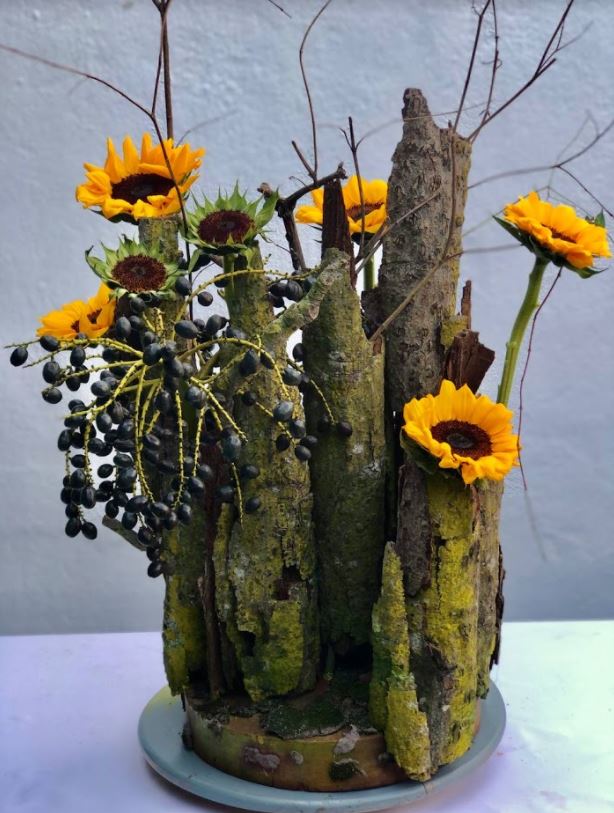 Barking up the right tree
Materials used: Tree bark, palm fruit branches, sunflower and an old chopping board
The unwanted tree barks were spotted by Teo while she was on the way to the market. Combining it with an unused chopping board, both wood materials formed a unique structure that would catch anyone's attention.
Accenting the barks were sunflowers and palm fruit.
These items come together at a cost that's almost next to nothing for something so natural and beautiful for the home.
Eunice's tips: Be careful when picking things up from nature. Always wash and/or dry them in the sun for a week or two before bringing the item into the home. This will help to prevent the incursion of possibly harmful insects.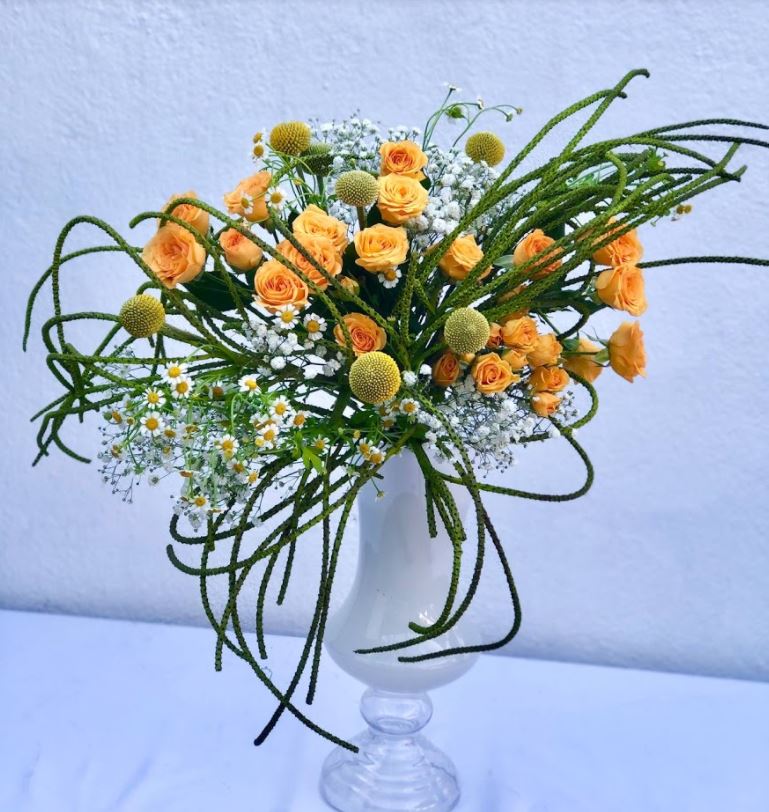 The budding palm
Materials used: Branch of the palm fruit (sprayed in lime green), yellow spray roses, baby's-breath, chamomile and Craspedia
This is one of the easiests to create, as the branches of palm fruit themselves are already a natural structure for flower arrangements. Teo only needed to add some yellow spray roses, chamomile and other small flowers to enhance it.
"Choose smaller flowers in this hand bouquet arrangement. Don't cover up the beautiful structure of the palm fruit branch," she advised.
As a final touch, a few stems of Craspedia are added to the bunch before cutting away the ends at the bottom.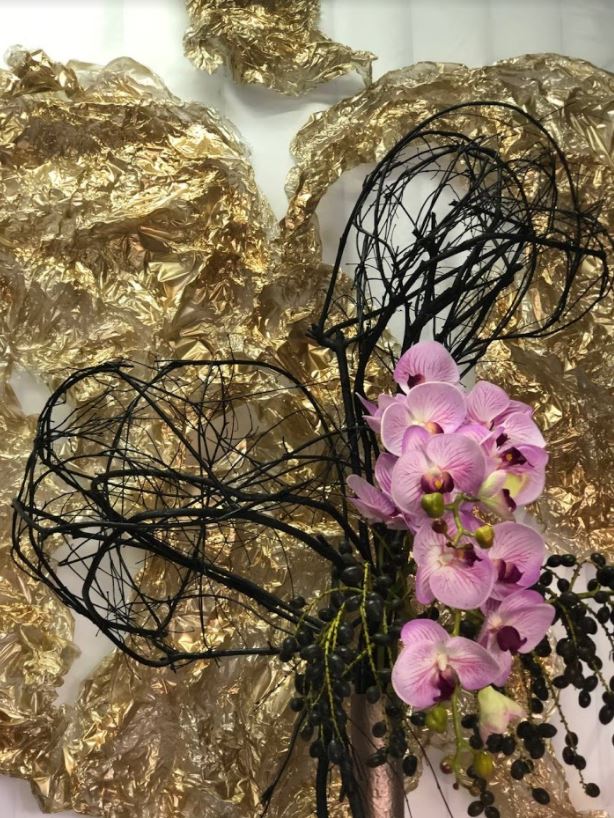 Twigs of twists and turns
Materials used: Twigs painted black, fruiting palm and some orchids
In Teo's seventh creation, she painted some thin twigs black, and then twisted them into a rounded shape before accenting them with a few sticks of fruiting palm and orchids.
The completed piece was then ready to bring life to a plain backdrop with its artful "twists and turns".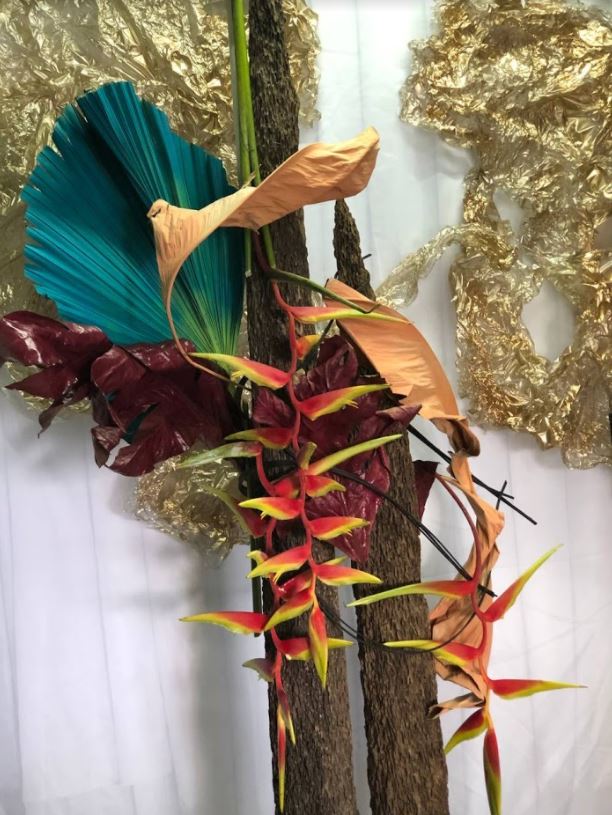 Modern Tree
Materials used: Dried leaves, tree barks and a few stalks of fresh hanging Heliconia (lobster-claws)
In a modern-yet-natural approach, Teo showed how she beautified something as simple as tree barks with her artistic touch and her experience with colours.
The bark was used to showcase various dried leaves to give it a variation of shapes while the Heliconias added "life" to it .
Teo advised that due to the size of this creation, it would be best to display it at a large open area.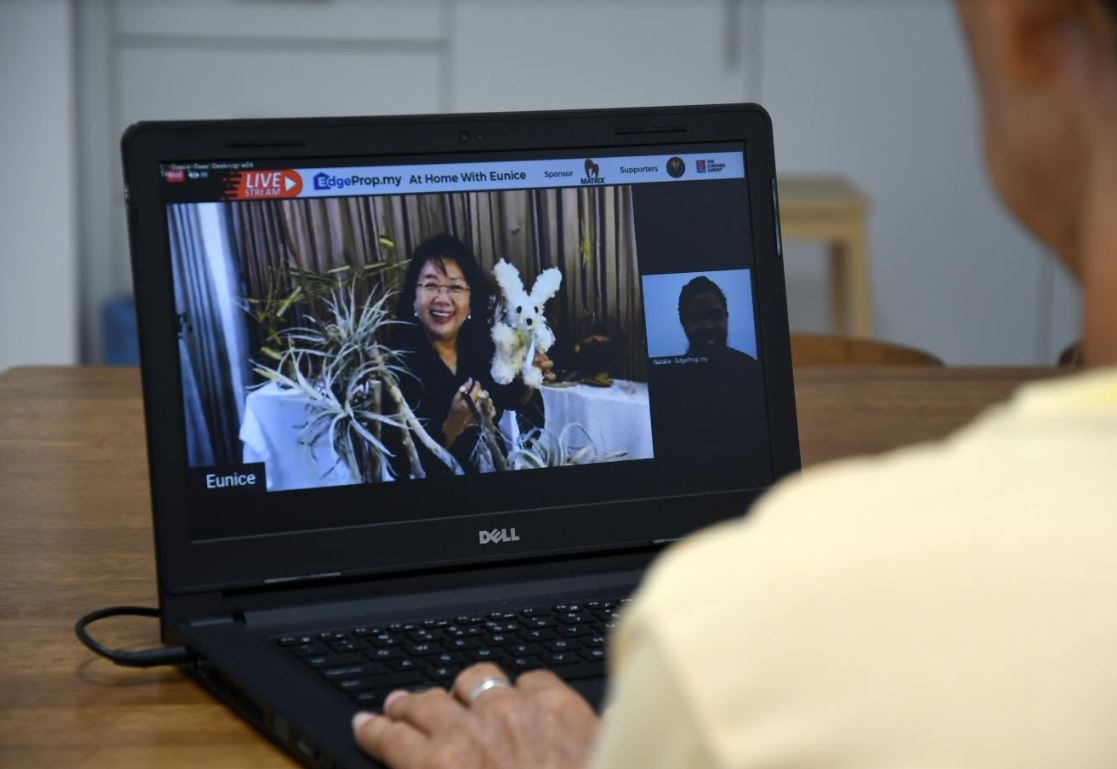 Ended but not over yet
At Home with Eunice is presented by EdgeProp.my, sponsored by Matrix Concepts Holdings Bhd, and supported by Nippon Paint Malaysia and Amtrol Flower Designing.
Hosted by EdgeProp.my writer Natalie Khoo, the six-episode mini-series was live-streamed on EdgeProp.my Facebook page every Tuesday 8pm, starting from Feb 9, 2021.
With sustainability in mind, Teo has explored ideas by using different materials that you could readily get at home to create gorgeous decor pieces that are bound to be conversation pieces among family members and friends.
For the past episodes, materials used including CNY must-have items, vegetables, fruit, paper boxes, plastic and even leaves and twigs from gardens, all with one objective – to inspire more people to reuse and reduce waste.
Missed the past episodes of At Home with Eunice or want to refresh your memories? Click here to view the past episodes.
Get the latest news @ www.EdgeProp.my
Subscribe to our Telegram channel for the latest stories and updates