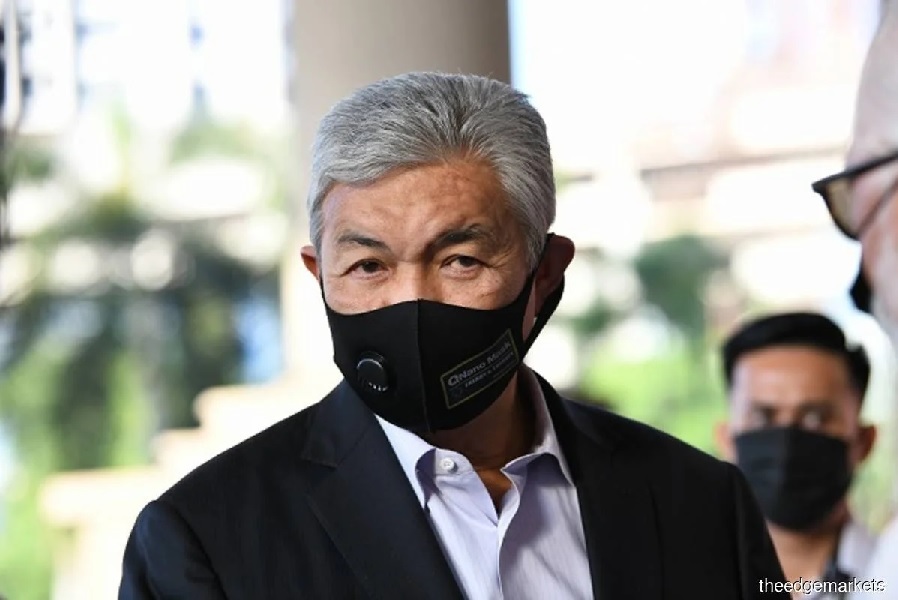 KUALA LUMPUR (March 5): A Malaysia Anti-Corruption Commission (MACC) investigating officer disagreed with lawyers' assertions that former Deputy Prime Minister Datuk Seri Ahmad Zahid Hamidi (pictured) had received donations, instead of bribes, in cheques amounting to RM13.25 million in 2017.
Mohd Zamri Abdul Rashid, who investigated the sum Zahid received through a trustee account, told the High Court at the UMNO President's corruption trial today that the three companies that had given Zahid the funds were not operating as businesses and had their registered addresses at condominiums.
It was previously reported that businessman Junaith Asharab Md Shariff had allegedly paid a RM250,000 bribe to Ahmad Zahid using the company Jogabonito Jewellery & Diamonds, while the accused had used Messrs Lewis & Co, Advocates and Solicitors' account to receive the funds.
Junaith also said that he personally gave 10 RHB Islamic Bank cheques bearing amounts totalling RM5 million from his own company, Syarikat Berani dan Jujur Trading, to Ahmad Zahid.
The businessman had also given Ahmad Zahid 13 cheques worth a combined RM8 million that were issued from Mastoro Kenny's RHB Islamic Bank account in 2016 and 2017.
Ahmad Zahid's lawyer Hamidi Mohd Noh had suggested to Zamri during cross-examination today that the cheques given to the Umno president could not have been bribes, as bribes are not typically given via cheques.
The lawyer added that the money given to Ahmad Zahid was in fact donations to his client's charity Yayasan Akalbudi.
Hamidi: This is part of donations to Yayasan Akalbudi, do you agree or not?
Zamri: I disagree.
Hamidi: If this is not a donation, then why would anyone write it in the form of cheques and then enter it into a trust? This is why this is a donation, agree?
Zamri: I disagree.
Hamidi: I say that if this is a bribery, using cheques to bank it into trustees are the worst way to cover bribes. A smart person who hides [their] bribes will not bribe this way.
Zamri: I disagree.
The lawyer then suggested to him that this was not a case of bribery, to which the witness disagreed.
The witness also disagreed with the suggestion that this was not a donation, based on investigations he had conducted involving funds.
He also disagreed that Lewis and Co was acting as a trustee for Yayasan Akalbudi, instead of Ahmad Zahid.
Upon re-examination from Deputy Public Prosecutor Mohd Afif Ali, Zamri said that the Lewis and Co account was only allowed to take instructions from Zahid.
He also said that there were no receipts or evidence to suggest that the cheques were issued to make donations.
Zamri explained to the court that he did not agree with the suggestion that bribery does not occur through bank transactions. The witness went on to explain that in his experiences as an investigator, many bribery cases occur via bank transactions and cheques.
"There are those that happen through deposits and those that happen through cash," he said.
This relates to Ahmad Zahid's 12th charge of receiving the cheques as inducement to help secure projects from MyEG.
Ahmad Zahid, who is also the Bagan Datuk member of Parliament, is facing 47 charges — 12 for criminal breach of trust, eight for bribery and 27 for money laundering — involving millions of ringgit belonging to Yayasan Akalbudi.
After Zamri, another MACC investigating officer took the stand.
Muhammad Fazli Bin Zulkifli read aloud his witness statement on his investigations into another facet of Ahmad Zahid's case, which concerns Yayasan Akalbudi's involvement in settling outstanding loan repayments for Ri-Yaz Asset Sdn Bhd, so that his daughter Nurulhidayah could take over the shares of the company.
The trial continues before Justice Collin Lawrence Sequerah on Monday (March 8).
Get the latest news @ www.EdgeProp.my
Subscribe to our Telegram channel for the latest stories and updates