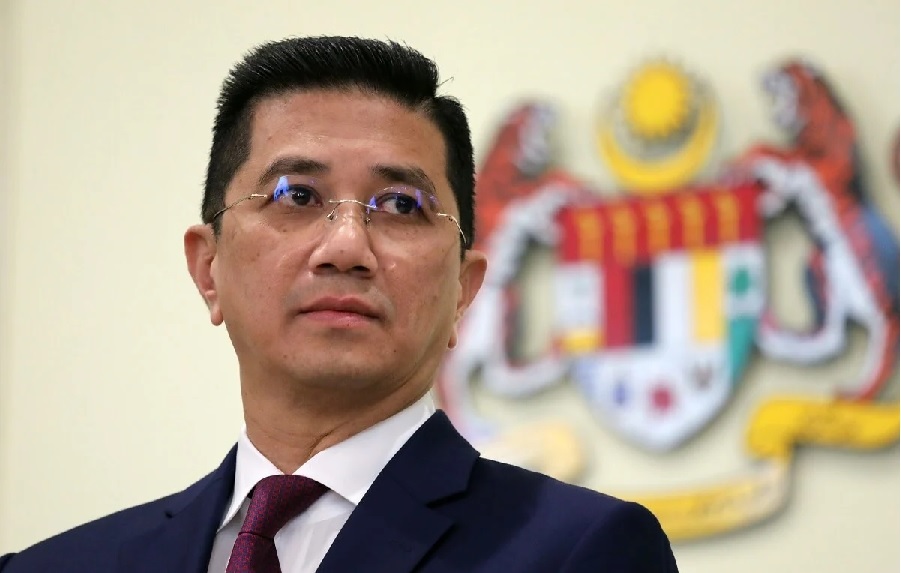 SEPANG (March 23): Senior Minister and International Trade and Industry Minister Datuk Seri Mohamed Azmin Ali (pictured) has denied that Malaysia is losing out on foreign investments from big multinational corporations (MNC) to other countries in the region.
Azmin stressed that Malaysia has become more selective in its investment agenda, aiming to attract quality investments that are projected to have significant knock-on effects throughout the domestic economy.
"We are now more selective in terms of investments coming into our country. We no longer want labour-intensive industries coming to Malaysia because we do not want to be over-dependent on foreign workers.
"We would like to welcome foreign investments that can create value [for] the local players. We do not want any future investments that are tied to labour intensive [industries], that is not our priority now. They can choose other countries," he said during a press conference here today following the launch of the Business Travellers Centre (BTC) at the Kuala Lumpur International Airport (KLIA).
For instance, Azmin highlighted that according to the prime minister's announcement of the Malaysia Digital Economy Blueprint last month, the government has given conditional approvals to major MNCs such as Microsoft, Google and Amazon, to build and manage hyper-scale data centres as well as for the provision of hybrid cloud services.
Prime Minister Tan Sri Muhyiddin Yassin had then said the investments from these cloud service providers (CSPs) will amount to between RM12 billion and RM15 billion over the next five years.
"So maybe in terms of quantum, the investments [in other neighbouring countries] are seen as better than Malaysia, but in terms of the quality of the investments, I am sure we want quality that can benefit our people.
"To suggest that all these big MNCs including those in the field of technology or IT are moving away or shying away from Malaysia, I don't think that is a correct proposition," he added.
The concern was brought up following news reports of Malaysia falling behind its regional counterparts and peers in terms of foreign direct investment (FDI) which include losing out on key strategic investments into the country.
In January, the United Nations Conference on Trade and Development (Unctad) said in a report that FDI into Malaysia plunged by more than two-thirds to just US$2.5 billion in 2020, making it the worst drop in Southeast Asia.
BTC to facilitate investors visiting Malaysia
At KLIA earlier today, Azmin launched the BTC, which serves to expedite the entry of foreign business travellers into Malaysia amid the ongoing Covid-19 global pandemic.
The BTC, which has been in operation since March 14, is open for short-term foreign business travellers — those intending to stay in the country for 14 days or less — as they carry out their business tasks in the country.
"The BTC will be able to convince foreign investors to come to Malaysia; on top of Malaysia's success in tackling the spread of Covid-19, we also guarantee their safety while in Malaysia.
"This is important because these investors will come to Malaysia to make a big decision [on] whether to place their investments. So we want to assure them that their investments are safe, and their industry is also given protection not only in terms of incentives but also the safety of their employees is guaranteed so that there are no major disruptions in our efforts to address Covid-19," Azmin said.
According to Azmin, Malaysia's BTC has been modelled around lessons and practices in Singapore, South Korea and countries in the European Union.
The BTC is one of the key components of the One-Stop Centre (OSC) initiative by the government to ease the movement of business travellers, from entry to exit point. Business travellers are required to take the RT-PCR swab test at the dedicated Covid-19 lab within the facility. The results of the test can be produced within three hours.
After having declared healthy, the business travellers will proceed to the immigration green lane and the government will appoint a liaison officer to facilitate their movements in the country with a specific business itinerary.
To date, the OSC committee has approved 93 applications for short-term business travellers, with total investments valued at RM15 billion.
Azmin noted that the Malaysian Investment Development Authority (MIDA) has identified RM82 billion worth of investments in potential leads, and a total of RM65.9 billion of the investment requires assistance from OSC including the BTC at KLIA to enable the entry of business travellers.
MIDA also projected that the BTC will welcome 4,000 business travellers throughout the year.
Get the latest news @ www.EdgeProp.my
Subscribe to our Telegram channel for the latest stories and updates