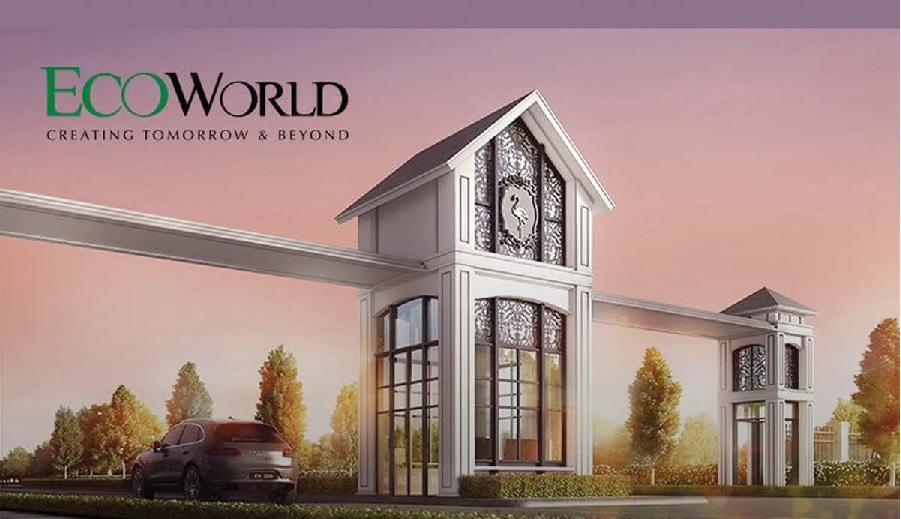 KUALA LUMPUR (March 25): Property developer Eco World Development Group Bhd (Eco World) saw its net profit for the first quarter ended Jan 31, 2021 (1QFY21) jump 71% to RM62.43 million from RM36.51 million a year prior, as its international property arm Eco World International Bhd (EWI) reported stronger earnings during the quarter under review.
In a bourse filing, EcoWorld said EWI's improved financials came from the commencement of handover of the Yarra One project in Australia and higher sales and handovers of various projects in the United Kingdom.
Domestically, the main projects that contributed to EcoWorld's financial performance in 1QFY21 were: Eco Majestic, Eco Forest, Eco Sanctuary and Eco Sky in the Klang Valley, Eco Botanic, Eco Spring, Eco Summer, Eco-Business Park I, Eco-Business Park II, Eco Tropics and Eco-Business Park III in Iskandar Malaysia and Eco Meadows and Eco Terraces in Penang. The group's bottomline was also boosted by a 15.7% year-on-year decline in administrative expenses.
The improved net profit came despite revenue slipping 5.7% y-o-y to RM507.35 million from RM537.95 million, following lower site activity in matured projects.
In a separate statement, the group said it achieved RM706 million worth of sales in 1QFY21, more than double the RM305 million achieved in 1QFY20. "As at Feb 28, total year to date sales amounted to RM911 million, giving the group a good head start to FY2021," it said.
The group's total sales over the last 10 months stood at RM2.88 billion, which is close to the highest it has ever achieved in a similar period even in the pre-Covid era, according to EcoWorld's president and chief executive officer Datuk Chang Khim Wah.
He attributed the group's strong start to FY20 to positive response to the group's promotional campaigns and effectiveness of its digitalisation initiatives, strategic expansion of its product range, and good take-ups of its Eco Business Park projects — with RM207 million in sales achieved as at Feb 28, close to half the RM220 it achieved in the full 12 months of FY20.
EWI, meanwhile, recorded RM408 million in YTD sales as at Feb 28, due to strong continued overseas demand that demonstrated that London is still the preferred destination for global property investors, "which bodes well for both the OMS and Built-To-Rent segments of our portfolio," said EWI president and CEO Datuk Teow Leong Seng.
EcoWorld Chairman Tan Sri Liew Kee Sin said both EcoWorld and EWI are well on track to achieve a combined sales target of RM5 billion for FY2021.
"EcoWorld International's focus will be on rewarding its shareholders with dividend payments now that a substantial portion of its early projects have been completed. Similarly, EcoWorld Malaysia's strong sales performance and improving balance sheet should enable it to improve on its dividend payment capabilities in FY2021 as compared to FY2020," he said.
Chang further said that EcoWorld will shortly be launching Eco Botanic 2, which offers landed homes priced from RM500,000 to RM800,000 in Iskandar Malaysia. "This will be followed up by the launch of Co-Homes at Eco Grandeur in the Klang Valley and Eco Horizon in Penang as well as Ergo Homes at Eco Forest in the Klang Valley. All these products are priced affordably and are therefore ideal for Gen-Y and Gen-Z purchasers to begin their homeownership journey with EcoWorld," said Chang.
EcoWorld added that its future revenue position as at Feb 28 remained high at RM3.59 billion, which provides clear earnings visibly going forward, while its net gearing has continued to improve to 0.55 in 1QFY21, from 0.62 in FY20, 0.71 in FY2019 and 0.77 in FY2018.
Shares in Eco World closed 0.80% or half a sen lower at 62 sen, valuing it at RM1.83 billion. It saw 5.08 million shares done.
Get the latest news @ www.EdgeProp.my
Subscribe to our Telegram channel for the latest stories and updates