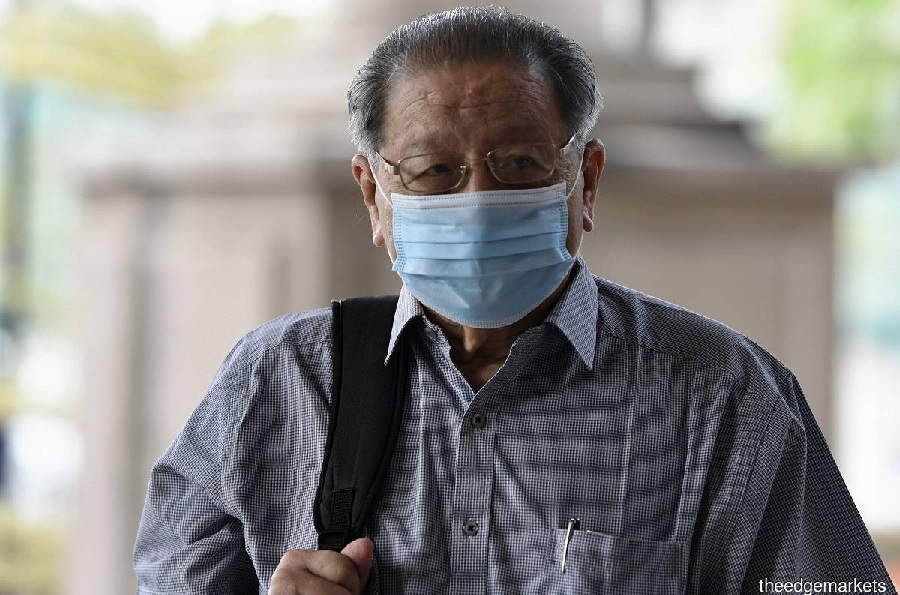 KUALA LUMPUR (April 8): DAP's Lim Kit Siang (pictured) today dodged questions from former attorney general Tan Sri Mohamed Apandi Ali's lawyer about the infamous 2015 charge sheets that Apandi's predecessor Tan Sri Abdul Gani Patail had allegedly drafted to charge then prime minister Datuk Seri Najib Razak over the 1Malaysia Development Bhd (1MDB) scandal.
Kit Siang, who is the defendant in a defamation suit brought against him by Apandi over an article written by the veteran politician on May 6, 2019, in which he called for the former attorney general to explain why he "aided and abetted in the 1MDB scandal".
During cross-examination by Apandi's lawyer M Visvanathan, proceedings got heated as Kit Siang evaded the lawyer's questions about the removal of Abdul Gani as attorney general and about the charge sheets which Abdul Gani allegedly prepared in 2015.
Visvanathan was referring to question 11, which Kit Siang had answered in his written witness statement where he claimed that Gani Patail was "removed from office" and "in his capacity as public prosecutor, was preparing to prefer charges against Najib in relation to the SRC International Sdn Bhd company connected to 1MDB".
Kit Siang also claimed in his witness statement and article in question that: "Najib had been instrumental in the removal of Abdul Gani Patail as AG and thus public prosecutor, and the consequent appointment of Apandi as Attorney General".
Visvanathan asked Kit Siang if he had actually seen those charge sheets, which was when things got heated.
Visvanathan: In 2015, were there draft charges (against Najib)?
Kit Siang: I don't know.
Visvanathan: Now you say you don't know. But you happily wrote in your statement that there were draft charges. You don't know whether there were, but in your witness statement you stated in the affirmative that there were charges.
Kit Siang took a long pause and said that the charges in question were not false. "It's validated by the press conference of the former MACC chief two years ago (that Abdul Gani was removed). It's on public record."
Kit Siang also said he had not sighted the charge sheets.
Visvanathan: You just contradicted yourself. If you don't know, if you have not sighted anything, how can you confirm? You cannot just shoot off and ramble on.
After another pause, Kit Siang affirmed that Abdul Gani was indeed terminated, he cited Tan Sri Dr Ali Hamsa's testimony in the 1MDB audit tampering trial last year where he outlined Abdul Gani's dismissal. Ali was the chief secretary to the government from 2012 to 2018.
Not satisfied by his answer, High Court Judge Datuk Azimah Omar interjected and asked Kit Siang if there was any such document which would lay credence to his claim.
However, Kit Siang remained silent for a moment.
Visvanathan then questioned Kit Siang's credibility for not being able to answer the question.
Visvanathan: Now you have been trained under the law... you must prove... you are a trained barrister. If you are unable to substantiate what you said, I put it to you that it's false.
Kit Siang: It's not false.
Visvanathan: We are in the court, and we are governed by rules of evidence. This is a court and not the political arena. I put it to you that you had failed to discharge your duty to produce those documents, therefore your defence failed.
Kit Siang: Well the charges are there.
After obfuscation of his answers, Justice Azimah chimed in to get an answer from Kit Siang.
Azimah: You either agree or disagree (with the lawyer's suggestion). Just answer the question. Can you prove question 11, agree or disagree?
After a long pause by Kit Siang, Visvanathan implored the court to take record that Kit Siang refused to answer the question. Azimah then asked him again.
Visvanathan: The question is simple: Your answer in question 11 is not substantiated by any court documents, do you agree?
Azimah: Do you agree or not?
Kit Siang: It appears to be so.
The trial adjourned for the day this afternoon, however, it will continue with Kit Siang taking the stand again tomorrow morning to continue his cross-examination by Visvanathan.
Get the latest news @ www.EdgeProp.my
Subscribe to our Telegram channel for the latest stories and updates