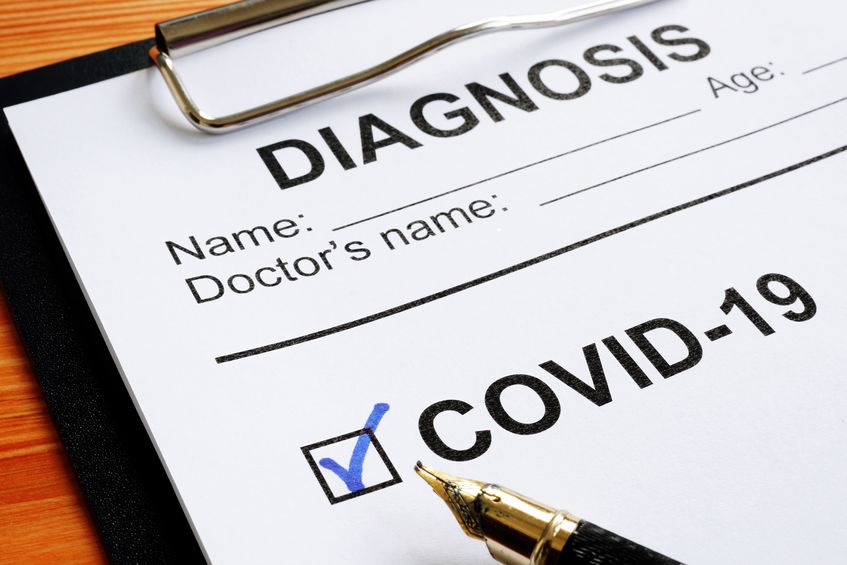 KUALA LUMPUR (June 5): Malaysia recorded 53,608 new Covid-19 infections in the week between May 29 and June 4 — the worst week ever.
The number of daily new cases breached the 9,000-mark last Saturday, lifting the country's tally to 603,122 from last Friday's 549,514.
Meanwhile, the number of active cases — those that carry high transmission risks — breached the 80,000-mark for the first time on Monday, as the number of new infections outpaced new recoveries each day.
Active cases climbed to its new high of 84,369 on Friday — marking the fourth consecutive day of staying at above the 80,000-level — up 11,546 cases from last week's 72,823.
Consequently, the number of Covid-19 patients in intensive care units (ICU) has also gone up to 883 from last Friday's 808.
According to the World Health Organization (WHO), Malaysia now stands third in Asean for total coronavirus infections, behind only Indonesia (1.843 million) and the Philippines (1.26 million).

However, Malaysia has the second-highest number of active cases in Asean, after Indonesia (94,773).
On recoveries, 41,432 recovered during the week, compared with 29,599 in the previous week.
MOH says Covid-19 death toll may hit 26,000 by September
The death toll increased to 3,182, up by nearly one quarter from 2,552 in the previous week.
Sadly, 630 people died of Covid-19 for the week, more than the 403 the week before. Also this week, Malaysia reported its highest daily deaths at 126 cases on Wednesday.
Following the shocking three-digit spike in daily Covid-19 deaths, Health Minister Datuk Seri Dr Adham Baba said it is possible for Malaysia's death toll to reach 26,000 by September as projected by a university in the US.

Bernama reported that the study, conducted by the Institute for Health Metric and Evaluation (IMHE) of the University of Washington estimated that the daily death rate would go as high as 200 cases towards the end of August.
618,060 Covid-19 vaccine doses given this week
As of June 3, Malaysia has administered 3.33 million doses of Covid-19 vaccines. A total of 2.208 million people have been jabbed, of whom 1.122 million are fully inoculated.
For those who had the first dose, Kuala Lumpur led the country with 372,242, followed by Selangor (320,439), Johor (203,667), Sarawak (201,797) and Perak (176,747).
Meanwhile, Selangor reported the highest number of individuals who have been fully vaccinated with 145,636, followed by Sarawak (116,399), Perak (105,302), Johor (97,983) and Sabah (89,821).
In the past week alone, 618,060 doses of Covid-19 vaccines were administered, compared with 475,681 the week before.
In comparison with Asean vaccination rates, Singapore recorded the highest vaccination rate at 30% (1.77 million getting the second dose versus a population of 5.9 million); followed by Cambodia (12.15% versus a population of 16.95 million); Indonesia (3.93% versus a population of 276.36 million) and Malaysia (3.42% versus a population of 32.78 million).
These were also followed by Brunei (2.52% versus a population of 441,532); Myanmar (2.23% versus a population of 54.81 million); Thailand (1.59% versus a population of 69.95 million); the Philippines (1.09% versus a population of 110.92 million); and Vietnam (0.03% versus a population of 98.17 million).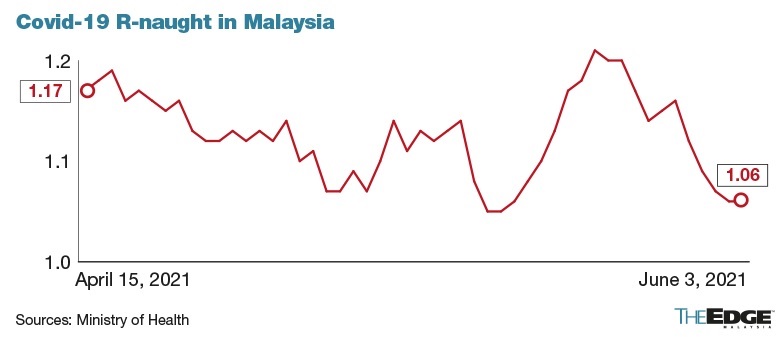 The Coordinating Minister of the National Covid-19 Immunisation Programme Khairy Jamaluddin said the Government had set a target of giving 150,000 vaccine shots per day by June before increasing them to 200,000 shots by July.
He added that the target could be achieved through the establishment of more vaccination centres, including 1,000 private clinics nationwide as well as via the drive-through system.
Selangor still has the highest number of new cases
Selangor remains the worst-hit State affected by the Covid-19 pandemic as the State government continues its free mass testing in the populous State to curb the spread of the coronavirus.
This week alone, the State reported 17,397 infections as new cases soared to the 3,000-mark on Thursday with 3,125 cases — a level not seen since Jan 30. There were 15,755 new cases reported the preceding week.
Selangor had the most cases at 197,459 followed by Sabah (63,306), and Kuala Lumpur (61,824).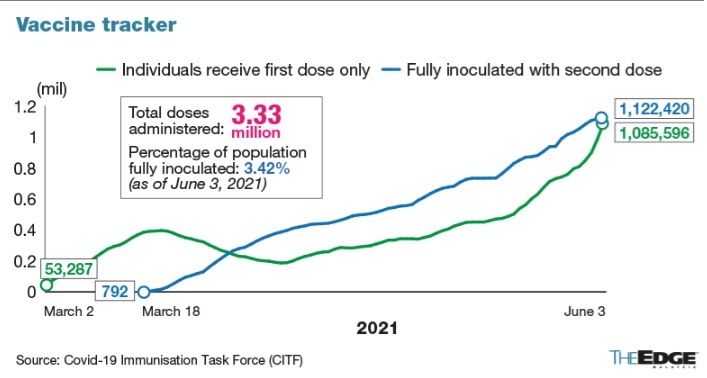 Meanwhile, the basic reproduction number (R-naught or R0) for Covid-19 infections nationwide now stands at 1.06, according to Health director-general Tan Sri Dr Noor Hisham Abdullah. It is worth noting that the highest R0 recorded this year was on May 23 (1.21).
This R0 or Rt projects the average number of people that each new Covid-19 patient will infect, or what is termed the effective reproduction number. An R0 of less than 1.0 means the infection is not spreading.
The latest data shows that Labuan has the highest R0 at 1.35, followed by Negeri Sembilan (1.22), Melaka (1.17), Sabah (1.13), Perak (1.12), Perlis (1.11), Selangor (1.09), Kuala Lumpur (1.09) and Pahang (1.09).
Get the latest news @ www.EdgeProp.my
Subscribe to our Telegram channel for the latest stories and updates