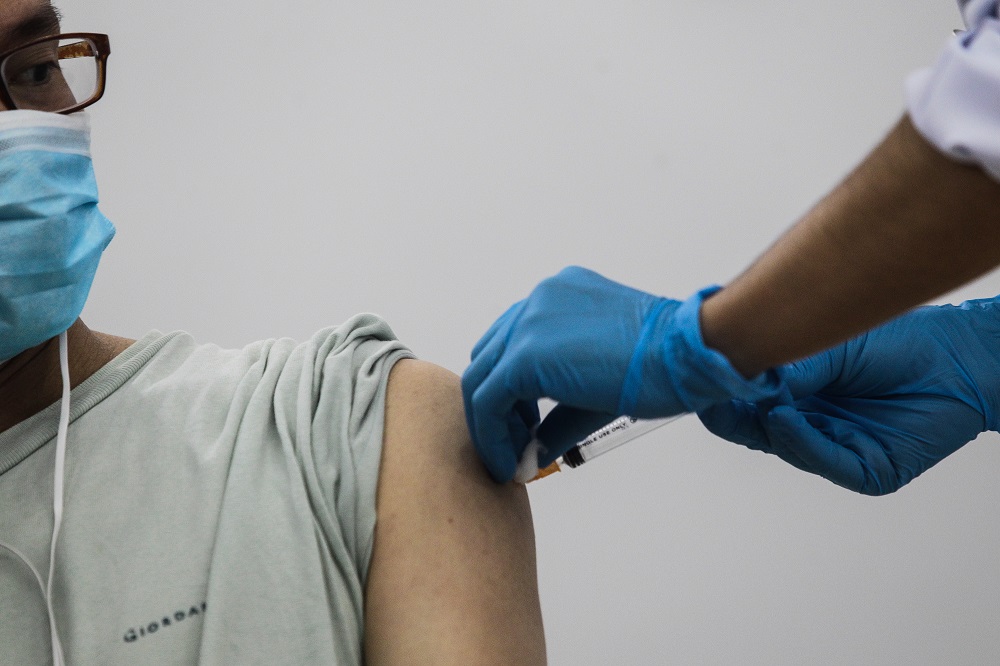 KUALA LUMPUR (June 19): Malaysia's vaccination rate hit a new high this week, with more than 200,000 daily shots given out for three straight days, compared with just between 60,000 and 197,000 shots previously, as the country's vaccination plan speeds up.
Putrajaya previously anticipated it would achieve 200,000 daily shots by July.
The daily jabs administered exceeded 200,000 for the first time on Tuesday (June 15) with 215,876 shots given, followed by 204,839 shots on Wednesday and 221,706 on Thursday.
The country administered 1.23 million doses of Covid-19 vaccines this week — up 59.22% from the prior week's 772,500 vaccine shots delivered. In the week before that, 618,060 shots were administered.
The latest weekly doses administered make up 23% of the 5.33 million cumulative shots given since Malaysia's vaccination plan started on Feb 24.
As of June 17, 1.52 million individuals had received their second vaccine dose — meaning they are now fully inoculated — representing a vaccination rate of 4.65%, out of the country's population of 32.72 million.
Meanwhile, 3.81 million got their first vaccine dose, according to the latest data released by The Special Committee on Covid-19 Vaccine Supply Access Guarantee (JKJAV).
In ASEAN, Singapore leads with the highest vaccination rate of 34.91%, as 1.99 million people in the country with a population of 5.7 million are now inoculated, according to the Financial Times' Covid-19 Tracker.
This is followed by Cambodia at 15.89% (2.62 million have gotten second dose out of population of 16.49 million), Malaysia at 4.65%, Indonesia at 4.37% (11.82 million out of population of 270.6 million), Brunei at 2.67% (11,578 out of population of 433,285) and Thailand at 2.71% (1.89 million out of population of 69.63 million).
Malaysia is currently administering Pfizer, AstraZeneca and Sinovac Covid-19 vaccines, all of which require two-dose regimen.
However, Health director-general Tan Sri Dr Noor Hisham Abdullah said on Tuesday that China's CanSino Biologics and the US' Johnson & Johnson had been given conditional approval for use in Malaysia, and both vaccines require only one dose to be effective.
The Drug Control Authority has also approved the use of the Comirnaty Covid-19 vaccine produced by Pfizer-BioNTech for those aged 12 years old and above.
Meanwhile, Bloomberg quoted the National Covid-19 Immunisation Programme's coordinating minister Khairy Jamaluddin as saying that Malaysia is looking into mixing two different Covid-19 vaccines to get better protection against coronavirus variants.
Covid-19 infections dropped to 38,993 this week
Malaysia reported a total of 38,993 new Covid-19 infections from June 12 to June 18 this week — down 9.92% from last week's 43,289. As of noon today, the cumulative number of Covid-19 cases nationwide stood at 685,204.
It is worth noting that the highest number of Covid-19 infections per week was 53,068, recorded in the week of May 29 to June 4.
Meanwhile, the seven-day moving average of daily cases fell to 5,542, from last Friday's 6,184.
In terms of Covid-19 testing, 567,681 people nationwide were screened for Covid-19 this week, down 11.78% from 643,518 the week before. To date, 13.69 million individuals have been tested since the pandemic struck the country last year.
Notably, the numbers of Covid-19 daily deaths and patients needing treatment in intensive care units (ICUs) as well as active cases declined this week.
Total Covid-19-linked fatalities came in at 508 this week, compared with 586 previously.
Recoveries for the week stood at 51,547 individuals, up 6.93% from 48,208 in the previous week. And as new recoveries outpaced new infections, active cases declined 16.94% to 65,502 from 78,864 last Friday, while the number of patients in ICUs slid to 894 from 912.
Selangor still has the highest Covid-19 cases
Selangor, still the worst hit state, reported its second consecutive weekly decline in new cases to 12,941, down 7.19% from 13,944 in the prior week. The week before that, Selangor recorded 17,937 new cases per week.
Selangor is still continuing its free mass testing to curb the spread of Covid-19. The state has the highest number of confirmed Covid-19 infections at 224,344, followed by Kuala Lumpur (70,306) and Sabah (67,177).
Khairy wrote in a tweet on Tuesday that Selangor would be able to achieve a vaccination rate of 80% by September, as the state planned to ramp up its daily vaccination rate to 135,000 per day in July and 165,000 per day in August.
Among the states and federal territories, Selangor recorded the highest number of people who are fully inoculated at 195,315, followed by Sarawak (172,644) and Johor (149,227).
In terms of those who have received their first dose, Kuala Lumpur leads with 649,627, followed by Selangor (580,341), and Sarawak (484,869).
R0 down to 0.95 versus 1.21 in May 23
At the time of writing, Malaysia's basic reproduction number for Covid-19 infections or R-Nought (Rt) nationwide stood at 0.95. The highest figure of Rt recorded in this year was 1.21 (May 23).
This R0 or Rt projects the average number of people that each new Covid-19 patient will infect, or what is termed as the effective reproduction number. An R0 of less than 1.0 means the infection is not spreading.
Get the latest news @ www.EdgeProp.my
Subscribe to our Telegram channel for the latest stories and updates