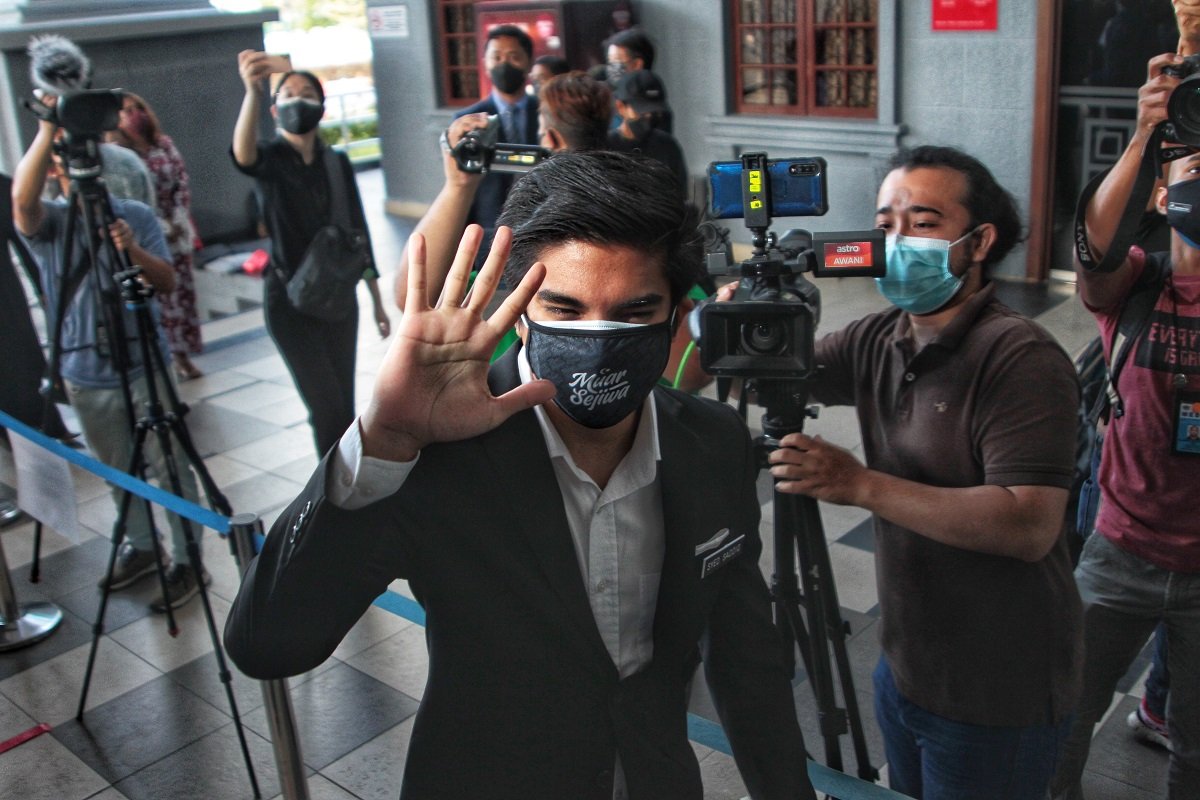 KUALA LUMPUR (July 22): Former prime minister Tun Dr Mahathir Mohamad believes the money withdrawn by Syed Saddiq Syed Abdul Rahman that led to him being charged today could have been the collection when Parti Pribumi Bersatu Malaysia (Bersatu) was being banned by the then Barisan Nasional government and not the party's funds.
The money, Dr Mahathir added, could have been the collection when Bersatu, which he once led as chairman, was about to be deregistered before contesting in 2018, and as a result there was no proper financial management as donations were coming in.
"There are party donations and there are those who collect as they want to contest in the 14th general election. This Saddiq wants to contest and he needs money. Several meetings were held which I also attended with others (to collect funds). The money collected is for the general elections, I do not have any reservation (tentangan) as the donation drive is done by many people.
"In fact, (prime minister Tan Sri) Muhyiddin (Yassin) also collected money and he spent in the Tanjung Piai by-election (in 2019) where he (purportedly) spent RM2 million. But this fund did not come from the (Bersatu) party. There is no proper (financial management) in the party," he told reporters in Langkawi.
theedgemarkets.com has obtained an audio recording of the former premier from his aide today.
The former premier, who is also Langkawi Member of Parliament, added that he believes the charge which Syed Saddiq is facing is not actually related to party funds as many people were then donating for the constituency they wanted to contest in.
Today, Syed Saddiq, who is also a Muar Member of Parliament, has been charged with criminal breach of trust of misappropriating RM1 million of Bersatu funds on March 6 last year, to which he claimed trial. He also faces another charge of misappropriating RM120,000 of Bersatu's Armada wing funds prior to the 14th general election (GE14).
Political pressure
Dr Mahathir also wondered if it was truly a coincidence that the charges faced by the former youth and sports minister follow problems faced by the present Perikatan Nasional (PN) government.
He said he is puzzled that when the present government is facing problems, Syed Saddiq is suddenly charged when people are opting out to leave the present government.
"Syed Saddiq has informed me that he has been asked to support Muhyiddin. This could have been a coincidence.
"Every time he (Syed Saddiq) has been called by the police or the Malaysian Anti-Corruption Commission four to five times, there is a problem with the present government of people wanting to withdraw its support. It may be a coincidence but I truly wonder (whether this led to the charge)," he added.
On his advice to Syed Saddiq facing court trial, Dr Mahathir said he must follow the law by telling the truth.
"He must tell the court that he was summoned by the government officers (police and MACC) several times in a bid for him to support Muhyiddin," the former premier said.
Get the latest news @ www.EdgeProp.my
Subscribe to our Telegram channel for the latest stories and updates