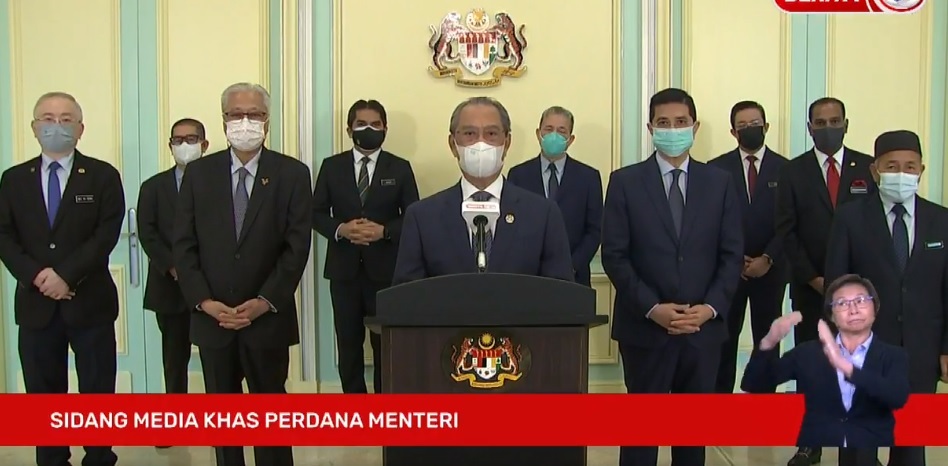 KUALA LUMPUR (Aug 4): Tan Sri Muhyiddin Yassin has claimed that the majority of Members of Parliament (MP) still support him as the prime minister despite eight Umno MPs signing a letter of declaration to pull support from the Perikatan Nasional (PN) government.
In a live broadcast online, Muhyiddin apologised for having to address allegations relating to the position of the PN government and his legitimacy as the premier amid the Covid-19 pandemic, and said that the current political turmoil was purposely triggered by certain parties who were taking advantage of the challenging situation.
He said he had had an audience with Yang di-Pertuan Agong Al-Sultan Abdullah Ri'ayatuddin Al-Mustafa Billah Shah at 11am this morning, and informed the King he had also received declarations of support from MPs that signified he still had majority support.
"However, I am also aware that my position as the prime minister is often questioned. Therefore, I have informed His Majesty Yang di-Pertuan Agong that I will determine my legitimacy as the prime minister in Parliament.
"A motion of vote of confidence in me will be tabled in Dewan Rakyat when Dewan Rakyat convenes in September," said Muhyiddin.
He added that this will confirm his position as the prime minister and PN as the ruling government lawfully and constitutionally.
In the meantime, the Cabinet of ministers and administrative machinery will continue to function as usual to carry out their duties to the nation and the people, especially in addressing the Covid-19 pandemic.
He gave his assurance that the vaccination programme will continue without disruption.
Meanwhile, commenting on "certain parties" that have been agitating the political situation, Muhyiddin said he knows that "they are not happy with my insistence on not entertaining some of their demands".
"This includes urging me to intervene in court affairs to acquit several individuals who are being prosecuted for criminal offences.
"I have also been accused of disobeying the King, although what I have done is merely to preserve the supremacy of the Constitution and defend the dignity of the institution of the constitutional monarch," he said, adding that he will not sacrifice his principles and renounce his oath of office.
Yesterday, Umno president Datuk Seri Dr Ahmad Zahid Hamidi said "enough" Umno MPs had signed a declaration letter indicating their withdrawal of support for Muhyiddin as the prime minister.
While he did not disclose the exact number of Umno MPs that signed the declaration, there were several other MPs present in the Facebook live broadcast, namely Datuk Seri Najib Razak, Datuk Seri Azalina Othman Said, Datuk Mohd Nizar Zakaria, Datuk Seri Azeez Abdul Rahim, Tan Sri Noh Omar, Datuk Ahmad Nazlan Idris, Datuk Ahmad Jazlan Yaakub, Tengku Razaleigh Hamzah, Ramli Mohd Nor, and Datuk Seri Ahmad Maslan.
Get the latest news @ www.EdgeProp.my
Subscribe to our Telegram channel for the latest stories and updates