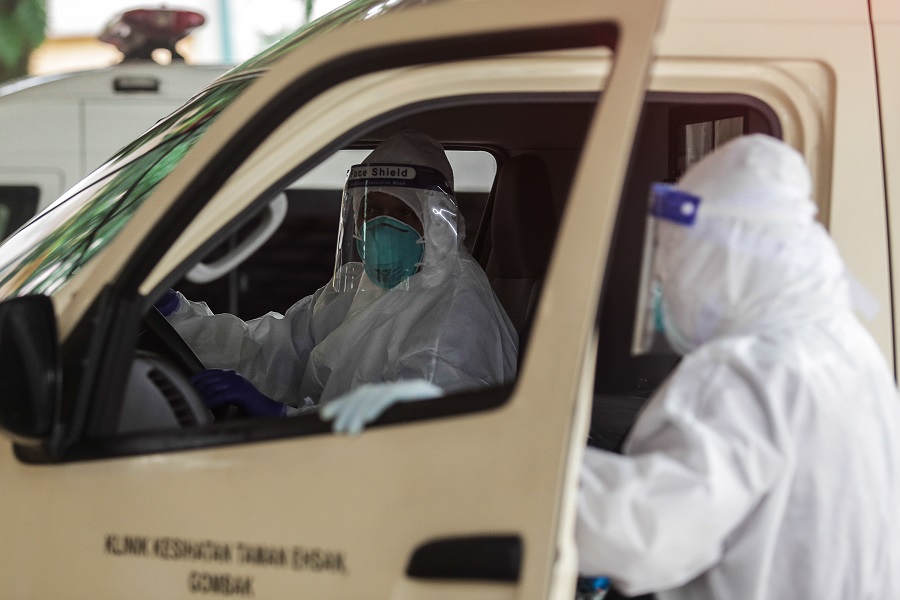 KUALA LUMPUR (Aug 4): Malaysia reported 19,819 new Covid-19 cases today — a record number of daily infections — up 15.87% from yesterday's 17,105.
The previous record high was 17,786 new cases registered on Saturday (July 31).
Daily fatalities also climbed to a new high of 257, raising the country's death toll to 9,855. The Covid-19 virus has killed a total of 9,384 individuals in this year alone, compared with just 471 deaths in all of 2020.
In tandem with the rise in new infections, active cases continued to climb to 210,522 — the second consecutive day of staying above the 200,000 mark — with the number of patients in intensive care units rising slightly to 1,069 from 1,066 the day before.
A total of 553 Covid-19 patients needed ventilators to breathe, according to a tweet by the Ministry of Health.
Meanwhile, 12,704 patients have been declared cured. To date, 962,733 individuals have been declared cured of Covid-19 out of 1.18 million Malaysians who have tested positive for the virus.
Selangor's cases rise to 8,377 — second highest daily figure
Selangor still topped the list today with the most infections at 8,377 — the second-highest daily figure recorded by the worst-hit state after 8,500 new cases were reported on July 25.
Kuala Lumpur came in second today, reporting 2,467 infections, up from 2,309 a day ago, according to a tweet by Health director-general Tan Sri Dr Noor Hisham Abdullah.
This was followed by Kedah (1,371), Johor (1,162), Kelantan (1,003), Sabah (949), Penang (867), Negeri Sembilan (800), Perak (662), Pahang (558), Sarawak (552), Melaka (508), Terengganu (481), Putrajaya (46), Perlis (11) and Labuan (five).
In terms of testing numbers, a total of 156,483 Covid-19 tests were conducted today, compared with 144,857 yesterday, with today's positivity rate recorded at 12.67%.
Only 18.1% Covid-19 cases vaccinated
Dr Noor Hisham said 19,444 cases today were in Categories 1 and 2, while 375 cases were in Categories 3, 4 and 5.
But overall, only 3,592 or 18.1% of today's cases were vaccinated, according to him.
The breakdown of cases and unvaccinated individuals is as follows:
*10,001 cases in Category 1 (no symptoms); 91.6% unvaccinated
*9,443 cases in Category 2 (mild symptoms); 71.7% unvaccinated
*180 cases in Category 3 (patients with pneumonia); 66.1% unvaccinated
*108 cases in Category 4 (pneumonia requiring oxygen therapy); 90.7% unvaccinated
*87 cases in Category 5 (critical cases requiring assisted ventilation); 90.8% unvaccinated
R0 stays at 1.07
The country's basic reproduction number (R-naught or R0) for Covid-19 infections nationwide stayed at 1.07 for the second consecutive day.
Kelantan had the highest R0 at 1.31, Terengganu (1.27), Perak (1.24), Sabah (1.17), Penang (1.17), Kedah (1.16), Johor (1.14), Pahang (1.14), Kuala Lumpur (1.12), Putrajaya (1.11), Melaka (1.08), Sarawak (1.08) and Selangor (1.06).
The R0 projects the average number of people that each new Covid-19 patient will infect, or what is termed the effective reproduction number. An R0 of less than 1.0 means the infection is not spreading.
35 new clusters identified; active now at 1,161
The ministry also identified 35 more Covid-19 clusters in the past 24 hours, bringing active clusters so far to 1,161.
These comprised 14 workplace clusters, 20 community clusters and one religious cluster.
To date, 3,796 clusters have been reported across the country including 2,635 that have been declared ended.
Get the latest news @ www.EdgeProp.my
Subscribe to our Telegram channel for the latest stories and updates